Whilst going through some of my promo card albums I have found some promo cards that do not have an issue date on them nor have I found them in the 2008 PCE guide I therefore thought I would post them here. What I find intriguing is that when I carried out a search on this website some of them were found listed in the trading section. I have also discovered that there are websites which offer terms for anyone to publish their own promo cards
goneblind
This is a card promoting a CD from the group "goneblind" as well as the record label. I believe the title is intended to be "Simple Society" and the label is called "Man Not God" (MNG). I have not been able to discover any information about this particular CD or the record label. The card does not have a date of issue but I presume is issued by MNG.
A couple of music websites do however have a entry for the group for a CD EP called goneblind and issued by the label Roadrunner Records which has five tracks and was released on 24th September 2002. The music style associated with the group is shown as Alternative Metal, Heavy Metal and Post-Grunge of the Genre Pop/Rock.
Images as below:-
[IMG:left]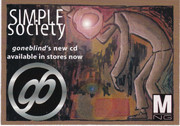 [/IMG]
[IMG:left]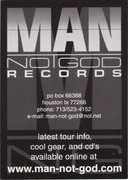 [/IMG]
Dreamer The Good Dog Foundation
Photograph either side and biography on the back. This card promotes the The Good Dog Foundation as well as a Chow Chow dog called "Dreamer" becoming the first Chow Chow therapy dog certified by the foundation. The card is undated but does give the dogs birth date as being November 2003. I presume the issuer is The Good Dog Foundation.
Images as below:-
[IMG:left]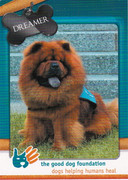 [/IMG]
[IMG:left]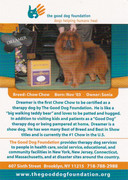 [/IMG]
Teddy Scares
The Teddy Scares card promotes the "Bearly Alive Membership Club" with the back of the card giving membership details but no apparent issuer is shown and nor is a publication date. The card has a photo of part of a teddy bear with crosses across its mouth. Research reveals that in recent years Teddy Scares have had a presence at card conventions like SDCC with some promo cards released. Other information discovered reveals that the teddyscares bears may have been issued around the 1998/99 period and could this card date from that era.
Images as below:-
[IMG:left]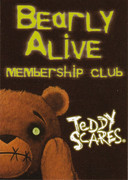 [/IMG]
[IMG:left]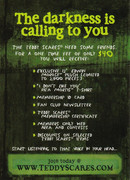 [/IMG]
34o Cracked Pepper Crispbread
This card promotes 34o Cracked Pepper Crispbread with photographs either side and describes on the back various products that accompany it. No apparent issuer or date of issue is shown. An internet search revealed that the product was first marketed in 2003 and the name 34 degrees comes from the the latitude of Sydney, Australia where the owner first came across the style of crispbread. The card manufacturer is Custom-Trading Cards.com from where you can obtain your own promo cards at a reasonable price.
Images below:-
[IMG:left]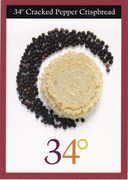 [/IMG]
[IMG:left]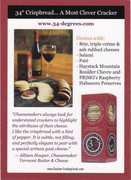 [/IMG]
Oklahoma City Police Department
Photo of a K9 officer and his dog. The card promotes the Oklahoma City Police Department and the officer in the picture in particular. The card back gives some biographical detail as well as a name of a sponsor. The card manufacturer is Custom-Trading Cards.com but no date of issue is shown.
Images as below:-
[IMG:left]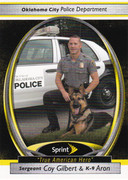 [/IMG]
[IMG:left]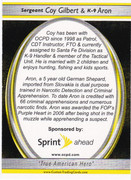 [/IMG]
regards
John

____________________