Originally posted by JOHN LEVITT:
Another group of cards that I have come across in my collection are four cards entitled Bubblegum Crisis issued the November 1994 edition of "This Comic Book" Magazine (a UK publication) published by Manga Publishing Ltd which featured various Japanese Anime stories. There are 4 unnumbered cards, size is 89mm x 64mm and the artist is uncredited, front in colour and back in black and white with some bio about the Super Heroines. A recent internet search revealed that some of the stories in the magazine were the copyright of Dark Horse Comics.
The four characters are:-
Linna Yamzaki
Priss Asagiri
Nene Romanova
Sylia Stingray
and one of their images:-
Front
[IMG:left]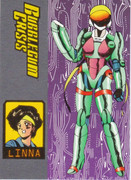 [/IMG]
Back
[IMG:left]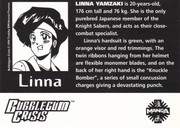 [/IMG]
Let me know if you want to see that other three.
regards
John