Non-Sport Update's Card Talk
pictures of rarer promos
March 18, 2021, 01:34 AM
catskilleagle
pictures of rarer promos
Here's an oddball "Batman and Robin" lenticular motion card that you could get through a mailaway offer as part of a cross-promotion with Colgate toothpaste. It is standard size. By tilting it forward you see Batman swoop in from the background with the trademark and copyright symbols with "1997 DC Comics" appearing then disappearing followed by the Colgate logo appearing.
I tried scanning it a couple of times but they came out too dark to see anything but the lights. My brother took several photos including some with sunlight hitting it though a window and those came out a lot better. I took the three best ones and put them together so the motion could be approximated. I have also seen someone show a video of the motion but it is linked within a sales site - an active attempt to sell one these cards.
I've seen this for sale only three times in the past few years but it tends to be inexpensive when you do find it.
March 22, 2021, 03:57 AM
catskilleagle
This is one of a 7-card set of autograph cards made for the Melrose Place set (Sports Time, 1996). Unfortunately, the set was cancelled but before that happened, actors from the TV show had already signed special variants of one of the promo cards. These variants say "Authentic Autograph" in gold foil and were hand-numbered. For some reason, they were also sealed in plastic cases - perhaps intended to be made available by redemption (but why do that if you have the cards on hand?).
This card, signed by Josie Bissett, is #23 of a run of only 36 - an extremely small run for the time. These autographs were never released by Sports Time and appeared on the market around late 1998/early 1999 which was not long after the company went out of business.
I saw many of them appear for sale back then and kept track of those auction ends. Only a few have resurfaced in recent years but I don't know if any have sold. Here's the list of the six known with prices they were going for 20 years ago in case anyone wants to know:
Josie Bissett, numbered of 36...$40-60
Thomas Calabro, numbered of 8...no known sales
Doug Savant, numbered of 35...$40-50
Grant Show, numbered of 8...no known sales
Andrew Shue, numbered of 60...$35-45
Courtney Thorne Smith, numbered of 10...$125
Jack Wagner, numbered of 35...$50-60.
This message has been edited. Last edited by: catskilleagle,
March 22, 2021, 05:07 PM
promoking
Catskilleagle,
Thanks again for consistently posting great images of promos. Add Grant Show who played Jake Hanson to the list. xx/8.
This message has been edited. Last edited by: promoking,

____________________

March 23, 2021, 12:06 AM
catskilleagle
I added it to the list.
Other than the Playboy Chromium Covers R4 and R5 redemption cards, the Beatles signature cards without the gold foil, the Beatlebilia redemption card without the serial number, the Marilyn Monroe 3-card set without the signatures, these Melrose Place autograph cards, the only other unreleased Sports Time card I can think of that reached the market later is the Playboy Chromium Covers Burt Reynolds autograph without the serial number. I used to have it but sold it years ago - saw it on "the bay" maybe early last year at a crazy price. There might be another card I can't recall at the moment.
Jess
quote:

Originally posted by promoking:
Catskilleagle,
Thanks again for consistently posting great images of promos. Add Grant Show who played Jake Hanson to the list. xx/8.
March 23, 2021, 11:20 AM
cardaddict
Here's Burt's card, all three states.
I found a box of cereal with Pokemon cards at Walmart today. They had maybe six or eight boxes. The one in front had been opened, and I assume the cards stolen, the next one looked like someone had tried to open it and been interrupted. I took this one from the back.
March 23, 2021, 09:12 PM
Tommy C
On the Melrose Place autos, there is an Andrew Shue on ebay now. He is an actor who vanished after the 1990s. I believe that he pursued other things outside of Hollywood.
March 24, 2021, 12:04 AM
catskilleagle
Cardaddict,
That's a nice triple not every PCC collector has.
Jess
March 24, 2021, 01:12 AM
catskilleagle
Tommy C,
I saw that after writing about those and wondered if the seller has received any offers. Pretty much everybody who wanted those got them back then and there are probably not too many new Melrose Place fans out there that also collect cards. Something like that might be more in the $15-20 range. I don't know. It's weighing the fact that it's unreleased yet certified against what's on your want list in the $30-40 range.
Jess
quote:

Originally posted by Tommy C:
On the Melrose Place autos, there is an Andrew Shue on ebay now. He is an actor who vanished after the 1990s. I believe that he pursued other things outside of Hollywood.
March 25, 2021, 12:26 AM
catskilleagle
Here's the Moon Mars 5-card proof set (Space Ventures, Inc., 1991) that was given out at the national dedication of the Astronauts Memorial on May 9, 1991 at the John F. Kennedy Space Center. They are prototypes of five of the embossed cards from the Moon Mars 36-card boxed factory set. Both the proof cards and the factory set cards are embossed but the proof cards differ in that they are unnumbered and say "Proof Set" in the lower right corner on the back instead of having a number. The proof cards were given out in a small, silver foil box with blue lettering on the front. The box folds out to reveal silver foil text on the inside front cover which states the event's date, time, and place.
It has been stated that 1000 of the boxed proof sets were handed out but these have appeared for sale only sporadically in the years since.
March 28, 2021, 07:20 PM
catskilleagle
Here are the two promo cards (P1, P2) for Sherlock Holmes Series 2 (RiverWye Productions, 2004), a set that was cancelled. One source has said these are unreleased promos appearing on the market only after the company went out of business. They are also said to be rare. In my own experience, I have seen them for sale only a few times over the past couple of years. Even with that, they tend to sell for just a few dollars for the pair.
April 02, 2021, 12:34 AM
catskilleagle
These are two "special" unnumbered Munsters promos (Dart Flipcards, 1997) which say "Special" where the number would be on the back. One has text on the back; one doesn't. I think the one with the text was a show promo somewhere, or it was unreleased, and the one without text was the much rarer unreleased variant. It was briefly discussed here:
http://nonsportupdate.infopop....817091916#1817091916
This message has been edited. Last edited by: catskilleagle,
April 02, 2021, 08:38 PM
Kennywood
I thought the Munsters "Special" promo with the back without text was left that way deliberately for autographs.

____________________
Lucy Van Pelt: How can you say someone is great who's never had his picture on bubblegum cards?
April 08, 2021, 01:25 AM
catskilleagle
One of the odder promo sets I've seen or collected is this "Fireworks Collector Edition" 8-card set by Red Devil from 1997. It wasn't something for sale when you bought fireworks at one of those roadside stands across America. It seems like something a manufacturer might send to a dealer along with an order.
This 1997 set appears to be unusual among fireworks card sets as well because I've seen a 1996 and 1998 set for sale on "the bay" a few times but have seen this one for sale only once. I haven't seen any cards from before '96 or after '98.
Seven of the eight cards promote a particular firework and the 8th one provides general firework safety tips on the back. With artwork of comic book-type monsters it's the kind of thing more collectors would pick up if they ever see it for sale.
April 08, 2021, 09:32 AM
cardaddict
Looks like you'd get a bang out of collecting those.
April 08, 2021, 03:51 PM
catskilleagle
Yeah, interest could catch fire but then it might fizzle it out over time.
quote:

Originally posted by cardaddict:
Looks like you'd get a bang out of collecting those.
April 09, 2021, 09:06 AM
JOHN LEVITT
Jess
I have a card from 1996 from Red Devil that shows the Preventor.
[IMG:left]
[/IMG]
I also have 12 numbered cards issued in 1993 called the Preventor. I don't know if they are promo cards, there certainly is no evidence that they are. I have attached images of the front of card 2 and the back of card 12.
[IMG:left]
[/IMG]
[IMG:left]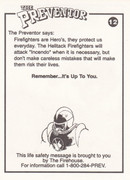 [/IMG]
regards
John

____________________

April 09, 2021, 03:28 PM
catskilleagle
Interesting cards, John. I haven't seen those before. I base my claim that the Red Devil cards are promos on their listings of the 1996 and 1998 cards in PCE2008. It follows that the 1997 cards are also promos. It's possible a card was slipped in with the packaging and generally not noticed. People get excited about fireworks and might overlook even a colorful monster card.
I should allow that it's possible that these were some odd products especially since the 90's was a time of oddball limited edition 8-9-10 card sets that were for sale but you would think more collectors would have them and know about them. There have been fireworks stands all over America (not in my region anymore) for decades and I've been to them in at least two states just to see the assortments but I've never seen cards for sale. That would seem to be the most logical outlet to sell them at. I would have bought some.
Jess
April 11, 2021, 04:38 PM
catskilleagle
PCE2008 covers this "San Jose" set (Image Group, 1992) on page 123. In the late 90's to mid-2000's, you could find it if you wanted it for maybe $8-10 per set. I started looking for it last year to see what it was selling for but haven't seen one for sale since then. It seems to have become more uncommon than it used to be but might still sell in about the same price range.
One extra thing about this set is that it sometimes had two card-sized paper inserts (one shown below) included with it that described what the planned regular set was going to look like - the breakdown of the subjects covered. It also noted that the company was considering doing a series of sets on various cities.
The other note marvels at the value of the T206 Honus Wagner card - then at $480,000 (one sold for $3.25 million last year) - and claims non-sports cards "will achieve even greater heights."
I like this set more than most other collectors because I was born in San Jose and have lived in the area my whole life. My grandparents, parents, and most of my aunts and uncles were married in that church (St. Joseph's) on the right side of the photo on card 5 of 6. In the late 80's to late 90's I worked in an office building two blocks north of where that Electric Light Tower used to stand.
April 24, 2021, 11:18 PM
catskilleagle
This is the promo for the Black Web comic series (Inks Comics, 1992). It was given out at Wonder Con in 1994 back when the show was in Oakland, CA.
April 30, 2021, 09:25 PM
catskilleagle
This is the promo card for a Three Stooges trading card set (Market Square Productions, Inc., 1996) that didn't end up getting made. It's an uncommon card and keep your eyes open for a rarer version with gold foil borders.