Good Evening
I would like class the following card as rarely seen.
This morning I was looking through a binder of promo cards that I had not looked at for a while and when I got towards the back of the album, tucked amongst some other non related promo cards I found a "World in Arms" card issued in 1939 by Gum Inc.of Philadelphia, PA. The card is number 2 of the sub-section Iron Cavalry. On the back in red overprint it states that the card is a sample of one of 120 cards. The size of the card is 29/16" x 3⅛".A search of the internet indicates that "sample" or "promo" cards were issued with a red overprint.
The red overprint states "FREE SAMPLE CARD ONE OF 120 DIFFERENT CARDS PACKED WITH "WORLD IN ARMS" BUBBLE GUM showing 40 WAR PLANES - 30 BATTLESHIPS - 10 IRON CAVALRY - 10 FIELD ARTILLERY - 10 FORTIFICATIONS - 20 MISC. -- AT YOUR CANDY STORE 1¢".
Allender's website describes the set of cards as below and his listing makes no mention of any sample cards yet clearly they exist as I saw images of at least two that were different to mine.
"The Canadian release tried to make the series less United States-centric, and even changed the title. The U.S. set (ACC reference number R173) has cream card backs, with the caption "Can America Maintain Peace with THE WORLD IN ARMS?" The Canada set (ACC reference number V276) has gray backs and the "Fighting Forces" caption.
The sets are numbered within subsets. The first half of each subset had a different back design ("a") from the second half ("b"). In the Canadian version, "a" displays the set composition, while "b" shows part of the descriptive text in French. In the U.S. version, "a" is marked "This is one of a series of Airplanes, Ships, Iron Calvary [sic], Field Artillery, Fortifications, and Miscellaneous Arms of the World." "b" is marked "Save to get these 120 cards: 40 Airplanes; 30 Ships; 10 Iron Cavalry 10 Field Artillery; 10 Fortifications; 20 Miscellaneous World Arms."Because only 48 cards were issued, I assume that the rest of the "120" might have had even other back designs."
I purchased the card as part of a batch of US trade cards from the 1930's and 1940's around 2010/11 from an eBay seller. As you see the card is not in great condition still worth keeping.
front
[IMG:left]
[/IMG]
back
[IMG:left]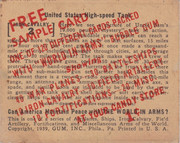 [/IMG]
regards
John

____________________