Originally posted by Juelle Lou:
quote:

Originally posted by Raven:
Desbois' sketch cards are always outstanding and, without having a lot of these sketches yet, his work with both Buffy and Angel still has to be one of the very best ones done. This one did become an artist proof rather than going out through RA. Since it was sold for $1,500, that is what it was worth to the buyer.

I would only say that if I had my choice of the two, I would take his Faith sketch at $600 because it is also great and it has more room to appreciate in value since it is not at what I would perceive to be it's highest value. Someone else may feel the opposite and that's why it's art and it all depends on the beholder.

Yeah I agree about the Faith sketch, there is still room to move in value with that one.
But the Bangel sketch that sold for $1500 on ebay was this one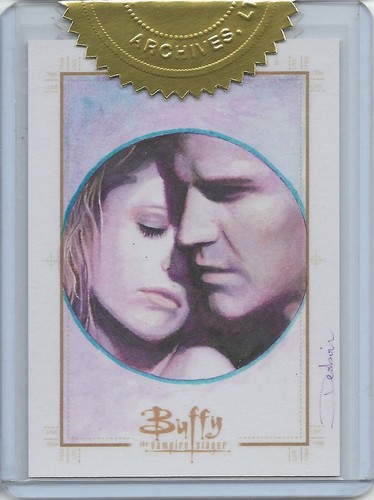 not David's AP that he showed on FB, we don't know how much he sold that one for.
I think if I had that sort of money I'd rather this one than the top one for that price.
quote:

Originally posted by Raven:
I'm not sure what you mean by not seeing Best Offers. The listing usually has a BIN if it's not a auction and it says if offers are accepted. They are probably setting minimum bids even if it is an auction. When I have entered offers in the past I don't think I ever knew the prices of any other offers made, just the number of pending ones. Maybe I don't understand what you are looking for.
I use to use it alot for when I'm looking at cards I want to purchase, especially auctions.
I always look in the completed listings to see how much they are going for, but since they changed the layout of the pages not being able to see the best offers has really bugged me.
So that will be very helpful Logan, thank you again!
edit;
just thought I would add that the Darla Desbois sketch sold back on the 28th March for $750 as well.