Non-Sport Update's Card Talk
Dexter season 7 & 8
December 26, 2015, 07:10 PM
dcole
Dexter season 7 & 8
Great autograph lineup, Tom. Looking forward to this release.

____________________
Debi

Reliving my childhood one piece of painted plastic and slab of cardboard at a time.
December 28, 2015, 01:44 PM
hammer
December 29, 2015, 09:04 AM
piperh33
Very great !!

____________________
Sandra, French collector fan !!
January 08, 2016, 02:52 PM
Deena
Adorable!!
January 11, 2016, 07:12 PM
Bacall
Hey Tom,
Have you got a date set in January for the release of this much anticipated last installment in the Dexter series? I still have not seen any listed for pre-order and I want to make sure to lock in a few boxes before they are all gone.
January 11, 2016, 11:45 PM
t.breyer
just waiting for 1 autograph card . we are pushing for the end of month. Will post when we are 100% sure.
January 12, 2016, 05:51 AM
hammer
January 15, 2016, 05:06 PM
hammer
January 16, 2016, 11:41 AM
hammer
January 18, 2016, 03:59 PM
Bacall
quote:

Originally posted by Breygent Marketing:
I must have that card!
January 28, 2016, 10:16 AM
t.breyer
Dexter Season 7 & 8 Michael C Hall who play Dexter & Yvonne Strahovski who plays Hannah Mckay Dual Autograph card coming in mid Febuary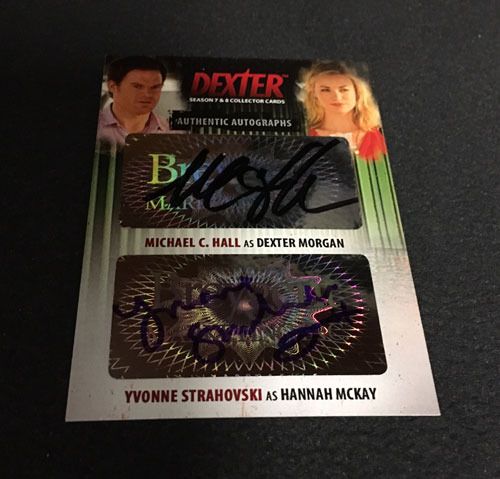 January 28, 2016, 11:02 AM
barobehere
My son, John Alex, saw this and said, "Sweet! We are getting a box of this right, dad? RIGHT, DAD??!"
January 29, 2016, 03:03 AM
hammer
February 02, 2016, 12:08 PM
DanoElMano
I'm looking forward to finishing off a fantastic run with this release. Excellent work Tom!

____________________
What is the answer to life, the universe, and everything? 42 ...no it's not. It's OCD card collecting.
February 16, 2016, 05:53 PM
Raven
Are these cards and the separate Con packs of Dexter scheduled to be released at the same time? Thanks.
February 17, 2016, 03:04 PM
t.breyer
Street date is Friday on the series and the packs