I think one of my favourite Bond girls is getting a bum rap here!
btlfannz - Where have you been man? Only regarded as one of the very best Bond girls ever, and the first female Bond villian no less!
In real life more often than not there is lots of variation in people's signatures. I for example have 3 different ways of signing the first letter of my first name, all dependent upon space and mood!
I really wouldn't worry about authenticity of Marceau's signature. Apart from the slightly different 'S', which for the most part, display similar loops, from card to card the rest of her signature is nearly identical in penmanship. It is a very 'unique' looking autograph and all of her RA Bond cards are clearly done by the same hand.
For a more concerning card, taker he co-star Denise Richards Bond auto from The World Is Not Enough and compare it to her auto from RA's Bond series and I'd be very hesitant to say the same person signed these:
Raven - I think to call Marceau's autograph sloppy is somewhat harsh. She is one of very few signers that goes to great lengths to sign every letter of her name. You should see some of her in-person autograpghs - they are truly shocking. She clearly puts effort into her paid gig with Rittenhouse and her 40th and Women of Bond cards from 2004 are, for the most part very nice clear signatures. That said, I would concede that her full-bleed ones from last year are, for lack of a better word, 'sloppier' than her previous efforts but she's still making the effort to sign her full name. I would never call her a lazy signer.
Below are all examples. I have noticed her 40th signatures nearly all look identical (so I would guess she signed this style first) and the WOB cards are the ones that usually display the most variance in her 'S' and 'o' in 'Sophie'. Her full bleed autos are much looser in general with the 'au' in Marceu' blending more than it used to: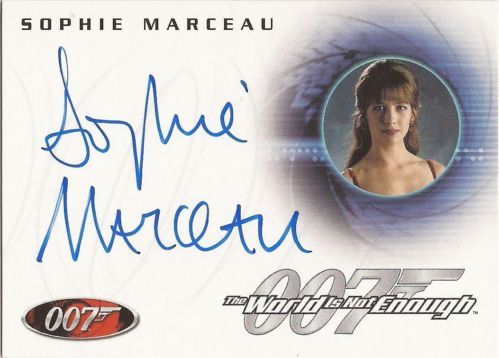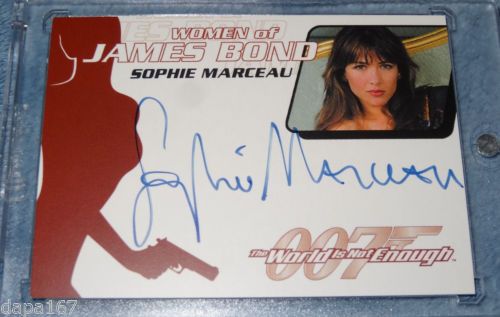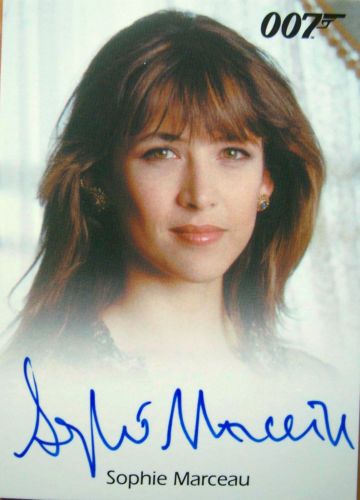 I actually like the full bleed card the least because I've never really liked that publicity still. Given what that card goes for I can't bring myself to pay for it.
Her first cards were each 'Limited'(300-500) and her newest was 'Extremely Limited' (less than 200). I remember when her first auto were about £30 a pop I even managed to pick up a second of her WOB card for £14.99 at a show in the UK - but those days are long gone and people started paying a small fortune for her not-as-rare-as-you-might think cards a few years back.