In 1984 Monty Gum (a Dutch candy manufacturer) issued a set of 100 cards with coloured images that are numbered with plain backs and no series title other than the trade made emblem 007. The cards were to look like a cell from a film strip and measured 2 11/16th x 1 7/8th inches (68mm x 44mm). They feature images from the first 13 films ("DR. No" to "Octopussy").
In 1985 with the release of the film "A View to a Kill" Monty re-issued the original 100 cards with the addition of 100 images from "A View to a Kill" again being in colour and numbered 101 to 200. An album was also issued (sized about A4) titled "Monty Album The Story of 007". The front and back covers feature drawings of some of the characters. The inside pages feature black and white images of all 200 cards albeit being slightly smaller than the actual cards. In addition part of the inside back page provides an opportunity for the collector to identify whom the album belongs to. I have attached of images of the coloured cards as well as those of the album and its contents. I have also noticed at least one error in that card 31 shows an image from "Thunderball" but attributes it to "You Only Live Twice". There may be others.
Apologies for the scan of the cards forming colour vies of some cards from 1 to 100. The card edges still have the perforation residue after being separated. I acquired the set of 100 plus album some years ago and it wasn't until I opened the album that I discovered the other 100 cards still awaiting separation.
Images of some coloured cards numbered between 101 and 200.
[IMG:left]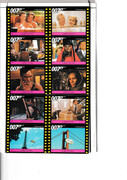 [/IMG]
Images of some coloured cards numbered between 1 and 100
[IMG:left]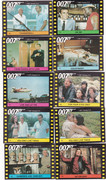 [/IMG]
Front Cover
[IMG:left]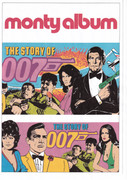 [/IMG]
Rear Cover
[IMG:left]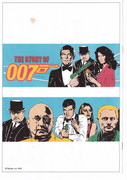 [/IMG]
Sample Black and White images from inside album
[IMG:left]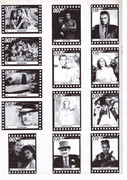 [/IMG]
Scan of inside back page
[IMG:left]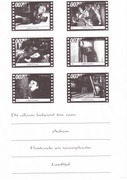 [/IMG]
Looking on the usual auction website site I see that some cards have been speculated with others that have not and at least 1 set of two hundred is available.
regards
John

____________________