Bill
I have consulted my copies of the Cartophilic Society reference books on Trade Cards which eveals the following:-
The cards are cut from the end of a packet of Lyons Tea and are titled on the packet as Quick Puzzle cards. They date from about 1955 measuring 40 x 28 mm being red and white pictures with questions. The answers were at the other end of the packet in text form only measuring about 40 x 37 mm. 24 cards in series and a number of varieties are known such as backgrounds in red, white and grey. Card #4 is known with the flame of the candle in red or white and #24 with a coin red or white.
The cards themselves are taken from a previous Lyons set issued circa 1922 in Cocoa (not sure if the cocoa was in packets or tins). This set numbered 100 and was given the title Tricks and Puzzles. Again variations can be found with different coloured backgrounds, dotted stippled effects and plain grey which includes minor differences in colour.
Reference nos were LYO-1 in index Part I, amended to LYO-41 in index Part II and finally amended to LYO-390 in British Trade Index to 1970.
The 1922 set was given the ref no. LYO-510.
It is possible that the "Tricks and Puzzles" cards might be found on the open market but I very much doubt the same would apply to the packet issue "Quick Puzzles"
regards
John
ps
Looking on the Cartophilic web page I came across the following image front and back of card 52 from Tricks and Puzzles
[IMG:left]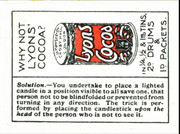 [/IMG]
[IMG:left]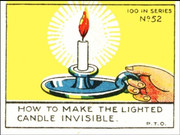 [/IMG]
regards
John
This message has been edited. Last edited by: JOHN LEVITT,

____________________