Because I have been going through some financial difficulties, I spent 2011 tracking all of my spending to see exactly where my money was going. As I was reviewing it the other day, I thought it would be interesting to start a thread with my 'year in review' and I think it would be interesting for other people here on CT to give a run down of their years as well.
For me, I picked up just a few things (and only two things since I bought my new car in July):
Leonard Nimoy LLAP shirt and autographed trading card -- for only $30, this was the best purchase I made all year. A legit Nimoy signed card and a shirt that my wife wears regularly -- can't do much better than that.
Aya Hirano -- my favorite Japanese voice actress and singer. I had been searching for one of her signed cards for literally years and a new series was released this year. I managed to snag a signed card for less than $100, and it is now one of my prize card possessions.
Star Trek Legends -- the store at startrek.com had some cheap Legends sets and I picked up the last two series from TOS that I needed for $12 combined
Spartacus premium pack -- I wanted the Viva Bianca signed card most of all, and pulled it in this pack. When I decided not to complete the rest of the base set, I sold off the other cards from the pack but this is a really nice set and if I had more money, I would have completed the base set at the very least.
SGU season 2 premium pack x3 -- I LOVED SGU and I am still sad it was cancelled. I picked up two boxes of the first season set and followed it up with 3 packs of the premium season two set. Pulled two main cast members (Elyse Levesque and Ming Na) in my packs. A really nice set, and one that I eventually plan on completing the base set for.
SGU season 2 autographs of Mike Dopud and Louis Ferriera. I like both of these guys on the show, and I picked up the cards for (I think) great prices.
Complete Star Trek TNG -- picked up a binder for $12 on eBay, and I am a sucker for Trek binders.
At Comic Con, I picked up some promos for the Walking Dead, Eureka and Warehouse 13 and some singles for my SGU season 2 base set, and a base set of the Complete Star Trek The Next Generation.
Nothing from July until December, but The Walking Dead came out and I had to have an Emma Bell signed card. I also picked up an autograph of Steven Yeun for $18.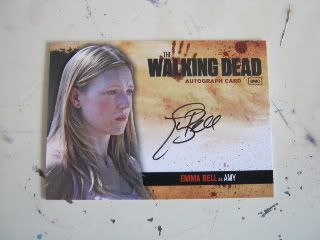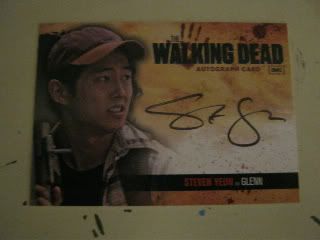 2012 will probably be even more sparse -- I am pretty sure I will use my tax return and pick up a box of Fringe and a binder for the set, I would like to get a base set of The Guild and a Michelle Boyd autograph card from the set, and I am already saving to get 3 or 4 packs and a binder of Game of Thrones (and there is no way I would not get a Maisie Williams signed card -- Arya is one of my favorite characters and Maisie really knocked it out of the park), but that might be it for me unless the Star Trek 2009 movie update set comes out. I have noticed though, that getting fewer cards means I appreciate the ones I do get a lot more.
This message has been edited. Last edited by: Jason00,

____________________
"For a universe that's supposed to be half Chinese, Firefly sure doesn't have any Asians." -- The Uncomfortable Truths Well