Stuart Symington
William Stuart Symington (/ˈsaɪmɪŋtən/; June 26, 1901 – December 14, 1988) was a businessman and political figure from Missouri. He served as the first Secretary of the Air Force from 1947 to 1950 and was a Democratic United States Senator from Missouri from 1953 to 1976.
Education and business career
Symington was born in Amherst, Massachusetts, and grew up in Baltimore, Maryland. He graduated from Yale University in 1923. At Yale he was a member of Delta Kappa Epsilon fraternity (Phi chapter), the Elihu senior society, and served on the board of the Yale Daily News. During World War I, Symington enlisted in the United States Army at the age of 17 and was later commissioned as a second lieutenant and discharged at that same rank.
In 1923, Symington went to work for an uncle in the shops of the Symington Company of Rochester, New York, manufacturers of malleable iron products. Two years later he formed Eastern Clay Products but in 1927 returned to the Symington Company as executive assistant to the President.
Symington resigned in 1930 to become President of the Colonial Radio Corporation. In January 1935, he accepted the presidency of Rustless Iron and Steel Corporation (manufacturers of stainless steel) but remained a director of Colonial Radio Corporation.
When Rustless Iron and Steel Corporation was sold to the American Rolling Mill Company in 1937, Symington resigned and in 1938 accepted the presidency of Emerson Electric Company in St. Louis, Missouri. During World War II he transformed the company into the world's largest builder of airplane gun turrets.
First Secretary of the Air Force
He resigned from Emerson in 1945 to join the administration of fellow Missourian Harry S. Truman. His first positions were chairman of the Surplus Property Board (1945), administrator of the Property Administration (1945–1946) and Assistant Secretary of War for Air (1946–1947).
On September 18, 1947, the Office of the Secretary of the Air Force was created and Symington became the first Secretary. Symington had a stormy term as he moved to give the United States Air Force (which previously had been part of the Army) respect. He had numerous public battles with Secretary of Defense James Forrestal. During his tenure there was a major debate and investigation into production of the Convair B-36 Bomber, which was the last piston-powered bomber at the beginning of the jet age. Major accomplishments during his term as Secretary included the Berlin Airlift and championing the United States Air Force Academy. Symington resigned in 1950 to protest lack of funding for the Air Force after the Soviets detonated their first nuclear weapon. He remained in the administration as Chairman of the National Security Resources Board (1950–1951) and Reconstruction Finance Corporation Administrator (1951–1952).
Senate Armed Services and Foreign Relations committees
As a member of the Senate Armed Services and Foreign Relations committees, Symington specialized in military affairs and became known as an advocate for a strong national defense. He was also a strong supporter of the Air Force Academy.
In 1954, he charged that the Department of Defense had wasted millions of dollars on outdated weapons. He became a leading critic of U.S. involvement in the Vietnam War (1957–1975).
In 1958, Symington accused the RAND Corporation of defeatism for studying how the United States might strategically surrender to an enemy power. This led to the passage of a prohibition on the spending of tax dollars on the study of defeat or surrender of any kind. However, the senator had apparently misunderstood, as the report was a survey of past cases in which the United States had demanded unconditional surrender of its enemies, asking whether or not this had been a more favorable outcome to U.S. interests than an earlier, negotiated surrender might have been.[1]
Opponent of Joseph McCarthy
Symington was an especially prominent opponent of Senator Joseph McCarthy, to the vexation of the latter, who nicknamed him "Sanctimonious Stu". He involved himself in the case of Annie Lee Moss, who had been brought before McCarthy's committee under the accusation that she was a Communist spy. Evidence supporting this claim was given by an undercover FBI agent who could not be cross-examined by Mrs. Moss or her counsel. As it appeared that Moss had been mistakenly identified, Symington proclaimed before the packed audience that he believed she was not a Communist and had never been, receiving thunderous applause from those present. Later that year, Symington took a lead role in censuring McCarthy during the Army–McCarthy hearings, capitalizing upon his prominence and expertise as a former Secretary of the Air Force.
Presidential candidacy
In 1959, Symington, then Chairman of the National Security Resources Board in Washington, D.C., was preparing to run in the 1960 presidential election and won the backing of former President Harry S. Truman, but eventually lost the nomination to Senator John F. Kennedy. On July 2, 1960, Truman announced that he would not be attending the Democratic National Convention in Los Angeles. Truman was miffed that the convention was being controlled by the "overzealous" supporters of Kennedy. Announcing his decision, Truman restated his support for the candidacy of Symington and added, "I have no second choice".[2]
Symington, unlike Kennedy or Lyndon B. Johnson, refused to speak to segregated audiences in the southern United States and this hurt his chances. He was considered Kennedy's first choice for Vice President but was dropped in favor of Texas Senator Lyndon B. Johnson. He advised President Kennedy as a member of EXCOMM during the October 1962 Cuban Missile Crisis.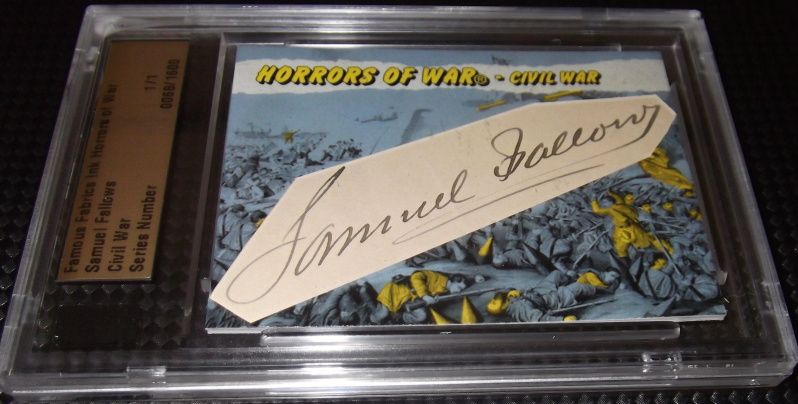 Samuel Fallows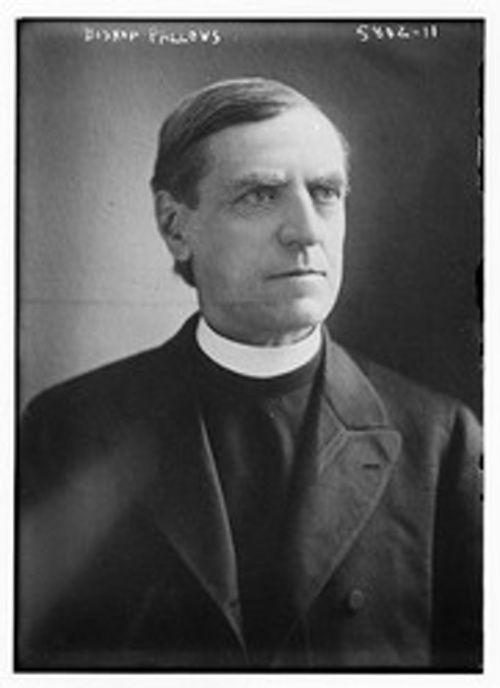 Fallows was born in Pendleton, Greater Manchester, England and emigrated to Wisconsin in 1848.He became a Methodist minister in 1858. He graduated from the University of Wisconsin–Madison in 1859.He was elected Vice-President of Gainsville University, and entered the ministry of the Methodist Episcopal Church in Oshkosh. While he was ministering to this church, the Civil War began. He resigned his charge, and became chaplain of the 2nd Wisconsin Infantry.
During the American Civil War, he fought in the Union Army, rising to lieutenant colonel of the 40th Wisconsin Volunteer Infantry Regiment and colonel of the 49th Wisconsin Volunteer Infantry Regiment.He was mustered out of the volunteers on November 1, 1865.On January 13, 1866, President Andrew Johnson nominated Fallows for appointment to the grade of brevet brigadier general of volunteers to rank from October 24, 1865, and the United States Senate confirmed the appointment on March 12, 1866.
Fallows was a Methodist pastor following the war, and was appointed to Summerfield United Methodist Church from 1865 to 1868.In 1875 he joined the Reformed Episcopal Church, where he became a bishop in 1876. He was a public figure notable for his efforts in public education, prison reform, and the temperance movement. He was the Superintendent of Public Instruction of Wisconsin, 1870-1874.[6][7] He was chaplain at the dedication of the Lincoln Memorial in Washington, D.C.
Samuel Fallows died at Chicago, Illinois on September 5, 1922 and was buried at Forest Home Cemetery, in Forest Park, Chicago.
Jimmy Carter
Naval career
After high school, Carter enrolled at Georgia Southwestern College, in Americus. Later, he applied to the United States Naval Academy and, after taking additional mathematics courses at Georgia Tech, he was admitted in 1943. Carter graduated 59th out of 820 midshipmen at the Naval Academy with a Bachelor of Science degree with an unspecified major, as was the custom at the academy at that time.
Carter served on surface ships and on diesel-electric submarines in the Atlantic and Pacific fleets. As a junior officer, he completed qualification for command of a diesel-electric submarine. He applied for the US Navy's fledgling nuclear submarine program run by then Captain Hyman G. Rickover. Rickover's demands on his men and machines were legendary, and Carter later said that, next to his parents, Rickover had the greatest influence on him. Carter has said that he loved the Navy, and had planned to make it his career. His ultimate goal was to become Chief of Naval Operations. Carter felt the best route for promotion was with submarine duty since he felt that nuclear power would be increasingly used in submarines. Carter was based in Schenectady, New York, and working on developing training materials for the nuclear propulsion system for the prototype of a new submarine.
On December 12, 1952, an accident with the experimental NRX reactor at Atomic Energy of Canada's Chalk River Laboratories caused a partial meltdown. The resulting explosion caused millions of liters of radioactive water to flood the reactor building's basement, and the reactor's core was no longer usable.[16] Carter was now ordered to Chalk River, joining other American and Canadian service personnel. He was the officer in charge of the U.S. team assisting in the shutdown of the Chalk River Nuclear Reactor.
Once they arrived, Carter's team used a model of the reactor to practice the steps necessary to disassemble the reactor and seal it off. During execution of the actual disassembly each team member, including Carter, donned protective gear, was lowered individually into the reactor, stayed for only a few seconds at a time to minimize exposure to radiation, and used hand tools to loosen bolts, remove nuts and take the other steps necessary to complete the disassembly process.
During and after his presidency Carter indicated that his experience at Chalk River shaped his views on nuclear power and nuclear weapons, including his decision not to pursue completion of the neutron bomb.
Upon the death of his father James Earl Carter, Sr., in July 1953, he was urgently needed to run the family business. Lieutenant Carter resigned his commission, and he was discharged from the Navy on October 9, 1953.
Carter wrote that the most intense and mounting opposition to his policies came from the liberal wing of the Democratic Party, which he attributed to Ted Kennedy's ambition to replace him as president. Kennedy, originally on board with Carter's health plan, pulled his support from that legislation in the late stages; Carter states that this was in anticipation of Kennedy's own candidacy, and when neither won, the tactic effectively delayed comprehensive health coverage for decades.
Carter's campaign for re-election in 1980 was one of the most difficult, and least successful, in history. He faced strong challenges from the right (Ronald Reagan), the center (John B. Anderson), and the left (Ted Kennedy). He had to run against his own "stagflation"-ridden economy. He alienated liberal college students, who were expected to be his base, by re-instating registration for the draft. He was defeated by Ronald Reagan.
Post-Presidency
In 1981, Carter returned to Georgia to his peanut farm, which he had placed into a blind trust during his presidency to avoid even the appearance of a conflict of interest. He found that the trustees had mismanaged the trust, leaving him over one million dollars in debt. In the years that followed, he has led an active life, establishing The Carter Center, building his presidential library, teaching at Emory University in Atlanta, Georgia, and writing numerous books.
Legacy
When he first left office, Carter's presidency was viewed by most as a failure.In historical rankings of US presidents, the Carter presidency has ranged from #19 to #34. Although Carter's presidency received mixed reviews from some historians, his all-around peace keeping and humanitarian efforts since he left office have led him to be renowned as one of the most successful ex-presidents in US history.
Although Carter has also received mixed reviews in both television and film documentaries, such as the Man from Plains (2007), the 2009 documentary, Back Door Channels: The Price of Peace, credits Carter's efforts at Camp David, which brought peace between Israel and Egypt, with bringing the only meaningful peace to the Middle East. The film opened the 2009 Monte-Carlo Television Festival in an invitation-only royal screening on June 7, 2009 at the Grimaldi Forum in the presence of Albert II, Prince of Monaco.
Jimmy Carter and Walter Mondale are the longest-living post-presidential team in American history. On December 11, 2006, they had been out of office for 25 years and 325 days, surpassing the former record established by President John Adams and Vice President Thomas Jefferson, who both died on July 4, 1826. On September 7, 2012, Carter surpassed Herbert Hoover as the President with the longest retirement from the office.
Jimmy Carter is one of only four presidents, and the only one in modern history, who did not have an opportunity to nominate a justice to serve on the Supreme Court. The other three are William Henry Harrison, Zachary Taylor, and Andrew Johnson. Of these four, Carter is the only to have served a full term.
The Independent writes, "Carter is widely considered a better man than he was a president."While he began his term with a 66 percent approval rating,this had dropped to 34 percent approval by the time he left office, with 55 percent disapproving.
Much of this image in the public eye results from the Presidents proximate to him in history. In the wake of Nixon's Watergate Scandal, exit polls from the 1976 Presidential election suggested that many still held Gerald Ford's pardon of Nixon against him,[68] and Carter by comparison seemed a sincere, honest, and well-meaning Southerner.
Despite being honest and truthful, Carter's administration suffered from his inexperience in politics. Carter paid too much attention to detail. He frequently backed down from confrontation and was always quick to retreat when under fire from political rivals. He frequently appeared to be indecisive and ineffective, and did not define his priorities clearly. He seemed to be distrustful and uninterested in working with other groups, or even with Congress when controlled by his own party, which he denounced for being controlled by special interest groups.[67] Though he made efforts to address many of these issues in 1978, the approval he won from his reforms did not last long.
When Carter ran for reelection, Ronald Reagan's nonchalant self-confidence contrasted to Carter's serious and introspective temperament. Carter's personal attention to detail, his pessimistic attitude, his seeming indecisiveness and weakness with people was also accentuated by Reagan's charismic charm and easy delegation of tasks to subordinates. Ultimately, the combination of the economic problems, the Iran hostage crisis, and lack of Washington cooperation made it very easy for Reagan to portray Carter as a weak and ineffectual leader, which resulted in Carter to become the first elected president since 1932 to lose a reelection bid, and his presidency was largely considered to be a failure.
Notwithstanding perceptions while Carter was in office, his reputation has much improved. Carter's presidential approval rating, which sat at 31 percent just prior to the 1980 election, was polled in early 2009 at 64 percent. Carter's continued post-Presidency activities have also been favorably received. Carter explains that a great deal of this change was owed to Reagan's successor, George H. W. Bush, who actively sought him out and was far more courteous and interested in his advice than Reagan had been.
Nobel Peace Prize
In 2002, President Carter received the Nobel Peace Prize for his work "to find peaceful solutions to international conflicts, to advance democracy and human rights, and to promote economic and social development" through The Carter Center.Three sitting presidents, Theodore Roosevelt, Woodrow Wilson and Barack Obama, have received the prize; Carter is unique in receiving the award for his actions after leaving the presidency. He is, along with Martin Luther King, Jr., one of only two native Georgians to receive the Nobel.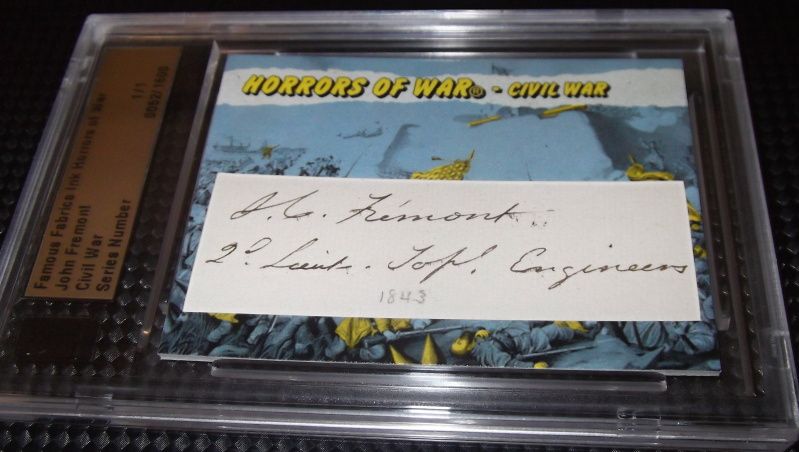 John Fremont
John Fremontwas born in Savanannah, Georgia, on 21st January, 1813. Educated at Charleston College, he taught mathematics before joining the Army Topographical Engineers Corps in 1838. The following year Fremont joined a party led by Joseph N. Nicollet, that surveyed and mapped the region between the upper Mississippi and Missouri rivers.
Fremont surveyed the Des Moines River in 1841. Sponsored by the Missouri senator, Thomas Hart Benton, in 1842 Fremont mapped most of the Oregon Trail and climbed the second highest peak in the Wind River Mountains, afterwards known as Fremont Peak.
In 1843, with Kit Carson and Tom Fitzpatrick as his guides, Fremont's party followed the Cache de la Poudre River into the Laramie Mountains. He then crossed the Rocky Mountains via the South Pass and Green River. He then followed the Bear River until it reached the Great Salt Lake.
After spending time at Fort Hall he followed the Snake River past Fort Boise to Fort Vancouver, where he met John McLoughlin. Fremont then turned south where he explored Klamath Lake and the Great Basin before making a midwinter crossing of the Sierra Nevada mountains and despite great hardships reached Sutter Fort. Fremont eventually reached St. Louis on 6th August, 1844.
Fremont made his third expedition in 1845 during which he explored the Great Basin and the Pacific coast. While this was taking place the Mexican War started. Fremont was given the rank of major in the United States Army and helped annex California. Commodore Robert Stockton appointed Fremont as governor of California. However, in 1847 Fremont clashed with General Stephen Kearny and as a result was arrested for mutiny and insubordination and was subsequently court-martialed. President James Polk intervened and Fremont was eventually released.
In the winter of 1848 and 1849 Fremont led an expedition to locate passes for a proposed railway line from the upper Rio Grande to California. During the Californian Gold Rush gold was discovered on his estate and he became a multi-millionaire.
In 1850 Fremont was elected as senator for California. A strong opponent of slavery, Fremont founder member of the Republican Party. In 1856 Fremont was chosen as its first presidential candidate and although the Democratic Party candidate, James Buchanan, won with 1,838,169 votes, he did well to obtained the support of 1,335,264 electors.
When Abraham Lincoln was elected president in 1860, Fremont was expected to be appointed to the Cabinet. Lincoln was reluctant to do this and instead proposed that Fremont should be appointed minister of France. William H. Seward, Secretary of State, objected, claiming that as Fremont had been born in Georgia, he could not be trusted to remain loyal during a conflict with the South.
On the outbreak of the American Civil War Fremont was appointed as a Major General in the Union Army and put in command of the newly created Western Department based in St. Louis. On 30th August, 1861, Freemont proclaimed that all slaves owned by Confederates in Missouri were free. Abraham Lincoln was furious when he heard the news as he feared that this action would force slave-owners in border states to join the Confederate forces. Lincoln asked Fremont to modify his order and free only slaves owned by Missourians actively working for the South. Fremont refused claiming that "it would imply that I myself thought it wrong and that I had acted without reflection which the gravity of the point demanded."
Montgomery Blair, the Postmaster General,who had originally supported the appointment of Fremont, now urged Abraham Lincoln to sack him. Lincoln responded by sending Simon Cameron, Secretary of War, Congressman Elihu Washburne and General Lorenzo Thomas to investigate the situation in St. Louis. After they reported back to Lincoln he decided to relieve Fremont of his command. He was replaced by the conservative General Henry Halleck.
Horace Greeley, editor of the New York Tribune, wrote an open letter to Abraham Lincoln defending Fremont and criticizing the president for failing to make slavery the dominant issue of the war and compromising moral principles for political motives. Lincoln famously replied: "My paramount object in this struggle is to save the Union, and is not either to save or destroy slavery. If I could save the Union without freeing any slave, I would do it; and if I could save it by freeing all the slaves, I would do it."
Fremont was a popular figure with Radical Republications and in March, 1862, Abraham Lincoln agreed to appoint him as the commander of the newly established Mountain Department. However, Fremont was severely criticized for failing to deal with Thomas Stonewall Jackson during his Shenandoah Valley. On 26th June, Freemont's troops came under the command of General John Pope. Fremont refused to serve under Pope and spent the rest of the war in New York.
In May, 1864 a convention of Radical Republications selected Fremont as their candidate for president. Fremont accepted the nomination and told the audience: "Today we have in this country the abuses of a military dictation without its unity of action and vigor of execution." The idea of a radical candidate standing in the election worried Abraham Lincoln and negotiations began to persuade him to change his mind. Fremont's price was the removal of his old enemy, Montgomery Blair, from the Cabinet. On 22nd September, 1864, Fremont withdrew from the contest. The following day, Lincoln sacked Blair and replaced him with the radical, William Dennison.
After the American Civil War Fremont became involved in railroad financing and building. This was a failure and he lost the fortune that he made during the Californian Gold Rush. He returned to politics when he became governor of Arizona Territory (1873-83).
Fremont wrote several books including several about his expeditions and his autobiography, Memories of My Life (1887). John Fremont died in New York City on July 13, 1890.
Legacy:
Plants
Frémont collected a number of plants on his expeditions, including the first recorded discovery of the Single-leaf Pinyon by a European American. The genus of the California Flannelbush (Fremontodendron californicum) is named for him, as are the species names of many other plants, including the chaff bush eytelia (Amphipappus fremontii), Western rosinweed (Calycadenia fremontii), pincushion flower (Chaenactis fremontii), goosefoot (Chenopodium fremontii), silk tassel (Garrya fremontii), moss gentian (Gentiana fremontii), vernal pool goldfields (Lasthenia fremontii), tidytips (Layia fremontii), desert pepperweed (Lepidium fremontii), desert boxthorn (Lycium fremontii), barberry (Mahonia fremontii), bush mallow (Malacothamnus fremontii), monkeyflower (Mimulus fremontii), phacelia (Phacelia fremontii), desert combleaf (Polyctenium fremontii), cottonwood tree (Populus fremontii), desert apricot (Prunus fremontii), indigo bush (Psorothamnus fremontii), mountain ragwort (Senecio fremontii), yellowray gold (Syntrichopappus fremontii), and chaparral death camas (Toxicoscordion fremontii).
The standard author abbreviation Frém. is used to indicate this individual as the author when citing a botanical name.
Places
Four US states named counties in his honor: Colorado, Idaho, Iowa and Wyoming.
Several states also named cities, villages, and towns after him, such as California, Michigan, Nebraska, New Hampshire, Ohio, Utah, and Wisconsin. Likewise, Fremont Peak in the Wind River Mountains and Fremont Peak in San Benito County, California, are also named for the explorer.
The Fremont River, a tributary of the Colorado River in southern Utah, was named after Frémont, as was Fremont Island in the Great Salt Lake.
Archaeologists named the prehistoric Fremont culture after the river, as the first archaeological sites of the culture were discovered near its course.
The Seattle neighborhood of Fremont is indirectly named for him, as it was named after the hometown of the early residents from Fremont Nebraska
The city of Elizabeth, South Australia (now a part of the city of Playford) named a local park and high school Fremont in recognition of the sister city relationship it had with Fremont, California. The high school has since merged with Elizabeth High School, so the Pathfinder's legacy is carried by Fremont-Elizabeth City High School.
The "largest and most expensive 'trophy'" in college football is a replica of a cannon "that accompanied Captain John C. Frémont on his expedition through Oregon, Nevada and California in 1843–44". The annual game between the University of Nevada, Reno and the University of Nevada, Las Vegas is for possession of the Fremont Cannon.
A barbershop chorus in Fremont, Nebraska, is named The Fremont Pathfinders.The Fremont Pathfinders Artillery Battery is an American Civil War reenactment group from the same community.
Fremont Street in Las Vegas, Nevada, is named in his honor, as are streets in Minneapolis, Minnesota; Kiel, Wisconsin; Manhattan, Kansas; Portland, Oregon; Grant City, Staten Island, New York; Tempe, Arizona; and Tucson, Arizona, as well as several cities in California: Fremont, Monterey, Seaside, Stockton, San Mateo, San Francisco, and Santa Clara.
Portland, Oregon also has several other locations named after Frémont, such as Fremont Bridge. Other places named for him include John C. Fremont Senior High School in Los Angeles, Fremont High School in Plain City, Utah, and Fremont Senior High School in Oakland, and the John C. Fremont Branch Library located on Melrose Avenue in Los Angeles. Elementary schools in Glendale, California; Modesto, California; Long Beach, California; and Carson City, Nevada bear his name, as do junior high or middle schools in Mesa, Arizona; Pomona, California; Las Vegas, Nevada; Roseburg, Oregon; and Oxnard, California. Fremont High School in Sunnyvale, California, is named for the explorer and its annual yearbook is called The Pathfinder. In addition, the Fremont Hospital in Yuba City, California,and the John C. Fremont Hospital, in Mariposa, California, (where Frémont and his wife lived and prospered during the Gold Rush) are named for him. There is also a John C. Fremont Library in Florence, Colorado.
The U.S. Army's (now inactive) 8th Infantry Division (Mechanized) is called the Pathfinder Division, after John Frémont. The gold arrow on the 8th ID crest is called the "Arrow of General Frémont."
The 1983 historical novel Dream West by western writer David Nevin covers the life, loves and times of Frémont. The novel was later adapted into a television miniseries of the same name with Richard Chamberlain as Frémont.
Genealogy
Frémont's great-grandfather, Henry Whiting, was a half-brother of Catherine Whiting. She married John Washington, uncle of George Washington.
Lyndon Marshall
Distinguished Service Cross to Lyndon O. Marshall (0-793648), Captain (Air Corps), U.S. Army Air Forces, for extraordinary heroism in connection with military operations against an armed enemy while serving as Pilot of a P-40 Fighter Airplane in the 26th Fighter Squadron, 51st Fighter Group, FOURTEENTH Air Force, in aerial combat against enemy forces on 5 April 1944, in the China-Burma-India Theater of Operations. On that date, Captain Marshall shot down four enemy aircraft in a single engagement. Captain Marshall's unquestionable valor in aerial combat is in keeping with the highest traditions of the military service and reflects great credit upon himself, the 14th Air Force, and the United States Army Air Forces.
Carlos Ogden
Carlos Carnes Ogden, Sr. (May 9, 1917 – April 2, 2001) was a United States Army officer and a recipient of the United States military's highest decoration — the Medal of Honor — for his actions in World War II.
Ogden joined the Army from Fairmount, Illinois in April 1941,and by June 25, 1944 was serving as a First Lieutenant in Company K, 314th Infantry Regiment, 79th Infantry Division. During a firefight on that day, near Fort du Roule, France, Ogden single-handedly destroyed three German gun emplacements. For his actions, he was awarded the Medal of Honor one year later, on June 28, 1945.
Ogden reached the rank of major before leaving the Army. He died at age 83 and was buried in Arlington National Cemetery, Arlington County, Virginia.
Ogden's official Medal of Honor citation reads:
On the morning of June 25, 1944, near Fort du Roule, guarding the approaches to Cherbourg, France, 1st Lt. Ogden's company was pinned down by fire from a German 88-mm. gun and 2 machineguns. Arming himself with an M-1 rifle, a grenade launcher, and a number of rifle and handgrenades, he left his company in position and advanced alone, under fire, up the slope toward the enemy emplacements. Struck on the head and knocked down by a glancing machinegun bullet, 1st Lt. Ogden, in spite of his painful wound and enemy fire from close range, continued up the hill. Reaching a vantage point, he silenced the 88mm. gun with a well-placed rifle grenade and then, with handgrenades, knocked out the 2 machineguns, again being painfully wounded. 1st Lt. Ogden's heroic leadership and indomitable courage in alone silencing these enemy weapons inspired his men to greater effort and cleared the way for the company to continue the advance and reach its objectives.
Russell Dunham
Dunham was a platoon leader in his unit. Dunham's unit became pinned down at the base of snow-covered Hill 616, a steep hill in Alsace-Lorraine near Kaysersberg, France on January 8, 1945. With machine gun fire coming down the hill in front of their unit, and a heavy artillery barrage landing behind them, Dunham decided "the only way to go was up".[5] Using a white mattress cover as a camouflage aid against the backdrop of the snow, Dunham began moving up the hill. He carried with him a dozen hand grenades and a dozen magazines for his M1 Carbine.
Dunham began crawling more than 100 yards (91 m) to the first machine gun nest under fire from two machine guns and supporting riflemen. When10 yards (9 m) from the nest, he jumped up to assault the nest and was hit by a bullet which caused him to tumble 15 yards (14 m) downhill. He got back up and charged the nest firing his carbine as he went, and kicked aside an egg grenade that had landed at his feet. Prior to reaching the nest, he tossed a hand grenade into the nest. When he got to the nest, he killed the machine gunner and his assistant. His carbine then jammed, and he jumped into the machine gun emplacement. He threw a third German in the nest down the hill who was later captured by his unit.
With his carbine jammed, he picked up another carbine from a wounded soldier and advanced on the second nest, 50 yards (46 m) away. As he came within25 yards (23 m) of the nest, he lobbed two hand grenades into the nest, wiping it out. He followed this up by firing down fox holes used in support of the nest. He then began his slow advance on the third nest, 65 yards (59 m) up the hill. He made his advance on the third nest under heavy automatic fire and grenades. As he came within 15 yards (14 m) of the nest, he tossed more grenades and wiped out the last nest, barely being missed at point blank range by a German rifleman.
During the action, Dunham killed nine Germans, wounded seven and captured two on his own. Nearly 30 other Germans were captured as a result of his actions.
When Dunham was presented with the Medal of Honor, General Alexander Patch said as he placed the award around Dunham's neck that his actions in single-handedly destroying the machine gun nests saved the lives of 120 U.S. soldiers who had been pinned down.
For his injuries on that day, Dunham also received the Purple Heart. Shrapnel from his injuries remained in his body for the rest of his life, and Dunham was quoted as saying "The shrapnel in my leg is a reminder of the war we fought."
Dunham returned to the front before his wounds healed. On January 22 his battalion was surrounded by tanks, forcing most of the men to surrender. The following morning, two German soldiers discovered Dunham hiding in a sauerkraut barrel outside a barn. When their search of his pockets turned up a pack of cigarettes, they fought over it, overlooking his pistol in a shoulder holster. Later that day as he was being transported toward German lines, the driver stopped in a bar, giving Dunham the opportunity to shoot his other captor in the head and set off toward the American lines. Dunham suffered severe frostbite while completing his escape.
Citation:
For conspicuous gallantry and intrepidity at risk of life above and beyond the call of duty. At about 1430 hours on 8 January 1945, during an attack on Hill 616, near Kayserberg, France, T/Sgt. Dunham single-handedly assaulted 3 enemy machine guns. Wearing a white robe made of a mattress cover, carrying 12 carbine magazines and with a dozen hand grenades snagged in his belt, suspenders, and buttonholes, T/Sgt. Dunham advanced in the attack up a snow-covered hill under fire from 2 machine guns and supporting riflemen. His platoon 35 yards behind him, T/Sgt. Dunham crawled 75 yards under heavy direct fire toward the timbered emplacement shielding the left machine gun. As he jumped to his feet 10 yards from the gun and charged forward, machine gun fire tore through his camouflage robe and a rifle bullet seared a 10-inch gash across his back sending him spinning 15 yards down hill into the snow. When the indomitable sergeant sprang to his feet to renew his 1-man assault, a German egg grenade landed beside him. He kicked it aside, and as it exploded 5 yards away, shot and killed the German machine gunner and assistant gunner. His carbine empty, he jumped into the emplacement and hauled out the third member of the gun crew by the collar. Although his back wound was causing him excruciating pain and blood was seeping through his white coat, T/Sgt. Dunham proceeded 50 yards through a storm of automatic and rifle fire to attack the second machine gun. Twenty-five yards from the emplacement he hurled 2 grenades, destroying the gun and its crew; then fired down into the supporting foxholes with his carbine dispatching and dispersing the enemy riflemen. Although his coat was so thoroughly blood-soaked that he was a conspicuous target against the white landscape, T/Sgt. Dunham again advanced ahead of his platoon in an assault on enemy positions farther up the hill. Coming under machinegun fire from 65 yards to his front, while rifle grenades exploded 10 yards from his position, he hit the ground and crawled forward. At 15 yards range, he jumped to his feet, staggered a few paces toward the timbered machinegun emplacement and killed the crew with hand grenades. An enemy rifleman fired at pointblank range, but missed him. After killing the rifleman, T/Sgt. Dunham drove others from their foxholes with grenades and carbine fire. Killing 9 Germans—wounding 7 and capturing 2—firing about 175 rounds of carbine ammunition, and expending 11 grenades, T/Sgt. Dunham, despite a painful wound, spearheaded a spectacular and successful diversionary attack.
Bob Foster
Bob Foster is a well known figure at book and print signings in many parts of the UK. Although recognised as a Battle of Britain veteran, little is known of his life, or the details of his war service with the RAF. Persuaded to tell his story to air historian and well established aviation author Norman Franks, the result of his book "Tally Ho!" from the Battle of Britain to the defence of Darwin.
These years began shortly before WW2, when he learned to fly with the RAFVR. Called up for service in September 1939, he completed his training and was posted to 605 Squadron, equipped with Hawker Hurricanes.
By early September 1940 he and his Squadron were in the thick of the air fighting over southern England, operating from Croydon.
Surviving the Battle, he later became an instructor, but shortly after joining 54 Squadron, which had Spitfires, he and his unit became part of a group sent to Australia to help defend the Darwin area. Bob's squadron and two others, 452 and 457, engaged the Japanese incursions throughout 1943.
Awarded the DFC for his efforts, he returned to the UK and was given an assignment with a RAF public relations outfit, ending up in Normandy within three weeks of the invasion of 1944.
Often serving right up in the front lines, Bob saw war at a very close hand, and then quite by chance became one of the first, if not the first RAF officer to enter Paris with the liberating French army, and again by chance, was in General de Gaulle's triumphant procession down the Champs-Elysees.
Walter Joseph Marm
Marm joined the Army from Pittsburgh, Pennsylvania, and by November 14, 1965 was serving as a second lieutenant in Company A, 1st Battalion, 7th Cavalry Regiment, 1st Cavalry Division (Airmobile). On that day, during the Battle of Ia Drang, he single-handedly attacked an enemy position, suffering severe wounds in the process. Marm survived his wounds and was subsequently promoted to first lieutenant; on December 19, 1966, he was awarded the Medal of Honor for his actions.
Marm reached the rank of colonel before retiring from the Army in 1995.
Medal of Honor citation
First Lieutenant Marm's official Medal of Honor citation reads:
For conspicuous gallantry and intrepidity at the risk of life above and beyond the call of duty. As a platoon leader in the 1st Cavalry Division (Airmobile), 1st Lt. Marm demonstrated indomitable courage during a combat operation. His company was moving through the valley to relieve a friendly unit surrounded by an enemy force of estimated regimental size. 1st Lt. Marm led his platoon through withering fire until they were finally forced to take cover. Realizing that his platoon could not hold very long, and seeing four enemy soldiers moving into his position, he moved quickly under heavy fire and annihilated all 4. Then, seeing that his platoon was receiving intense fire from a concealed machine gun, he deliberately exposed himself to draw its fire. Thus locating its position, he attempted to destroy it with an antitank weapon. Although he inflicted casualties, the weapon did not silence the enemy fire. Quickly, disregarding the intense fire directed on him and his platoon, he charged 30 meters across open ground, and hurled grenades into the enemy position, killing some of the 8 insurgents manning it. Although severely wounded, when his grenades were expended, armed with only a rifle, he continued the momentum of his assault on the position and killed the remainder of the enemy. 1st Lt. Marm's selfless actions reduced the fire on his platoon, broke the enemy assault, and rallied his unit to continue toward the accomplishment of this mission. 1st Lt. Marm's gallantry on the battlefield and his extraordinary intrepidity at the risk of his life are in the highest traditions of the U.S. Army and reflect great credit upon himself and the Armed Forces of his country.