Originally posted by dpolis:
quote:

Originally posted by dpolis:
Nope. This one is definitely card sized. The asking price was $15,000. I'll try and get it up later when I have time and figure out how to get the picture there.

Thanks,
David
Ok, here it is as promised, a picture found in Google of a Dark Dominion art card that was sold last year May on ebay. It shows the art card, a redemption card and the letter from River Group.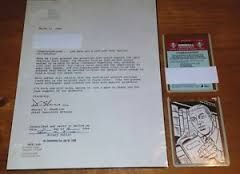 David