Rittenhouse sent us some of the Marvel Universe P1 promos to give out at FanExpo Canada. We only have a very limited number of these left. They went so fast. We can offer a few here for collectors.
Only 1 promo per address/person and first come first serve basis
. We can accept Paypal payments for shipping costs
$1.50 for the US or $2.00 for overseas. Please send Paypal payments to tmontana@sympatico.ca as a gift or add an additional 35 cents to payment
. Paypal always takes a fee for payments if they aren't sent as a gift. Please type your mailing address in the note section through Paypal as well.
If sending payment by mail (a US $1.00 bill) please mail $1.00 to:
Marvel Universe Promo
c/o Tony and Elaine Perna
64 Teresa Street
Hamilton, Ontario
Canada L8G 3Z9
We can accept a SASE but since we live in Canada
Canadian postage stamps must be affixed on the SASE we mail back
. Any questions please feel free to e-mail me. elaine.perna@sympatico.ca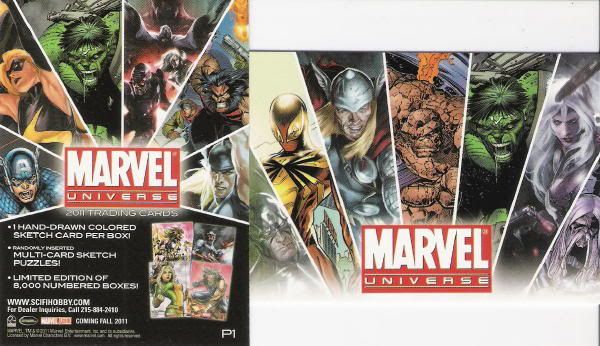 This message has been edited. Last edited by: Elaine Perna,