Non-Sport Update's Card Talk
Dustra Productions: Inceptions
August 09, 2015, 10:54 PM
Dustra
Dustra Productions: Inceptions
Dustra Productions is releasing their first set called Inceptions. It is based on many of our favorite artists Original Characters. We have a free Promo card available. Please check out our website at:
www.dustraproductions.yolasite.com
https://www.facebook.com/groups/1394500257475949/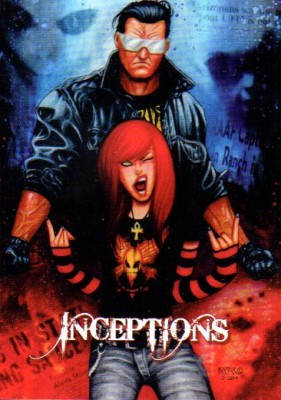 August 09, 2015, 11:03 PM
stevetrek
Nice artwork...How do you get the promo card?
August 09, 2015, 11:28 PM
Dustra
Please send your address to: blink.aoa@gmail.com Thanks!!
August 10, 2015, 07:08 AM
wolfie
Welcome to the forum, email sent.

____________________
Come, it is time for you to keep your appointment with The Wicker Man.
August 12, 2015, 03:56 PM
David R
Email sent, did you get my info ?
August 12, 2015, 09:05 PM
aeolus14ummbra
quote:

blink.aoa@gmail.com
Email sent - thanks. Best of luck on this project!
August 12, 2015, 11:23 PM
Dustra
Thank you so much for your interest. I'll be getting promos out asap. And yes, David, I got your info.
August 20, 2015, 02:08 PM
David R
Thank you, my promo came today. Nice card !
August 21, 2015, 04:42 PM
stevetrek
The card came in today - Thank you.
August 22, 2015, 01:20 PM
cmcdjj37
Got my card too!
Thanks!
August 26, 2015, 05:18 AM
JOHN LEVITT
My card arrived yesterday, Dustra many thanks.
regards
John Levitt

____________________