Originally posted by Batman:
A friend of mine works at Game Stop, he moved away a few years ago but recently moved back to the area and I had lunch with him today and he gave me some promos cards that he got in the store and put away for me. I don't rememebr seeing these discussed but I could have easily missed them, but I thought these might be of interest. The first card is a Star Wars Force Unleashed card, a Halo card (hard plastic but still trading card size), and a set of Mario Super Sluggers Baseball cards, two header cards and a set of five characters. He also gave me a bunch of Spider-Man Web of Shadows cards that look a lot like the promo that was given out in San Diego a few years back, I will dig mine out and see if it is the same, and I also got a near set of 10 oversized Star Wars Force Unleased cards, Ultimate Sith Edition. Pretty cool stuff for free!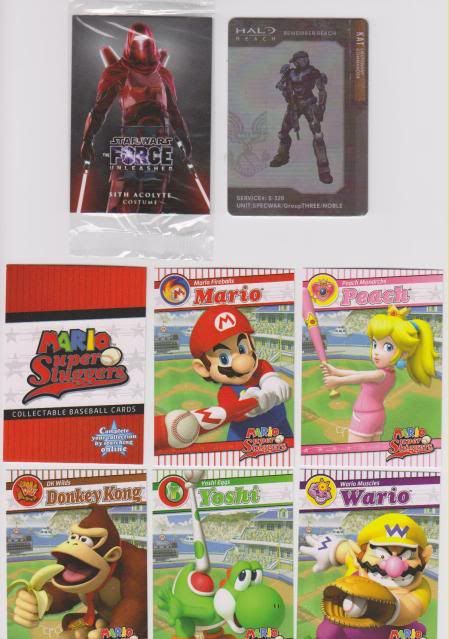 He also told me there will be cards inside the Arkham City deluxe edition that releases in October, he is working a getting me a set without having to buy an expensive video game.