Time to catch up with a few things I've been working on recently.
I still love doing sketch cards but try to keep to low numbers to maintain my sanity.
These are the 10 cards I did for the Blakes 7 card set.
These are my 15 sketch cards I did for the upcoming Wicker Man sketch card set.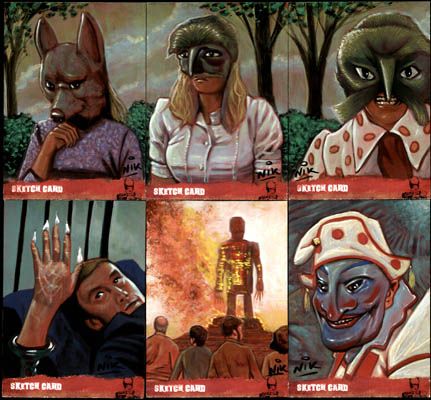 I did 50 cards for 'The Man Who Fell To Earth' set and will show scans at a later date.
I'm eager to show my cards that I did last year for a major set that is still in the approval stage
although I think it's getting close to some announcements now.
Currently having great fun working on some large size Super-Hero cards and will show those
when they're finished and hopefully approved.
Happy collecting!
Nik
____________________
www.planetnik.com
-------------------
Hobbit Battle of the 5 Armies, Star Wars Masterwork, Marvel Premier 2014, The Hobbit an Unexpected Journey, Guardians of the Galaxy, Mars Attacks Heritage, Marvel 70th Anniv', The Prisoner, Star Wars Galaxy 4, X-Men Archives, LOTR Masterpieces II, Vampirella, Indiana Jones and the Kingdom of the Crystal Skull, Dr Who, Marilyn Monroe and CSI sketch card artist.