Originally posted by ocdlotr:
quote:

Originally posted by slackjawedyokel:
Here's the result of my first case break
Enjoy - Peter
hey peter...you pulled some really nice sketch cards even though you had a few dud boxes in the mix...just to make you feel better...I've had 6 dud boxes also...and that's just out of 3 cases + 3 or 4 boxes...and to top it off...I just had to have a little ambulatory surgery this past Wednesday for a recurring bout of something evil...and my wife surprised me with a box as we were headed home...i was so optimistic...and all my "get well soon" dreams were CRUSHED with yet ANOTHER DUD BOX!!!..and to boot, it was even missing the RED foil card!
...I'm glad you pulled one of my very abstract kinda COUNTDOWN cards with the X wings beginning their flight towards the Death Star...
...FYI...there are 3 and you pulled the middle sequence sketch card...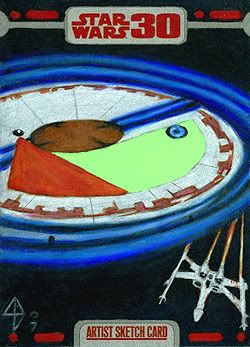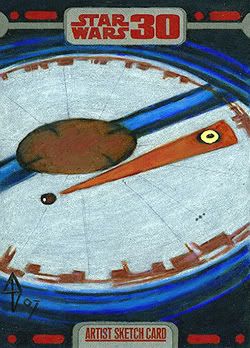 ...and you can see where they fit into the film and my 156 sketch card storyline at...
www.starwarssketchcards.com
...and 2 GOLD cards in 4 cases...that's cool as many collectors and dealers have had NONE in 10 cases!