Non-Sport Update's Card Talk
Firefly: The Verse Trading Cards (Upper Deck, 2015)
October 25, 2015, 02:07 PM
Scorpiovamp
Firefly: The Verse Trading Cards (Upper Deck, 2015)
I'm a bit disappointed, I bought one box and did not get a complete base set.
Kaylee sketch card by Jason Sobol
Niska autograph
Alliance cruiser sketch card
If I could figure out how to post pictures here, I'll post pictures
This message has been edited. Last edited by: H_Toser,
October 25, 2015, 02:47 PM
Raven
Sorry for the misunderstanding, but it is 180 card base set. You were never going to complete it in one box.
The main thing is did you like the sketches? At least you got one of a main character.
October 25, 2015, 05:42 PM
Scorpiovamp
The sketch was ok.
I think I would have preferred if the got rid of the parrallel cards. Then you could have a base set.
October 25, 2015, 10:16 PM
Batman
I got a box today and got 3 autos and a patch

____________________
"The problem, I'm told, is more than medical."
November 02, 2015, 04:46 PM
Don Norton
By now most of you have probably seen my NSU blog article on this set. I wound up beating the odds with 5 hits.
Well, my local shop also got a box of these and for the last few days I've been buying a few packs when I could. I think I bought 18 of the 20 packs. Once again, 5 hits.
I now have two autos Fredric Lehne and Edward Atterton, 2 patch cards, Wash and Mal, 2 artist autos, Tim Shay and Harold Edge, 2 sketches, Chris Henderson and Dan Gorman,and 2 Print plates.
Still need about 16 cards to complete a base set. Have a bunch of extras, so if any of you need some singles, let me know.
November 10, 2015, 07:42 AM
Graham
I was lucky enough to have been gifted 2 boxes. Here is the combined breakdown:
13 cards short of a full base set - 72 doubles
24 Green parallels
2 Artist auto parallels - Lisa redfern & Matthew Clark
8 Leather parallels
2 manufactured patches - F37 & F40
2 single autos - Doug Savant & Isabella Hofmann
1 dual auto - Melinda Clarke and Fredric Lehne
1 autographed card OA-KF Jewel Staite
Not too bad although I would have cut down on some of the parallels to give me a full base set. No sketches or printing plates
November 10, 2015, 01:27 PM
Triple-Frog
Looking at the quality of some of the sketches I would say you were better off with the autos, especially as you got a dual and a crew member.
November 27, 2015, 06:58 PM
Curler
I bought one box of this. I pulled 3 autos and a patch and some parallels:
Patch card F-37, Wash's Dinosaurs
Auto Parallel #85, Kevin Sharpe
Melinda Clarke as Nandi autograph
Triple autograph card RWA - Franc Ross, Jonathan Woodward, Eddie Adams
3 leather parallels
13 green parallels
Overall, I like the set. It's a large base set, and I still need 58 cards to complete it. I only have 2 base card doubles out of the box.
I like the on-card autographs much better than the sticker autographs that Upper Deck usually does. That's a definite plus. I do wish that the single autograph cards featured a larger picture of the actor.
March 20, 2017, 02:00 PM
Triple-Frog
Bought a case of this now it has come down in price ( $460 which I thought was good value ) .
Made seven base sets of 171 cards from the twelve boxes, 27 cards short of a green parallel set and 40 leather parallels numbered to 99.
12 patch cards.
15 artist autograph cards.
12 single actor autographs, 3 dual actor autographs and 1 triple actor autograph. Two best ones were :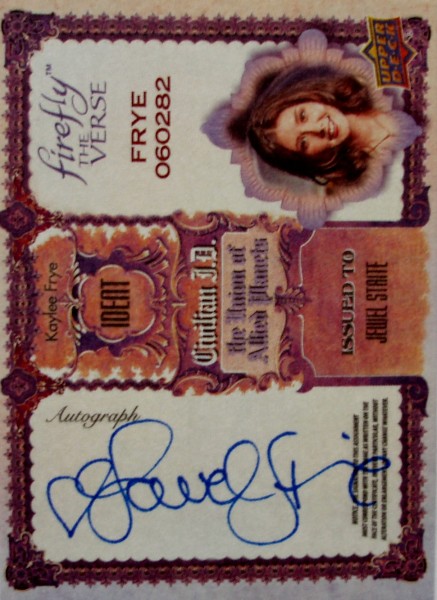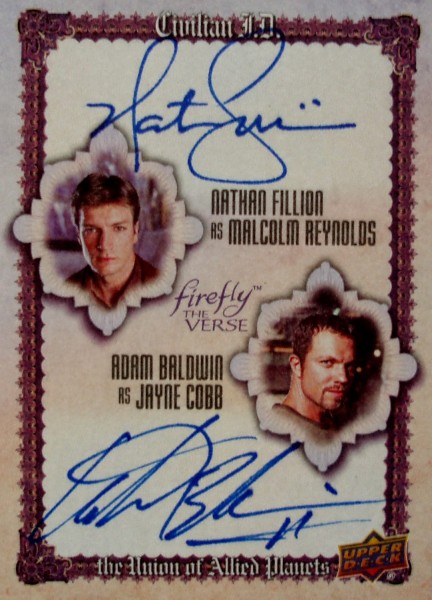 One black printing plate 1 of 1 for card number 85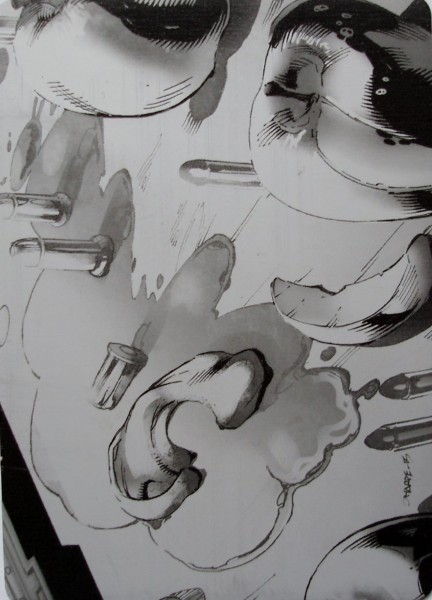 Six sketches :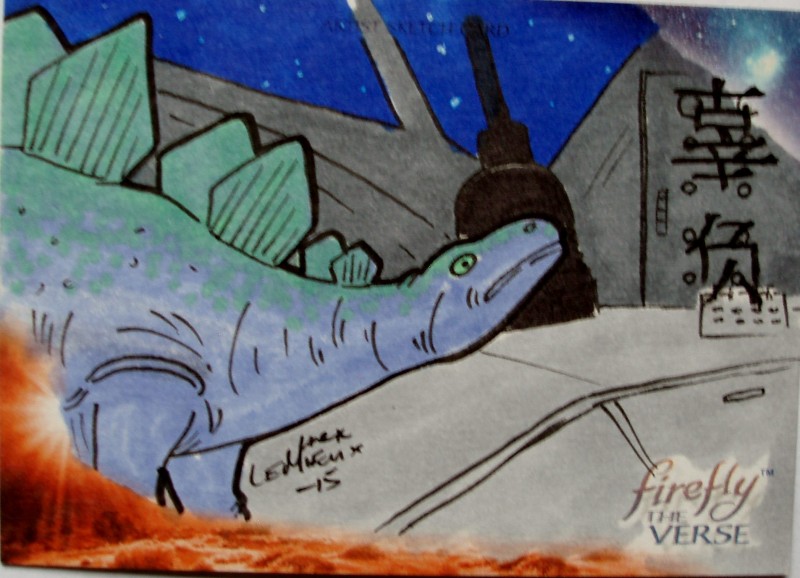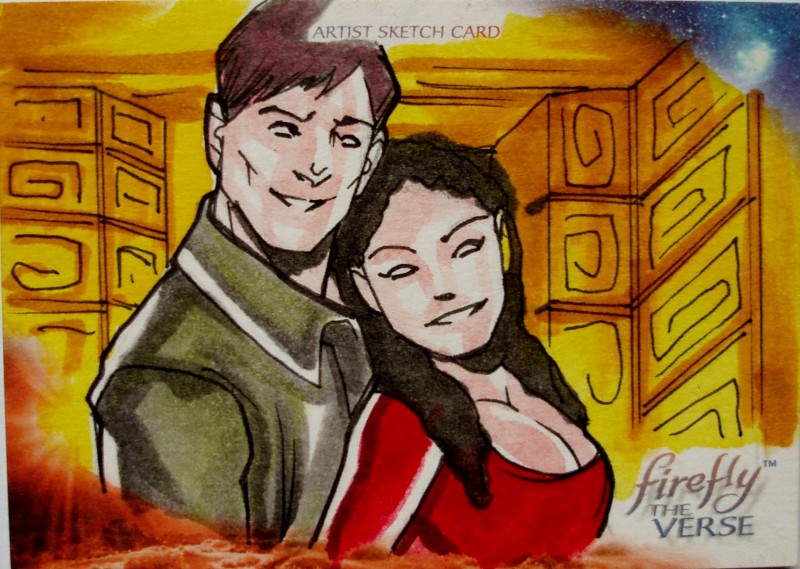 Mek Lemieux ? and Elton Thomas.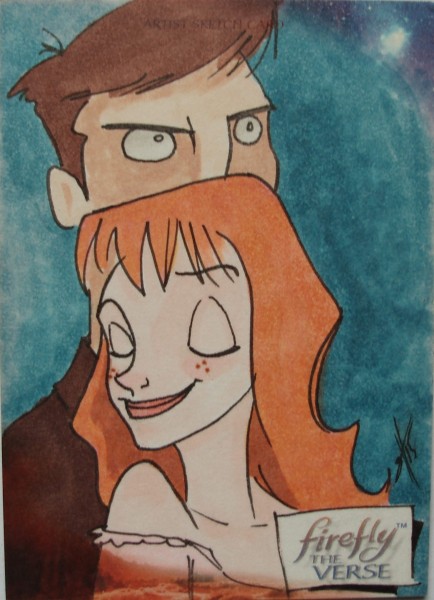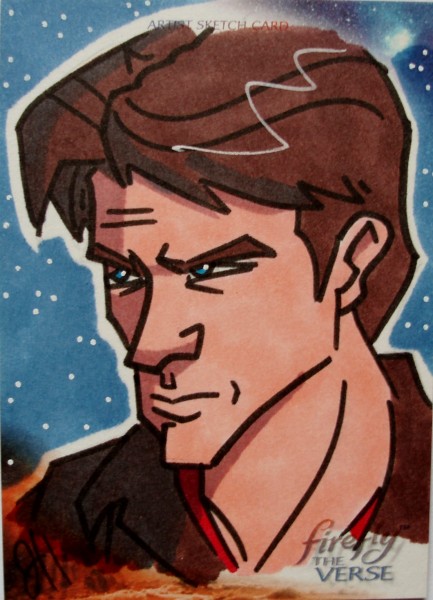 Scott Zirkel and Joe Hogan.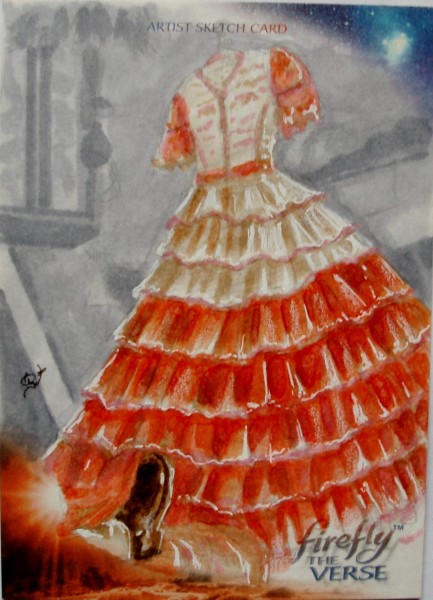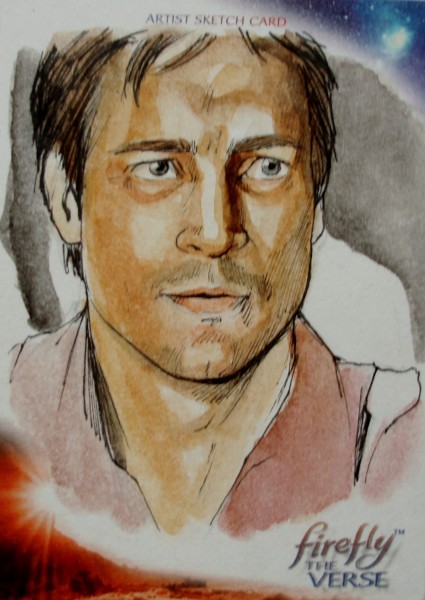 George Vega and ??? ( any help Appreciated ).
March 20, 2017, 02:51 PM
cardaddict
Love the autographs. Another set I have no chance whatsoever of doing.
March 20, 2017, 10:18 PM
Raven
For a set that was based on artwork, I thought a good majority of the sketches were well below average. I liked the autographs too, but this product was a big dud. Even at the discount, you have to pull a Fillion auto to get the value back.
I did like the last sketch.
March 20, 2017, 10:24 PM
Obi Wan Chrisobi
Twelve boxes to make seven base sets? That's horrible.

____________________
"These aren't the cards you're looking for...."