A Far From Complete History of Booksmith Author Cards
By Thomas Gladysz
The stay-at-home conditions spurred by the pandemic, as well as the recent flurry of posts on the Non-Sport Update message board, led me to do something I have long said I would do – organize my collection of Booksmith author cards. What follows is a far from complete history of these idiosyncratic, little known promo cards issued by a San Francisco bookstore, the Booksmith.
It's not surprising if you've never heard of this particular set, as the cards came from a non-traditional source, were printed in small runs, and were given away for free decades ago. Nevertheless, the series is worth checking out as it contains a good number of collectible cards for anyone interested in celebrities, comics, rock music, science fiction, pop culture, and contemporary literature, especially. With more than 1000 cards in the series, there is something for everyone.
I worked at the Booksmith for more than 20 years, and ran the store's events program for more than ten. I wrote the copy found on the back of the cards, and photo-shopped a few of the images found on the front. I hosted events, and introduced the authors. Along the way, I collected cards because they were so cool – and got many of them autographed.
The idea for the cards was the brainchild of the store's original owner, Gary Frank. He loved baseball, and saw the cards as a way to draw attention to the store's ongoing series of author events. A card was printed for just about every author event, and during their 15 year run, each month's cards were displayed in a small stand near the cash register. Customers purchasing a book couldn't help but notice the cards, and were free to take one as a reminder or memento. Due to their novelty, they quickly caught on.
The cards measure 2-1/2"x3-1/2", and were printed in numbers ranging between 200 and 400. The cards were layed out and printed in sheets, so when fewer authors were scheduled during a particular month, extra slots were filled by authors who we thought might warrant the larger printing. Like sports cards, the front of each Booksmith card depicts the author with a black and white photo or drawn illustration, or in a few instances, the cover art of a book. On the back is a short write-up about the author and their work, plus the date and time of their appearance. Though the layout of the cards remained the same, design elements (typefaces, logo, etc…) changed a bit over the years. Check out some of the pages shown here to see what I mean.
The series began in April, 1993. Card #1 featured Shann Nix, a "San Francisco Chronicle" reporter turned novelist. The series ended in December, 2008 with card #1080 featuring Dan Piraro, the newspaper cartoonist known as Bizarro.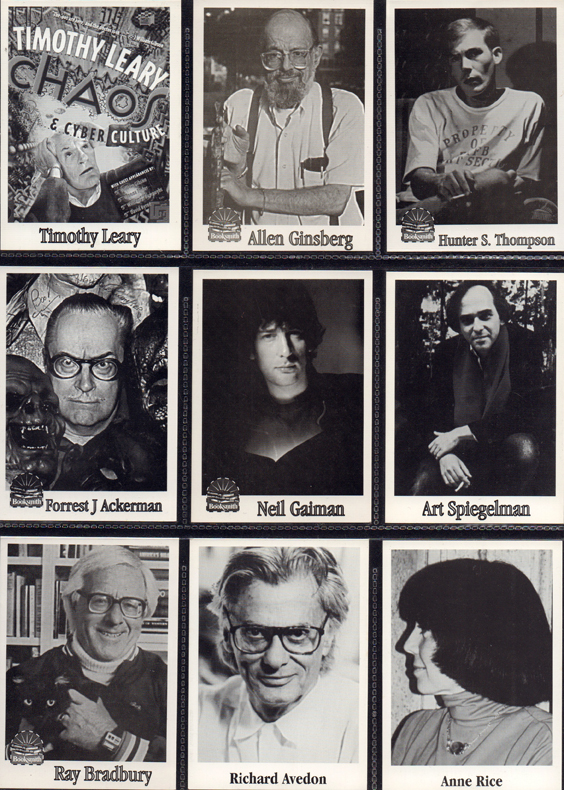 The Booksmith boasted one of the most successful author event programs on the West Coast. As such, it was able to secure events with many of the most popular authors of the time including Anne Rice #22, Tom Robbins #783, Ray Bradbury #168 and many others. Along with novelists, poets, critics, historians, and comix artists, a number of celebrities including rock musicians, actors, directors, artists, and individuals associated with the 1960s counter culture appear in the series. The Booksmith, located in the heart of the historic Haight Ashbury, drew everyone from Timothy Leary #67 and Hunter S. Thompson #199 (with an understudy named Johnny Depp in tow) to members of the Grateful Dead (Mickey Hart #342 and Phil Lesh #748).
There are 1080 numbered cards in the series, approximately. Among them, there are a small number of unnumbered cards, most of which were issued early on and had their number left off. (Unnumbered cards have an assigned number based on their position in the store's sequence of events.) There are, as well, a very few other unnumbered cards which were printed for special events. Only one card, featuring journalist Steve Silberman #62, was reprinted; the reissue is numbered #62.1. On a few occasions when an author event was cancelled after the cards were printed, a second card with a new number was issued for the rescheduled event. Such is the case with British rocker Ray Davies of The Kinks, who appears on cards #108 and #113. The same circumstances occurred with actor Peter Coyote, who appears on cards #293 and #296. In the instance when an event was cancelled before the cards were printed, a card was not issued, though the series number was usually retained. Such was the case with Three Dog Night vocalist Chuck Negron, who would have been card #297. Besides Negron, there are only three assigned numbers which do not have a card, #545, #966, and #1071.
With such a large and idiosyncratic series, a card collector might do well to focus on thematic groupings. Over the years, the store hosted a number of political figures (Senators George McGovern #817 and Gary Hart #833, Watergate figures Daniel Ellsberg #564 and John Dean #858), crime fiction writers (Walter Mosley #260, #524 and James Ellroy #278, #451, #519, #872), comix artists (Harvey Pekar #733, #879 and Art Spiegelman #78, #406, #705), illustrators (Hilary Knight #338 and "Lord of the Rings" artist Alan Lee #725, #799), Beat poets (Allen Ginsberg #169 and Lawrence Ferlinghetti #953), photographers (Richard Avedon #30 and Annie Leibovitz #881), and various Pulitzer and Booker prize winners, as well as two Nobel Prize winners (Czeslaw Milosz #284 and Kazuo Ishiguro #395).
One author, who lived not far from the store, has appeared on five different cards under three different names. Daniel Handler #393 is well regarded as a contemporary novelist; he once satirically impersonated "The Pope" #857, but is better known as the bestselling, pseudo-anonymous children's author Lemony Snicket #428 and #804. And then there was the time Lemony Snicket did an event under the persona Snicket Squirrel #985…, one of a series of unfortunate events.
One of the most unusual cards was for Thomas Pynchon #183. The reclusive novelist never appears in public, and hasn't had his picture taken since his college days. Nevertheless, the store once hosted an event for one of Pynchon's new books, with fans reading from the book and the store putting on a "Thomas Pynchon look-alike contest." The card for the 1997 event featured his college yearbook picture, photo-shopped just enough to obscure his past likeness.
The card series also includes a number of well known science fiction and fantasy writers such as "Game of Thrones" author George R. R. Martin #811, as well as Ursula K. Le Guin #469, Robert Jordan #411, Neil Gaiman #200, #272, #453, and many others. Harlan Ellison appeared at the store three times #45, #208, #561. For the first event, he wrote a short story in the store's window after being prompted by comedian Robin Williams, Ellison's friend and an occasional customer at the Booksmith.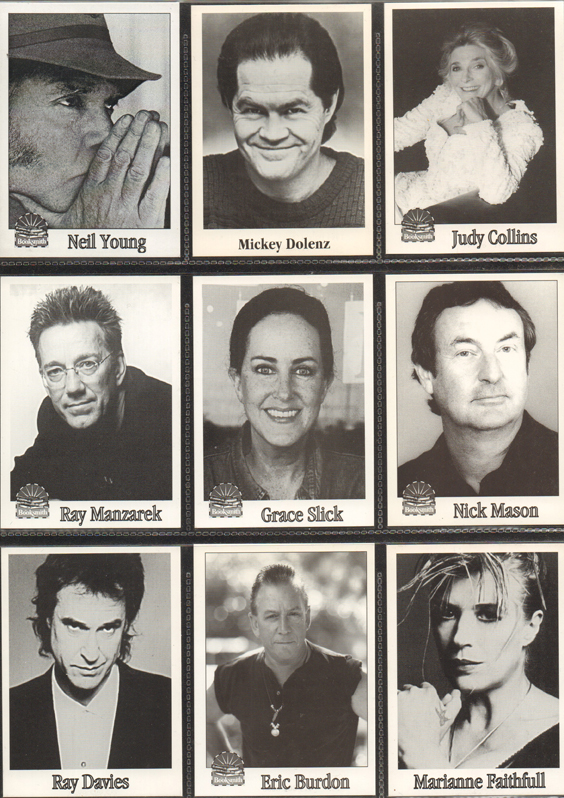 Though literary fiction and science fiction was the series' bread and butter, the store's pop culture leanings opened the door to events with both musicians and various film & television personalities. Among the musicians there is a card for the Monkees' Mickey Dolenz #17, Marianne Faithful #64, Door's keyboardist Ray Manzarek #248, #483, Grace Slick #255, Talking Head David Byrne #338, new wave icon Joe Jackson #345, Moon Unit Zappa #471, Animals' vocalist Eric Burdon #486, Judy Collins #632, Tommy Lee #713, Tori Amos #740, Rupert Holmes #742 (famed for the Piña Colada Song), Pink Floyd drummer Nick Mason #746, Patti Smith & Lenny Kaye #807, Helen Reddy #841, Police guitarist Andy Summers #878, Styx bassist Chuck Panozzo #935, and singer Janis Ian #1041. There were others associated with the rock world including a number of critics and biographers, as well as I'm with the Band super groupie Pamela Des Barres #163, #942, #1051 and famed DJ "Cousin Brucie" Morrow #970.
Back in 2004, the store was offered an event on two weeks' notice with Neil Young. The rock legend had released "Greendale," an album and related book. The store pulled off the event, and even managed to rush a limited edition card (#726) into the series. Only 50 Neil Young cards were printed.
Among the film & television personalities cards are those for Star Trek's George Takei #90, Monty Python's Michael Palin #244, "Titanic" actress Gloria Stuart #318, film director Wes Craven #326, comedian Margaret Cho #440, #800, MASH star Mike Farrell #1014, "Evil Dead" actor Bruce Campbell #457, TV legend Chuck Barris #684, #928, "Buffy" actress Amber Benson #812, "Dark Shadows" actress Lara Parker #864, RENT and Star Trek Discovery star Anthony Rapp #820, and Simpsons voice actor Harry Shearer #959. The store also hosted "Famous Monsters of Filmland" editor Forrest J Ackerman #224, #329, and even Diana Serra Carey (aka Baby Peggy) #523, who before her death at age 101 in 2018, was considered the last living silent film star.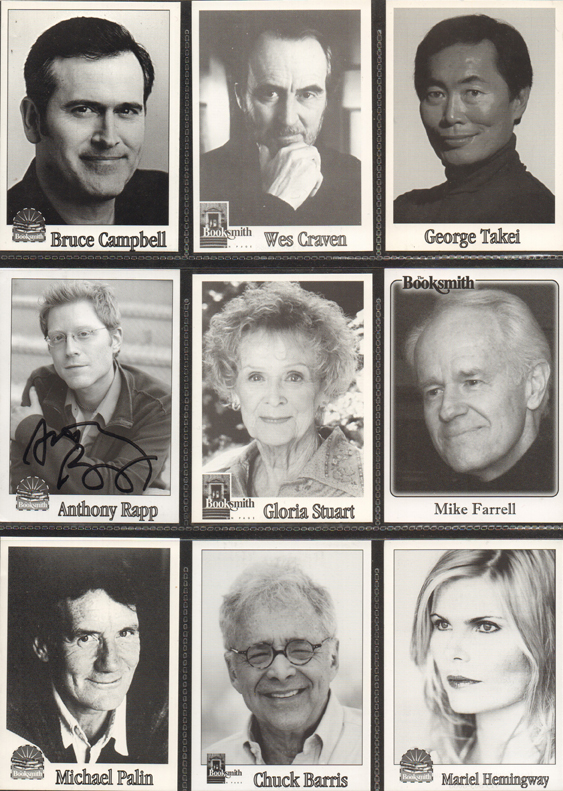 And then there are those celebrities and notables who are difficult to classify, like Hell's Angels founder Sonny Barger #368, #503, lawyer and "Helter Skelter" author Vincent Bugliosi #460, comedian Tommy Chong #859, scientist and birth control pill developer Carl Djerassi #161, and porn stars Xaviera Hollander #515 and Nina Hartley #894.
Over the years, the series has gained a bit of a following and a bit of press, with articles appearing in "Non-Sport Update," "Publisher's Weekly," "Bookselling this Week," and elsewhere. When the "Wall Street Journal" profiled "Last Days of Disco" director Whit Stillman #390 on his book tour, they wrote about the cards. When Pulitzer Prize winning novelist Robert Olen Butler (an avid collector of tobacco trading cards and other ephemera) first heard of the cards, he asked to do an event at the store so he could become a card. Butler first appeared at the store as #32, and ended up returning three more times as #347, #700, #871; each time he asked the store for other author cards to fill out his collection. Another proud "author card" is bestselling horror writer Clive Barker #151, #344, #550, #797, who features his four cards on his website.
As collectible cards go, the series is little known. Yet, to this day – and despite their small print run, Booksmith cards still show up on eBay and other auction and book websites. One of the most commonly seen cards depicts bestselling author Chuck Palahniuk #319, #445, #538, #620, #924, #1012. Palahniuk cards still circulate not only because he is collectible and appeared at the store so many times, but because the celebrated Fight Club author often drew on his cards, blacking out teeth or giving himself a black eye. Though he appeared at the Booksmith six times during the run of the cards, Palahniuk has seven cards to his name. For his last event, the author asked that the store print an alternative card which, on the front, resembles the standard card. On the reverse, Palahniuk had the store print a special covert message which read, "Let me surprise you or someone you love. Staple this card to a letter and send it to me, care of…. Send the person's name and address and expect… something."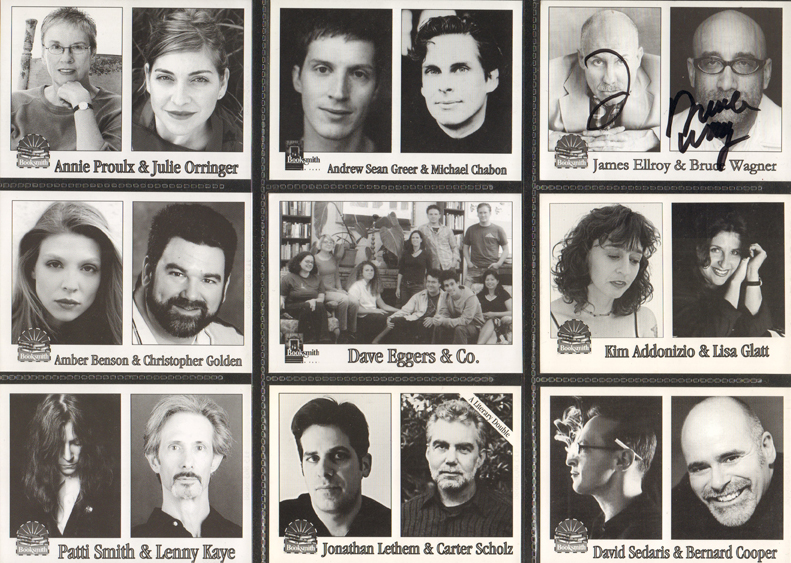 In his 1997 article in "Non-Sport Update," Sam Schieber sketched the early history of Booksmith cards. Though it was still early in the card's run, he guessed that the series would "provide a microcosm of late 20th century publishing, making this a set for future historians to contemplate." It did that, and more.
A complete checklist of the cards can be found at
https://www.thomasgladysz.com/...r-cards-a-checklist/
Thomas Gladysz worked at the Booksmith for more than 20 years, and managed its event series beginning with Robert Silverberg #253. He has a near complete set of cards, including many autographed cards. Since leaving the Booksmith, he has authored numerous articles and four books on film history & the silent film star Louise Brooks.This message has been edited. Last edited by: ThomasG,