Jesse
In November last year I was in correspondence with Todd about these cards because I have 19 different (see listing below). In addition at the time an Ebay seller stated that these cards were in packs of French Football cards. I have since discovered that the seller was correct as I have now obtained a pack of the DS France Football 2000 soccer cards. Note that Télé Poche were sponsoring the issue of these cards as their logo appears on the wrapper.
I have listed my cards in the date order of the magazine covers.
22 Février 1999 'Charmed' Shannen Doherty, Holly Marie Combs, Alyssa Milano and a photo from the Lion King
29 Mars 1999 "Lisa Kudrow" also features a photo of Nagui (a French TV Presenter)
5 Avril 1999 "Tiffani-Amber Theissen"
12 Avril 1999 (Dawson's Creek)
3 Mai 1999 "Axelle Red" (Belgian Singer)
7 Juin 1999 "Catherine Zeta Jones"; also features a photo from Men In Black
5 Julliet 1999 "Michelle Williams"
26 Julliet 1999 "Lara Cox" (Heartbreak High)
23 Août 1999 "Larusso" (French Singer)
13 Septembre 1999 "Nicole Kidman"; also features an image from Pokemon
27 Septembre 1999 "Melanie Griffith"; also features a photo from Star Wars Episode I
4 Octobre 1999 "Courtney Cox"; also features an image from Pokemon
11 Octobre 1999 "Star Wars" and "Natalie Portman"; also features an image from Pokemon
18 Octobre 1999 "Ophélie Winter" (French Singer and Actress); includes images of Apollo 13 Astronauts and of Belgian cartoon "Doggyguard"
8 Novembre 1999 "Lara Fabian" (Belgian-Canadian Singer); also features an image from A Bug's Life
15 Novembre 1999 "Heather Graham"; also features Austin Powers, Pokeman, and Tarzan
29 Novembre 1999 "Lara Croft" and an image of Tarzan
13 Décembre 1999 "Lââm" (French Singer) and a Pinder Circus Clown image
3 Janvier 2000 "Buffy the Vampire Slayer" (Sarah Michelle Gellar & David Boreanz) and a image of French Astrologer Didier Derlich
Here is the wrapper
Front
[IMG:left]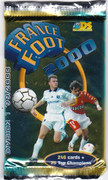 [/IMG]
Back
[IMG:left]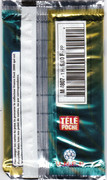 [/IMG]
regards
John
This message has been edited. Last edited by: JOHN LEVITT,

____________________