Originally posted by Star*Mystyk:
Oh that's nice, the Arwen one
Thanks tangent and Batman
And, my latest one arrived yesterday. It reminded me of my username so I wanted it, plus it looked pretty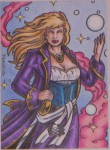 I don't know if it's an actual character but it's by Tony Perna and from the Treasure Chests & Booty set.
That makes three favourites, now.