Non-Sport Update's Card Talk
Thunderbirds to return in 2015
February 05, 2013, 09:50 AM
Kevin F
Thunderbirds to return in 2015
It seems that a new series of Thunderbirds is being made for ITV with a release date set for 2015. I have very mixed feelings about this news. Clearly, they waited until after Gerry Anderson passed away so that it could be made without any direct involvement from him which suggest they will be looking to make some radical cahnges to the original format. Not too surprisingly, it will be mainly CG based animation but with some actual models too with Weta Digital doing the work. On the bright side, it cannot possibly be any worse than the awful live action movie from a few years back
http://www.bbc.co.uk/newsbeat/21321230
Hm, I wonder if they will be able to persuade Rolls-Royce to let them give Lady Penelope a pink Rolls-Royce for this one ?
February 05, 2013, 01:44 PM
treksearcher
All the Thunderbird Pilots will be under 18y no doubt!
February 05, 2013, 03:27 PM
wolfie
Oh god no.
After the awful movie and the Capt Scarlett remake, don't they ever learn?

____________________
Come, it is time for you to keep your appointment with The Wicker Man.
February 05, 2013, 03:27 PM
Graham
Here's a quote from Wikipedia...
On 11 January 2011, a new series of Thunderbirds was announced by Gerry Anderson when he was interviewed on BBC Radio Five Live's Drivetime programme. He stated he was unable to say much as he had signed a non-disclosure agreement, but that the show was definitely being made. It will be in CGI, as opposed to puppetry, and because of Anderson's involvement as opposed to that of outside filmmakers. It would feature new locations but retain the Thunderbirds craft and characters, though it would be totally modernised. In The Sun newspaper of Saturday 15 Jan, he said that he had not yet written the first episode, but had 'fleshed it out' in his head. Anderson died on 26 December 2012, leaving the future of the new series uncertain.
Looks as though Gerry was on his way to seeing this through. Let's hope it does him justice.
March 25, 2015, 07:11 PM
WOMBLE
Thunderbirds are go at 5pm 4/4/2015.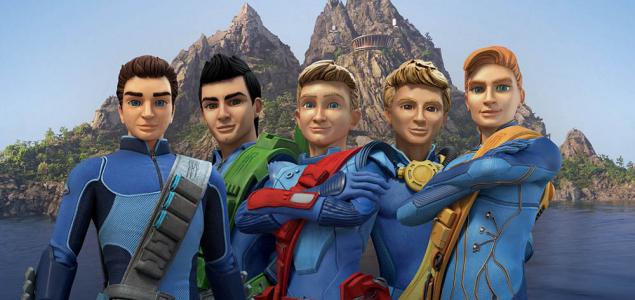 March 26, 2015, 03:24 AM
WOMBLE
A behind the scenes show is on April 2nd. (ITV2)
Reggie & Thunderbirds: No Strings Attached Thunderbirds super-fan Reggie Yates is given exclusive, behind-the-scenes access in this one-off documentary special, as one of the most-loved TV series of all time is sensationally re-launched.

Thunderbirds Are Go hits our screens this year, fifty years after the original series first played on ITV – and now Reggie is going to get a sneak preview behind the scenes of this brand new production.

In New Zealand, Reggie gets an exclusive tour of the world famous Weta Workshop (Avatar, King Kong and The Hobbit) by Oscar winning founder Sir Richard Taylor. Then he's allowed access to the studios where the Weta team have secretly been recreating and reimagining Gerry Anderson's TV classic – including the world famous Tracy Island.

In London, Reggie joins the all-star cast voicing the new series - including ex-Bond girl and Gone Girl Hollywood star Rosamund Pike (as the new Lady Penelope) and Four Lions / Fonejacker star Kayvan Novak... and gets the opportunity of a lifetime when he's offered a part in the new series.

We see Reggie recording lines with the legendary David Graham - the voice of Parker in the original Thunderbirds series, who is returning to play the iconic rough diamond butler and chauffeur, half a century on.

Then life-long Thunderbirds fan Reggie is invited along to the recording of a special episode (penned by comedy star and fellow fan David Baddiel) featuring a cameo appearance by original series co-creator and voice of the original Lady Penelope - Sylvia Anderson.

Reggie & Thunderbirds – No Strings Attached will give fans a first chance to see this new series, combining live action backgrounds and sets with cutting edge CGI – and a fitting occasion to remember and celebrate the original ground-breaking series.
http://www.itv.com/presscentre...-no-strings-attached
March 27, 2015, 01:31 PM
Lovemesomecards
Interesting. They have aged them down a bit and hair-gelled them up. LOL
Our family enjoys the original Thunderbirds and Stingray we have on DVD.
This message has been edited. Last edited by: Lovemesomecards,

____________________
Traded with Deena, tragicend, Pochacco, Greg Geerts, tradeacard, barobehere, xtime, blwilson, derigel, Salama, mccheese8472, wolfie, glim, BILLZEE, Bond, Warrior Babe and Juelle Lou
March 27, 2015, 02:27 PM
wolfie
I'm trying very hard not to hate this before I've even seen it.

____________________
Come, it is time for you to keep your appointment with The Wicker Man.
March 29, 2015, 09:16 AM
WOMBLE
quote:

Originally posted by wolfie:
I'm trying very hard not to hate this before I've even seen it.
'Hate' is quite a strong word. Be aware it is being made for children's TV channels worldwide, rather than a family audience.
August 11, 2016, 09:15 AM
WOMBLE
A new series starts in autumn on ITV.
September 15, 2017, 12:18 PM
WOMBLE
New episodes to air from 30th September at 4.00pm on ITV.
May 08, 2019, 08:55 AM
WOMBLE
New episodes are on from 18th May, with a MAJOR new guest star.

https://www.youtube.com/watch?v=RjmSP_WKTFk