Non-Sport Update's Card Talk
Penny Dreadful Trading Cards
August 25, 2015, 11:45 AM
Raven
Penny Dreadful Trading Cards
When they post the whole checklist on the website, they are done. It's not there as of right now, but it may be close.
There is a nice 5 swatch costume card representing all the main characters that is shown.
I do hope that they add another signer. I was pretty sure that Piper would come on board because she has signed in other products before. Not yet listed though, so maybe not this time. Green always has refused so far, Dalton hardly ever signs and Hartnett is still a film star who has never signed, regardless of how people may assess his career.
These celebrities were always tough, so I don't agree with some posters on various sites complaining about how the set will fail without them. It looks like a very complete line-up of the rest of the cast and the tarot sketch cards are different. Even the promos are collectible in their design. What collectors don't realize is that card companies can not negotiate with signers until they have the license, so they don't know if they can get a deal with the stars until after they have committed to the license.
If they don't take a chance on the license, no cards will be produced. And who knows, a celebrity who refuses for the first season might just sign in the second. I'm looking forward to this release, one way or the other.
August 25, 2015, 06:12 PM
Firethorn10001
I know what site you are referring to and there is a cluster of guys that line up to act like Johnny Downer with absolutely everything any card company does and then try to top each other in a game of 'how bad will it be'. Gets rather annoying. You don't like a release, move on.
As for autos, at the end of the day, if someone doesn't want to sign then they don't want to sign. Not like CZE sits arounds and dreams up ways to not get someone to sign.
August 25, 2015, 07:06 PM
Jason00
They do have 50% of the main cast, and we all knew that Eva Green and Timothy Dalton wouldn't sign (even though I know Eva Green is a great in person signer, since I had her sign my Casino Royale blu-ray a couple of years ago and she could not have been more gracious). And I already have Billie Piper and Josh Hartnett on my cast photo so I can live without them

____________________
"For a universe that's supposed to be half Chinese, Firefly sure doesn't have any Asians." -- The Uncomfortable Truths Well

August 25, 2015, 08:17 PM
Batman
The Johnny Downer guys all wear sweatpants in public LOL!
Batman only wears them to bed!

____________________
"The problem, I'm told, is more than medical."
August 27, 2015, 04:10 PM
hammer
quote:

Originally posted by Batman:

The Johnny Downer guys all wear sweatpants in public LOL!

Batman only wears them to bed!
neither is a pleasant thought
August 27, 2015, 10:03 PM
Batman
The prop, sketch, and autos all are impressive, many of the actors drew pictures or put quotes on thier cards I suspect if people wait these may go the way of Arrow and dry up quickly. I shall be placing my order shortly.

____________________
"The problem, I'm told, is more than medical."
September 25, 2015, 09:20 PM
Logan
Printing plate odds have now been listed at 1:96 packs. Prop cards have been moved up to 1:72 packs (from 1:96) and sketches are now 1:344 packs (from 1:688). A dealer over on the Blowout forums said the release date is October 28.
October 15, 2015, 10:08 PM
Logan
According to Cryptozoic's site the release date is November 4.
October 16, 2015, 07:44 PM
Curler
I am looking forward to opening a box of this. It would have been fun to open just before Halloween, but it will still be fun the week after.
October 21, 2015, 01:41 PM
damien
is the autograph list complete?
October 21, 2015, 01:58 PM
Raven
They have not posted the link to the full checklist for Penny Dreadful yet. I believe that would make it officially final. However it is pretty late with a November 4th release date to pull out another signer, so I would think the autograph list is complete as is. Wouldn't mind being wrong though.
October 21, 2015, 08:56 PM
Logan
Final checklist has been posted. No additional signers:
http://cryptozoic.com/sites/de..._checklist_final.pdf
November 04, 2015, 06:34 PM
mgeo
Penny Dreadful Trading Cards
are out now...and Cryptozoic has sold out. Check with your local hobby stores and favorite online dealers for available boxes.
When we conducted the case check with the printer last week we pulled this extraordinary Melike Acar sketch card: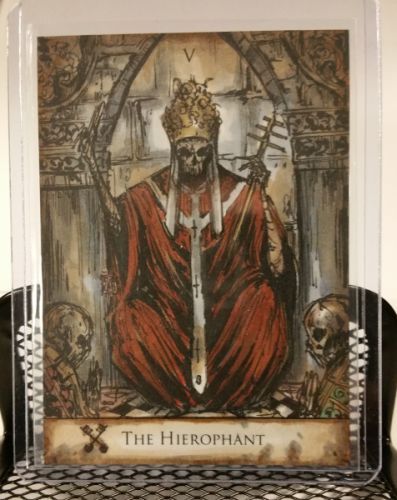 One lucky person who retweets my Twitter post featuring this Hierophant card will be chosen at random tomorrow to win it. Good luck!
@georgenadeau
November 04, 2015, 08:14 PM
Batman
Done! Thanks George!

____________________
"The problem, I'm told, is more than medical."