Non-Sport Update's Card Talk
Star Wars: The Force Awakens Series 2
March 18, 2016, 06:33 PM
Ryan Cracknell
Star Wars: The Force Awakens Series 2
Full checklist is out now:
http://www.beckett.com/news/20...-series-2-checklist/
Base set now has 102 cards -- last two are short prints.
More TFA autograph signers but most aren't key names. Billie Lourd (Carrie Fisher's daughter) is probably the biggest of the new names to this set.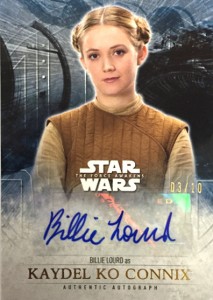 March 18, 2016, 06:41 PM
Tollickd
I am very tempted but the quote I got was 139 euros her box man that's not cheap but so,e good cards on offer
March 28, 2016, 12:50 PM
David R
What do the 5 Wal Mart exclusive Galactic Connexions cards look like ?
I have not see them on ebay or anywhere else
March 31, 2016, 04:26 PM
RedFive
I purchased a few of the 2-packs (jumbo pack) at walmart, and did not find any. The odds are 1:40 for the galactic connexions exclusives.
July 27, 2017, 07:49 AM
Drathro
Does anyone know an easy way to find the foils among all the base cards? My eyes are of poor quality.
March 26, 2018, 10:44 AM
<<<<ALDO_NOVA>>>>
Just opened my second box today, got a Peter Mayhew autograph card, at least I got something to save the 2 boxes I opened!