Non-Sport Update's Card Talk
Game of Thrones Iron 2 (Rittenhouse)
September 14, 2021, 02:31 PM
Raven
Game of Thrones Iron 2 (Rittenhouse)
So GoT Iron Anniversary Series Two just went up on RA's website with a November 17th release date. Mostly photos of more inscription autograph cards, but there is a Gold version for Clarke and an inscription from Christie, who has not turned up since her first FB and B cards. Otherwise seems to be much the same as Series One. Can't spot any new signers.
I'm still waiting to see if they got any of the really big missing dual autograph cards that could be combos of Clarke/Harington, Clarke/Dinklage and Clarke/Headey.
Inscriptions have to be dried up with this one by now, but who knows?
September 15, 2021, 05:28 AM
ravenheart
Much as I would like there to be new signers to collect, in sets like this I'd really rather there weren't any.
Availability dries up very quickly because interest in the set is so low, so low numbers of the new signers that are around attract an unreasonable premium. Picking them up has become a very frustrating exercise, which it didn't used to be.
September 15, 2021, 10:44 AM
Raven
quote:

Originally posted by ravenheart:
Much as I would like there to be new signers to collect, in sets like this I'd really rather there weren't any.

Availability dries up very quickly because interest in the set is so low, so low numbers of the new signers that are around attract an unreasonable premium. Picking them up has become a very frustrating exercise, which it didn't used to be.
That's very true and it's because there is no way for anyone, regardless of how much you spend, to keep up with the GoT autograph list. I'm not even sure someone can complete the signers on a specific card format, but maybe. Otherwise the best you can do, if you have a mind to say you have completed anything at all, is go for one signed card of every signer in any design.
That's what I do and I think a couple of other GoT collectors here are doing. So everybody wants the new signer for awhile until more designs come out on that signer in the next release. Most new signers are no better than commons really, so it hurts to pay high prices. But if you wait, they will probably drop lower, unless they only have one or two designs.
The new 2021 Non-Sport Almanac shows significant increases in almost all GoT autograph cards released more than a couple of years back across the board. As of right now I know the tally is 860 cards and by my loose count there are 1219 different inscriptions. The 1219 is probably not exact, but close enough. Iron 2 may add another 100 cards and a couple of hundred more inscriptions.
There are a few earlier signers and brand new signers who still have only appeared in a couple of designs and the 2 producers and author only did one card. I would think at some point those more limited signers and the 3 incentives would also show more than current demand.
September 17, 2021, 07:17 AM
ravenheart
quote:

Originally posted by Raven:
I'm not even sure someone can complete the signers on a specific card format
I think the only format it's going to be possible to fully complete is the black bordered one. Maybe no one's missing from that?
Full bleed is close... but not complete because of those early case incentives. And is still missing a couple of others as well - although those others are available on full bleed duals.
September 17, 2021, 09:07 AM
bone
I'd love to get that Emilia Clarke card. The gold signatures are the only GOT cards that I collect (+ George R.R. Martin's card). Among the main cast, I think Emilia Clarke, Richard Madden, and Gwendoline Christie are the only ones who haven't signed the black & gold version.
September 18, 2021, 11:52 PM
Raven
Beckett article confirms at least 3 new signers:
Harry Grasby/Ned Umber
Andy Beckwith/Rorge
David Verrey/High Septon
Production seems to be as high as Series One. I don't know how much of Series One is still out there in bulk, but I was offered a couple at $125 the other day. I passed because I had picked up my singles already and my previous boxes had been generally disappointing.
September 19, 2021, 10:48 AM
mykdude
I maintain the Mark Metcalf has been hired to ghost sign for Emilia Clarke. That's my story and I'm sticking to it!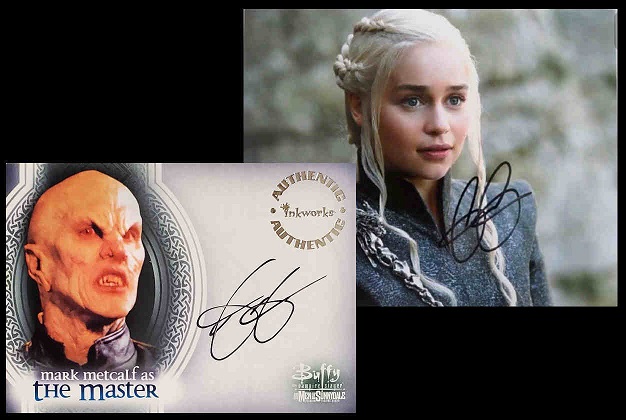 September 19, 2021, 09:36 PM
ctacker
quote:

Originally posted by Raven:
Beckett article confirms at least 3 new signers:
Harry Grasby/Ned Umber
Andy Beckwith/Rorge
David Verrey/High Septon

Patrick Malahide/Balon Greyjoy is new, you can see his inscription card on RA's site.
September 22, 2021, 06:51 AM
gmmk1964
Hi,
My dealer has divsed the following update on the content of the set from Rittenhouse. No idea of the autograph formats although I have previously seen an image of Sophie Turner in the VS format.
Costume Relic/Quote Cards featuring Robb Stark, Cersei Lannister and Sansa Stark!
Autographs
Alfie Allen as Theon Greyjoy
Sean Bean as Ned Stark
Gwendoline Christie as Brienne of Tarth
Sophie Turner as Sansa Stark
Emilia Clarke as Daenerys Targaryen
Nikolaj Coster Waldau as Jaime Lannister
Lena Headey as Cersei Lannister
Isaac Hempstead-Wright as King Bran
Conleth Hill as Lord Varys
Joe Dempsie as Gendry
Stephen Dillane as Stannis Baratheon
Aidan Gillen as Littlefinger
Kristofer Hivju as Tormund Giantsbane
Paul Kaye as Thoros of Myr
Rose Leslie as Ygritte
Michael McElhatton as Roose Bolton
Jonathan Pryce as High Sparrow
Thomas Brodie Sangster as Jojen Reed
Hannah Murray as Gilly
Harry Grasby as Ned Umber (new signer)
Andy Beckwith as Rorge (new signer)
Patrick Malahide as Balon Greyjoy (new signer)
David Verrey as High Septon (new signer)
September 23, 2021, 03:02 PM
Raven
Not counting Clarke, of the repeat signers only Christie is going to get much demand because she has been more limited with just a FB and B so far. The new signers thus far are nothing to crow about.
Unfortunately most GoT card collectors of any few years are just yawning at these autograph checklists now. A new signature card from one of the main actors is always good, but the excessive Iron box prices are really factoring in cards that aren't being pulled. Chasing even the big signatures from people that you already have becomes less special and not worth the risk factor. Also all these mixing it up attempts at quotes, cuts, inscriptions, relics, relic/quotes and cut/quotes can't make the autographs any different. For common signers, a common inscription won't even bring a decent premium.
The only thing I would like to pull, besides a Clarke

, is a character sketch. I pulled two dragon sketches from InfleXions and a Tent scene from Season 8, but never one with an actor likeness. I probably wouldn't be moved to buy one at the price, so pack pulled would be my only chance.
October 01, 2021, 03:17 AM
mykdude
quote:

Originally posted by Raven:
Unfortunately most GoT card collectors of any few years are just yawning at these autograph checklists now.
Was thinking the same thing about Star Wars.
It is nice to see that some have stopped, Dinklage, Maisie, Iain. I really wanted to jump on the first series but when I saw how many divisions and subsets the product had I just couldn't do it.
Hopefully Christie doesn't bring her Star Wars sticker signature style back to on-card land.
I have her beautiful season II card....I'm good.

This message has been edited. Last edited by: mykdude,
October 01, 2021, 11:20 AM
Raven
Yeah, but as watered down as GoT has become with its wealth of repeat signers, I can't help but feel that there is at least one more product (or two if this splitting keeps up) because no Clarke dual cards have dropped yet.
Now normally items signed by multiple people have less demand than a single signed item and don't actually get double the price. That's because people may only be interested in the bigger signer and don't want to pay a higher price for someone else they don't need.
Only these duals would be an exception if they could be gotten by RA because GoT had some natural pairings, as already made, and the character of Daenerys has natural pairings with Jon Snow, Tyrion, Cersei, Jorah, Drogo and even her brother Viserys. Only Lloyd and maybe Glen might be a negative pull on the price, but Harington, Dinklage, Headey and Momoa would make for huge value.
I still feel that RA is not going to pass up putting out those combos, even if they have to resort to cuts. Any supply in the regular on-card format would carry the release.
October 26, 2021, 11:07 PM
Raven
Delayed till December 8th. Those tardy printers must have struck again.
November 14, 2021, 12:26 PM
Raven
So here's a blind item from another forum and, as they didn't really bother to source it, take it with a grain salt.
Iron 2 is reported to have a 15,000 box run, that's smaller than Iron 1, and 4 different signed cards from Emilia Clarke.
We'll see how close that gets, but since RA no longer feels the need to tell anybody what's in their products ahead of time anymore, who knows?

November 15, 2021, 08:51 AM
juergen
The message is straight from Rittenhouse itself. It was sent to their distributors/dealers.
November 18, 2021, 02:23 AM
gmmk1964
I notice the product is still not sold out as per RA's website so even the dealers are not going all in on this. I believe this could be their last GOT product; I have tried to get the confirmed/denied by them but they are staying silent.
November 18, 2021, 09:05 AM
Raven
I think dealers and distributors got stuck with Iron 1. I only say that because as a box buyers previous GoT came and went shortly after release. Not only could I easily find Iron 1 in quantity 4 months later, it was cheaper than what I paid before. I'm not speaking of eBay now, it was lingering on shelves and still available if you wanted to order more, which shows distributors hadn't gotten it out. Someone may disagree and say the opposite, but this is what I found and it wasn't true with other sets, not even the more expensive InfleXions or Valyerian, which did sell out.
It's 3 things really. The print at 18,000 boxes and Iron 2 at 15,000 are way too much for a title that has got to be the most extensively well covered and contained series.
Second, I personally found Iron 1 to be the least rewarding of all the more expensive GoT sets. I pulled much bigger and better autographs out of InfleXions and Valyerian. Perhaps that is a personal estimation, but I sampled a lot of boxes. Inscription cards should not be called a "big" hit unless it is a "big" signer. That is where the mistake lies with the later sets. An inscription card of a common signer and the second hit being another common signer isn't going to justify the box price. Inscriptions ruined the one big hit in a box notion.
And the third thing is that RA seems to have become uninterested in promoting GoT, or even other titles, in the last couple of years. Checklists are late. Posters on the RA forums aren't being answered. The products are not being talked up by RA. If you have 4 different Clarke signature cards in Iron 2, why don't they say it to the customer base early on? It can only help sell it for their dealers and distributors? Why don't you make better incentive cards too, while you are at it?
I hope this is the last of GoT.

November 18, 2021, 12:24 PM
Tommy C
Perhaps with the show having ended, people are now losing interest and moving on to other things, like they did with Xena, Buffy, Twilight, Walking Dead, and other things...
November 18, 2021, 12:56 PM
Raven
Yeah that's a decent point, the show is done and certainly not a lot of new collectors will come on board. But the old ones like me, who have been invested in all the previous sets all along, still want to stick it out, at least until it starts to seem foolish. Lots of dead shows like Twilight Zone, Twin Peaks, all Star Trek except Discovery, all Star Wars trilogies, etc. are technically over, but the titles still have fans ready for the next product.
Putting out two massive GoT runs like this in the same year is just saturating and diluting the market. It does seem like a final dump. If RA actually just said that this is it, added a third hit to each box and cut box production down to that 9000 box range, I think it would have stoked the demand after the first half of the set (this is the same base set remember) didn't seem to catch on fire.
November 18, 2021, 04:12 PM
Tommy C
I think the most recent comparable example would be Walking Dead. That was hot for at least 5 years, maybe more.
According to Jeff Allender's site, there were about a dozen card sets put out by Crypto and Topps up through 2018 or so, and now those are all over...