Originally posted by NIK:
Nice cards. I think all the artists did a great job on this set. And thanks for the comments on my cards, I did so many because I really enjoyed the subject matter, I grew up watching most of the Doctor's. You mentioned a card that might be Romana, I did just 3 cards with her on so if it's one of these three then it's her.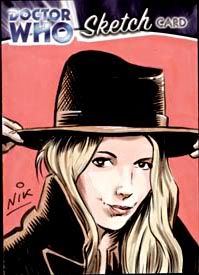 Romana and the 4th Doctor. Romana trying on the Doctor's hat and coat and Romana with some kind of machinery attached to her head..... or maybe it's discrete 1970's headphones!