Non-Sport Update's Card Talk
My James Bond Autograph Collection
February 29, 2020, 09:34 PM
cardaddict
My James Bond Autograph Collection
That is simply amazing.
Could you describe those in detail, please?
February 29, 2020, 10:04 PM
space phantom
The main poster is 11x17 and signed by Keir Dullea and Gary Lockwood; they did a signing in Arizona some years ago and I was lucky enough to be able to purchase one.
The smaller images are 4x6 printouts I made of alternate posters that were used to promote the movie.
The autographed card at the bottom center is signed by author Arthur C. Clarke. My brother and I corresponded with him back in the mid 1980's. He had a tremendous sense of humor.
The HAL 9000 interface is a 1:1 scale Moebius model kit that was released late last year and my brother and I built this past month. It's the first model that we've done in about 25 years. Just like in the film, the eye lights up via a switch on the side that activates a red LED light. It's actually a pretty easy kit to build (we went by a few videos on YouTube) and only requires three different paints plus a primer to make the paints stick better. The pic can be enlarged to see the details.
February 29, 2020, 11:14 PM
cardaddict
Wonderful!
I envy your Clarke relationship. I started collecting his books during his later years, after 2001 came out. He wrote some classic novels. I must look for one of those kits!
I've seen 2001 in the theater at least 10 times, the most recent a couple years ago when it was released in the I-MAX format. I almost have it memorized.
February 29, 2020, 11:41 PM
space phantom
The kit goes for about $35 on Ebay.
Also just as an FYI, still available on the secondary market and often appearing on Ebay is a pre-built and pre-painted Moonbus model from Moebius as well. I bought one several years ago for about $75. The top of the moonbus can be removed to reveal the inside of the bus complete with figures.
https://www.moebiusmodels.com/...moonbusprebuilt.html
March 26, 2020, 05:54 AM
X
Finally picked up a full-bleed Lazenby to complete my on-card Bond actor autos. Took a while but it was tricky to find one without any edge chipping. Shout-out to Tony of Triangle cards for getting this one to me. Funny that the 'forgotten Bond' took the longest to acquire.
That said, I was lucky enough to meet Lazenby at London Comic Con last year and it was amazing to see how busy and popular he was. You could see he was overwhelmed, in a good way. Very different to when we was sitting alone and bored-looking at a Memorabilia show 15 odd years ago. I think a lot of people have revisited OHMSS in the last decade and realised what a good film it always was, up there with the best in the series. And Lazenby did a good job too. Nice to see him get some well deserved recognition after he sadly messed up his career.
Gutted that Timothy Dalton could not be persuaded to sign for RA, but so happy to have these. My favourite Bond cards.
This message has been edited. Last edited by: X,
March 26, 2020, 07:25 PM
space phantom
Hi X, congratulations on the Bond full bleed auto cards and you picked the right ones too. These were the best of the auto cards for each actor from all other poses.
March 27, 2020, 07:31 AM
wolfie
Those are really nice but try as hard as i might i could not bring myself to spend money on the Craig. I just do not see scribbling DC on a card as a signature.


____________________
Come, it is time for you to keep your appointment with The Wicker Man.
March 27, 2020, 05:48 PM
X
Thanks
space phantom
. For the full-bleeds I do think the Craig Casino Royale and Moore Man With The Golden Gun 6-case cards were pretty good images too. I tried to go with images I most associated with each Bond - luckily RA spoiled us for choice. Always wanted a Lazenby FB with him in the blue jumpsuit though.
wolfie
I agree about Craig's signature. Absolutely terrible but his have been like that for a long time. Even on the cards he has put more 'effort' into they still look bad. Also, even with such a basic signature it amazes me that no two examples look the same.
March 27, 2020, 06:38 PM
Raven
quote:

Originally posted by X:
I agree about Craig's signature. Absolutely terrible but his have been like that for a long time. Even on the cards he has put more 'effort' into they still look bad. Also, even with such a basic signature it amazes me that no two examples look the same.
I have a theory for the few people who sign like that, no consistent signature what-so-ever. I think they do it on purpose.

No matter how illegible or short or ugly a signature may be, everyone has a pattern to how they write. Slant, formation of letters, size, thickness, these things don't drastically change under normal conditions. Signatures may change with age, health problems, and periods when signers just start shortening, but back-to-back autographs on the same day, in the same conditions, should resemble each other.
People like Craig and Affleck, they just don't. It's to the point where you can't even tell fakes because anything could be what they wrote at any given time. I think they do it because they have the idea that people are profiting off their signatures, which they are, and they don't like it. So it's their way of getting back. Just my theory, but you must buy certified cards for certain people as the best option. Third party authenticators have a fit over signatures that have too many differing examples to count.
June 08, 2020, 11:33 AM
JOHN LEVITT
Good afternoon
Just spent part of the "9 week Lockdown" period revisiting my Bond albums/binders and today this thread, Amongst my autograph cards I rediscovered the card shown below. It was pack pulled at the time of issue and is shown below:-
[IMG:left]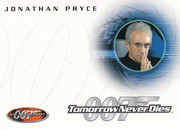 [/IMG]
regards
John

____________________

June 08, 2020, 12:00 PM
cardaddict
It's always a thrill to discover those kinds of mistakes, isn't it?
June 08, 2020, 06:02 PM
JOHN LEVITT
Until I came across it again I had forgotten who the intended signer was although I did remember I had an unsigned card.

____________________

June 08, 2020, 06:47 PM
cardaddict
The closest I came to that was when, many moons ago, I pulled two Captains Cards (Kirk), out of the same pack.