I've always wondered how these manufacturers persuade some of the tougher signers. I guess you have to respect that each celebrity has their own reasons for signing/not signing but maybe RA should tell the likes of Grace Jones/Robbie Coltrane etc that people like Dame Judi Dench grace their products so should maybe get over themselves.
I've just realised that in all this thread I don't think I have contributed any images myself so...
My favourite Bond Girl Famke Janssen. Hers was my most wanted Bond auto card along with Pierce Brosnan. Was VERY glad when RA issued the full bleed below (one of their very first full-bleed repeats) after collectors complained her first full bleed from Dangerous Liaisons was far too limited, and I actually prefer the picture on this one. I have since set the WOB card free from it's toplader!
I love the Women of Bond style and was really pleased at how many new cards we got in Archives 2014. Whilst Berry is not my favourite actress I was pleased to add a major Bond girl and I think I found a nice example of her stylised signature. Speaking of which... I really enjoyed Severine in Skyfall but I refused to buy a card of Berenice Marlohe until I found a signature of hers I was happy with. She is one of the sloppiest signers I have ever seen and frankly most of her autographs look appalling. This is the most legible I could find.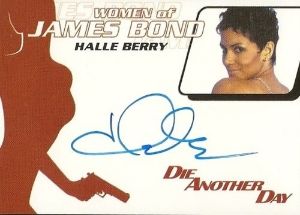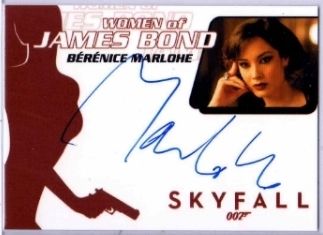 Still on the Bond girls, as time marches on I couldn't miss the opportunity to meet two of the classic Bond girls from one of my top 5 Bond films: Goldfinger at a recent UK show. Honor Blackman didn't want to "sign on her bosom" so squeezed her signature down the bottom and Shirley Eaton was desperately worried the gold pen would smudge but I had to have the golden girl sign in gold!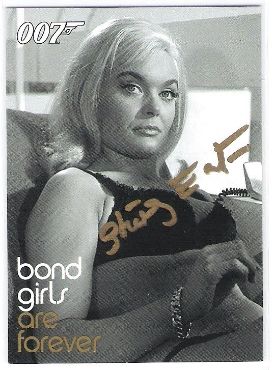 Random but why not. From RA's first, and arguably best relic card run in Complete Bond, the RC6 casino chip. I got this card when the set first came out and later sold it. Regretted it and recently bought it again. I think the casino related relics are very 'Bond' and Licence To Kill is one of my favourites although RA flipped the image on this to fit the card style. I'm sure nobody else notices or cares!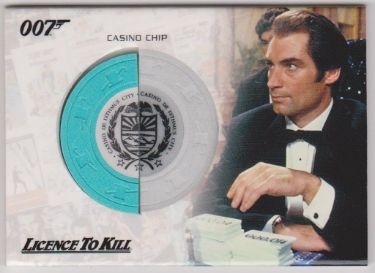 And finally, besides the Janssen cards, my Bond card "Holy Grails", or 3 out of 6 anyway.
The cards I am proudest to own.
It is probably obvious I am quite fussy, or shall we say specific, and I really enjoyed the last Bond set in particular because along with all the great WOB cards, I was treated to a Skyfall Craig full bleed (favourite Craig Bond film) and a TMWTGG full bleed using my favourite pic of Roger Moore as Bond. I had to find a great example of Brosnan's flourish filled signature as he's my favourite Bond. Was tough to find a good Moore as his signature has gotten a lot more inconsistent and shakier in his older age/in recent sets. As for Craig.. another lazy signer. I gave up on anything that looked good so just went for a neat 'DC'.
Some people bemoan the repeats we get but RA have offered some amazing names on styles and with pictures to please a wide spectrum of fans. I think RA have served us Bond fans very well over the years.
This message has been edited. Last edited by: X,