Originally posted by X:
To answer your question Raven, I have indeed come up with a new quest...
I have loved Star Wars since my youth and have some of the odd cards here and there but have always balked at getting any official autograph cards from the due to their ludicrous expense caused by Topps' deliberate short printing of very willing signers, and the insanely large fanbase willing to keep prices high. Then we moved to the nasty sticker autos and the idea of Star Wars auto cards went right out the window for me. Plus, despite how many Star Wars auto cards Topps have put out there has never been one style of cards that has actually covered ALL the main players!
Then I saw the Galaxy(5?) autograph series Topps came out with a few years back that utilised the fantastic Joe Smith artwork which reminded me of the Galaxy Bend-Ems promos in the early 90s. Whilst there were many of these promos, 12 of them were 'character studies' commissioned for the 'Star Wars Ensemble' which are great renditions of the main cast.
I have always liked these cards and the 'A' Vader promo was in fact my very first Star Wars trading card when I was a kid (it came with the Vader Bend-Em!). So I thought why not use these as the basis of compiling my own set of Star Wars autograph cards?
I started these last May at UK and don't think I've done too bad so far...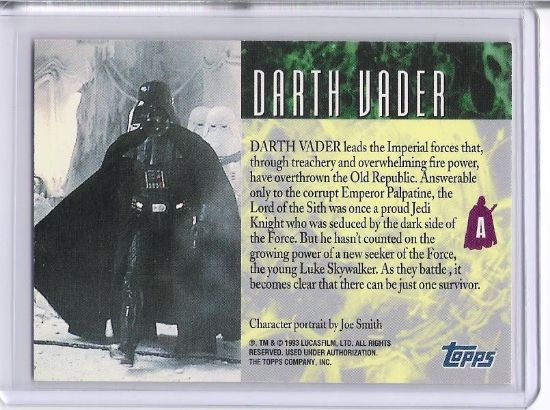 I think I've nearly outdone Topps' effort anyway! And they're all on card signatures that I know are 100% authentic. I don't doubt Topps' authenticity one bit mind you, but it is nice to have an autograph signed in front of you.
Seeing as it was the OTT prices of pack inserted cards which was catalyst to start this collection, below are the prices paid:
Carrie Fisher - £60/$103
Ian McDiarmid - £70/$120
Billy Dee Williams - £25/$43
Dave Prowse - £15/$25
Peter Mayhew - £20/$34
Kenny Baker - £15/$25
Jeremy Bulloch - £15/$25
TOTAL = £220/$375, which I don't think is too bad for all those names and WAY cheaper than pack inserted versions.
The other characters in the series were Han Solo, Luke Skywalker, Yoda, C-3PO and Obi-Wan. I think I'm in with a good chance at Mark Hamill and Anthony Daniels who, whilst rare signers, are not total recluses.
As for Harrison Ford and Frank Oz... not holding my breath. Alec Guiness might be a good candidate for a cut autograph perhaps.
Thanks for reading - I'm really quite chuffed with these.
Later in the year Destination Trek 3 has some amazing guests and I intend to get some Trek cast on some RA cards for similar reasons. And Patrick Stewart on a Days of Future Past X-Men card. Can't wait!