Non-Sport Update's Card Talk
Too many Star Wars sets
September 29, 2015, 07:07 AM
allender
Too many Star Wars sets
As for "too many sets", the market has something to say about it. I was browsing through the CardboardConnection blog and saw the list for the top-selling boxes in sports and non-sports for a recent week on eBay:
1. 2015 Bowman Chrome Baseball
2. 2015 Topps Chrome Baseball
3. 2015 Topps Football
4. 2015 Topps Inception Football
==> 5. 2015 Topps Journey to SW: The Force Awakens [presale]
6. 2015 Panini Clear Vision Football
7. 2015 Panini Certified Football
8. 2015 Panini Spectra Football
9. 2015 Topps Heritage Minor League Baseball
==> 10. 2015 Topps SW Chrome Perspectives: Jedi vs. Sith
Of course "box sales" by numbers don't take into account the relative price per box; you can't tell the impacts of Retail vs Hobby boxes; were Blaster Boxes counted. Nowadays many non-sports releases are dominated by case-breakers with relatively low box sales.
So I have a tentative conclusion that the proliferation of Star Wars sets is driven highly by the *retail* popularity, even if hobby versions with high-end hits are released at the same time.
And maybe, for some reason, the endless string of parallels might be particularly attractive to the retail crowd.
September 29, 2015, 01:37 PM
Raven
Not really sure what you can conclude from that list other than that the latest products sell the most for awhile right before and right after release.
All 10 are from 2015. Five of the 10 are football sets, the season just started so that is where sports cards collectors are right now. Chrome cards are nice looking and pre-sale for the Force Awakens is a given. The only one that I wouldn't have picked is Minor League Baseball, but somebody hot might be in it, I don't follow it anymore.
Retail Star Wars will be mega this Christmas, especially if there is nothing big coming out in toys. And for adults, I just heard of a $200 pulsating light sabre. I'm curious to see if the sales of all things Star Wars matches what is expected. The older crowd seems a lot more reverent about it than the young target audience seems excited.
I know it will make a fortune, but they want 5 times the fortune and I don't know if the under 20 crowd is that invested in this stuff without all the history.
September 29, 2015, 04:50 PM
tangent
quote:

But not just another set . . .

112 base cards, 1 pack per box, 9 cards per pack/box, 12 packs/boxes per case, 1 auto or sketch per 9 card pack/box.

No price stated.

I really like the look of the Tek cards and if the autograph list has the big names and the sketches are quality I actually think this could be an impressive product.
yes, i've just ordered some and I haven't bought Star Wars for ages. Part of the attraction is that a 'box' is only 8 cards, so a 'case' is only 96 cards. Much cheaper shipping. Though I would prefer something like 25-30 cards per box so that a case has a couple of sets. But mostly it's the look of the cards and the fact that the autos are on-card rather than stickers.
November 12, 2015, 12:32 PM
Logan
Yesterday on facebook Topps revealed that there will be another "Star Wars Evolution" set coming May 2016.
November 12, 2015, 08:18 PM
boadster
Logan, Thanks for letting me know. I just posted on their page. They have no shame, and will never stop. They almost show a lack of respect for the collectors by pumping as much stuff out there as they possibly can... I thought the 1st ever autograph Star Wars autograph set- with a good group of signers, would be something cool, but I am starting to feel like a fool for making 2 of those sets...In my opinion, you are a sucker if you spend real money to buy these newer Star Wars products...
November 12, 2015, 11:47 PM
chesspieceface
Strike while the iron is hot, as they say...

____________________
Everywhere around this burg they're running out of verbs, adverbs, and adjectives. Everywhere around this town, they're running out of nouns.
November 13, 2015, 12:11 AM
Raven
quote:

Originally posted by boadster:
They have no shame, and will never stop. They almost show a lack of respect for the collectors by pumping as much stuff out there as they possibly can...
Much of the new Star Wars stuff is not actually designed for the collectors, just the mass audience. The retail merchandise that goes to the big chain stores is for mass consumption, including the kiddies. I don't think there will be many items that are not overproduced, yet the demand might still exceed production in some areas. That is of course assuming that the new movie lives up to the expectations, which are pretty high right now.
I've stopped trying to judge this stuff, whoever wants it should chase it. As long as the demand is there the sets will be cranked out. To borrow from another space franchise, it would be illogical to think otherwise.
June 30, 2016, 03:02 PM
Logan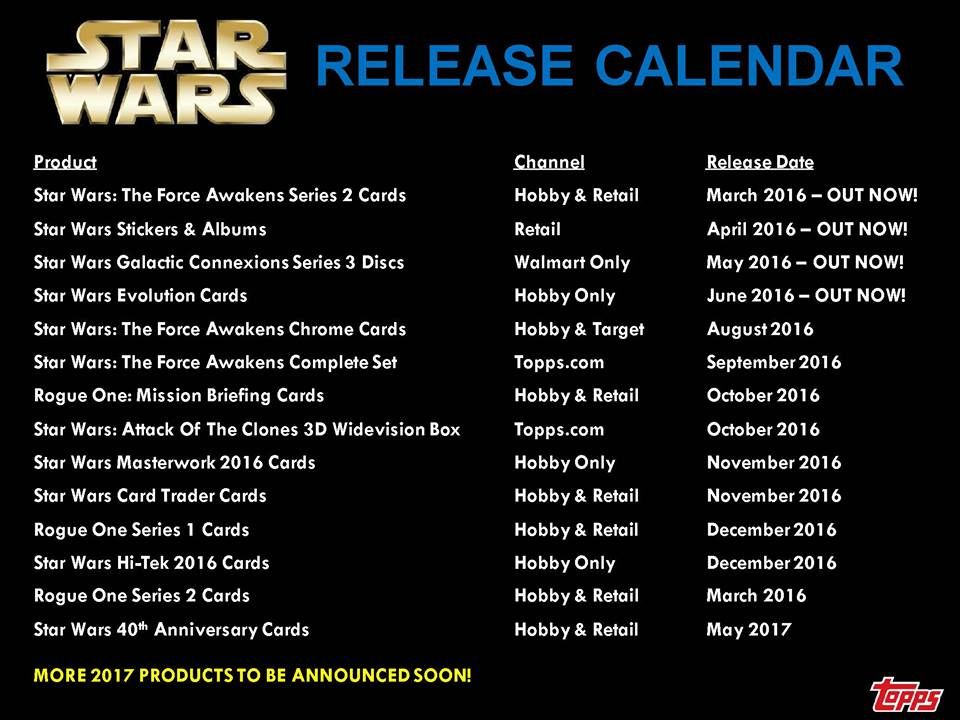 June 30, 2016, 03:14 PM
Raven
No overproduction here, they skipped July 2016.
June 30, 2016, 03:49 PM
Jason00
The two Rogue One sets and the 40th Anniversary interest me. I wish they would do another Rebels set and this time make it a little more hobby friendly and include some autographs.

____________________
"For a universe that's supposed to be half Chinese, Firefly sure doesn't have any Asians." -- The Uncomfortable Truths Well

June 30, 2016, 04:07 PM
David R
Didn't Attack of the Clones 3D (Star Wars Episode II) come out in 2015 ?
June 30, 2016, 04:14 PM
wolfie
On the face of it this many releases of ( let's face it ) the same card images over and over again month in month out seems crazy but they must be making a profit on them or they would stop.

____________________
Come, it is time for you to keep your appointment with The Wicker Man.
One the one hand it is great Topps finally have some new material to work with. On the other they have made about a gazillion sets on the 6 prequel/original trilogy films, so how many sets will we see squeezed out of the sequel trilogy and all the spin-offs that will come?
I am REALLY looking forward to seeing Rogue One. A lot more than I was The Force Awakens. Interested in seeing what Ben Mendelsohn does as Director Krennic, always interested to see Mads Mikkelsen's roles and most of all, more of James Earl Jones/DARTH VADER!
I hope those three at least get some on-card autos. Not to mention Adam Driver, Daisy Ridley, Oscar Isaac, Gwendoline Christie, Domhnall Gleeson and Max von Sydow in the hopefully not too distant future. Because sorry, just John Boyega set after set won't cut it.
June 30, 2016, 05:29 PM
hammer
Plus the topps UK releases
June 30, 2016, 09:54 PM
catskilleagle
I think the last SW box I've bought was that first 3D set - just not into my bread being sliced so thin and trying every sandwich made.
The good thing about all those sets is that collectors can pick the mix of chase cards they really like. I didn't get ESB 3D Widevision when it came out but am thinking of buying a box after liking the first set. It's a set with hits but the focus still seems to be on great base cards.
July 01, 2016, 02:44 AM
Kryten67
From Kevin West's Facebook : Just received my next set of 100 Star Wars cards from FedEx this morning. Officially called "ROGUE ONE: Mission Briefing" although there will be NO ROGUE ONE characters or vehicles allowed to be drawn in this set. We are supposed to focus on characters, ships & scenes that revolve around the Death Star. Back to the drawing board. (gotta love being able to continue drawing Star Wars!!)

____________________
Today is a Good Day to Buy!
July 01, 2016, 11:35 AM
Chris Cline
YES YES YES YES YES YES YES YES YES YES YES YES.
Sorry was that to many yes's?
Have there not been a set a month this year so far?
July 04, 2016, 01:09 PM
steve j
Having most of the star wars sets including parallels unto fairly recently, This sudden glut of cards has forced me to STOP! I have stopped buying cases and now I'm buying absolutely nothing. C'est la vie.
July 04, 2016, 04:21 PM
Logan
I have a feeling Topps desperately wants to be able to do this same kind of thing with Walking Dead and Doctor Who. The problem is those licenses can't sustain the set-a-month treatment that they give Star Wars. And I'm not sure how much longer Star Wars can sustain it either. Prices of some of the best cards you can pull seem to be trending further and further downward with each passing set.
July 04, 2016, 05:19 PM
Raven
quote:

Originally posted by Logan:
Prices of some of the best cards you can pull seem to be trending further and further downward with each passing set.
Fatigue has set in. It's not just Star Wars.
Look at the more popular autograph cards in recent Bond, GoT, Star Trek and WD. They are off the highs of the same signers in previous sets. And those cards in previous sets are also decreasing, rather than increasing.
It's not every card naturally, but it is most of them. The arrows are definitely trending downward.