Non-Sport Update's Card Talk
New here, and to non-sports customs
September 06, 2014, 05:02 PM
Bob Lemke
New here, and to non-sports customs
Surprisingly, I never visited this forum prior to today.
Some of you may remember me from my days as editor and publisher of Sports Collectors Digest, Baseball Cards magazine, the Standard Catalog of Baseball Cards, etc. from 1981-2006.
I'm retired now and have been making custom baseball and football cards for more than 10 year; I suppose I'm close to 300 different now.
I recently decided to expand my custom work to additions to the classic non-sports cards I collected as a kid. Presented here are my first efforts. This is excerpted directly from by blog at
www.boblemke.blogspot.com
. I present all of the new card creations there, along with my ramblings on other topics.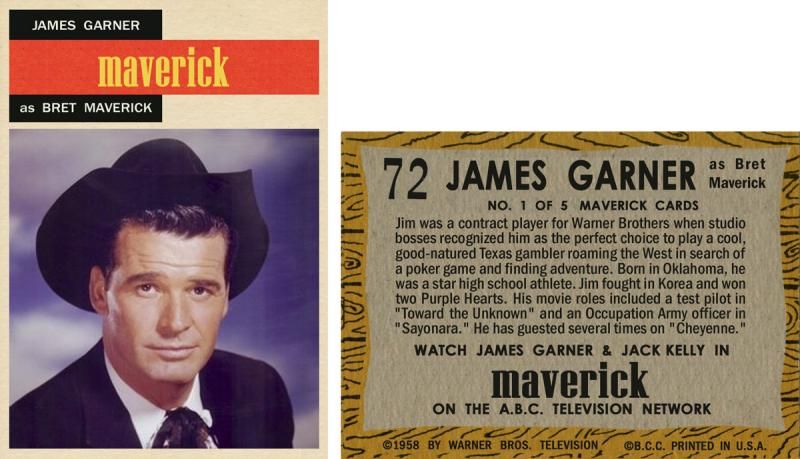 I really wasn't looking for any new custom card creation projects.
My to-do list of vintage baseball and football card homages will already outlive me. Maybe the sheer size of my files of future fantasy cards has caused me lately to feel a little up in the air about which project to tackle next.
The recent death of James Garner has pushed me in a new direction.
As a seven-year-old buying packs of TV Western cards I never gave up hope of finding cards from my favorite Western -- Maverick. There was no checklist issued with that set, so with the eternal optimism of youth I kept hoping to see Brother Bret and Brother Bart peeking out from beneath the bubblegum.
However, when nobody in the neighborhood ever found a card numbered above 71 -- what an unusual number for a Topps card set in that era! -- and Maverick, nor several others of our favorite shows, were not to be found, we figured "there's always next year."
However, like some of the shows that were featured, there was no "next year" for the TV Westerns card set.
The issue featured between three and 15 cards each (averaging half a dozen) for 11 television programs. While many of the TV shows were broadcast in black-and-white, all of the TV Westerns cards were in color, even if some were only colorized.
Truth be told, of the 11 shows, I only regularly watched four: Gunsmoke, Have Gun Will Travel, Wagon Train and Wanted: Dead or Alive. Today, 55 years later, I have little or no recollection of the other seven: Trackdown, Yancy Derringer, Union Pacific, The Restless Gun, Boots & Saddles, The Californian, and, Tales of Wells Fargo.
As I said, Garner's passing got me thinking about TV Westerns; the shows and the bubblegum cards.
I determined that, much as I have done for 10+ years creating "cards that never were," in vintage baseball and football formats, I could fill in some of the gaps left by Topps.
Just as is often the case with my baseball and football custom cards, the process of researching, photo gathering and piecing together the elements has proved educational, challenging and rewarding. I especially enjoy writing the backs, attempting to recreate the tone of the original Topps cards.
Fortunately, I still own a complete set of the 1958 Topps TV Western cards, so I was able to scan the real thing to make front and back templates for my Maverick cards.
Those tools will also allow me to rather easily expand my "Second Series" TV Western customs to include more shows that Topps missed. I've identified five other childhood favorite shows upon which I will base two or three cards. Be sure to check in on this blog occasionally to see what's coming down the pike. If you were a fan of these great old shows in the 1950s and 1960s, or whether you only know them from reruns that continue to this day, I think you'll like where this is going.
If you don't mind looking at an old-timers custom non-sport card creations, I'll try to post me new customs on this forum as they are developed.
September 06, 2014, 05:55 PM
chesspieceface
Love them, Bob!
Your story reminds me of one from my youth. We'd collected all 66 of the original blue bordered Star Wars cards from 1977 and never even considered there'd be another set. And then, playing at some other kid's house, I found a bent up RED bordered Star Wars card at the bottom of his toybox and this one was numbered in 100's. Even though I was only 6 at the time, I can still remember the sudden realization that there was another set to be had and how I couldn't wait to tell my brother about them.
The chase was on, and it's pretty much never stopped in the 37 years since...
Thanks for sharing your "Maverick" experience and keep them coming, the cards and the stories, both are superb.
Welcome to the board!

____________________
Everywhere around this burg they're running out of verbs, adverbs, and adjectives. Everywhere around this town, they're running out of nouns.
September 06, 2014, 09:26 PM
Don Norton
Nice looking cards Bob. TV Westerns is certainly an overlooked classic. The 50's were the golden age of TV Westerns, besides the ones mentioned, Sugarfoot, Cheyenne, Rawhide and Jim Bowie, which was more of an "Eastern" since, like Yancy Derringer, most of the action took place in New Orleans, were all favorites. Now I think the only Western is Hell on Wheels, which I also like.
September 06, 2014, 11:44 PM
clearblue
I love the look of those cards.
September 07, 2014, 10:59 AM
wolfie
I, of course, am far too young to remember any of this but welcome to the board.

____________________
Come, it is time for you to keep your appointment with The Wicker Man.
September 07, 2014, 06:02 PM
John Tirohn
Sorry, a little confused. Are these custom cards or the originals from the 50's. In any event they look great.
September 08, 2014, 10:12 AM
Bob Lemke
Today I'm presenting the first of what I anticipate will be more than a handful of cards I'll be making in the format of Topps 1954-55 World on Wheels.
For one year of my 31+ years at Krause Publications, I served as executive editor of the Old Cars division. From Sept., 1978-Sept., 1979, I was editor of Old Cars Weekly newspaper, the Old Cars Price Guide magazine and the start-up monthly newsstand magazine Car Exchange.
Because I've always been a car guy, I look back on that year as the best of my time at Krause.
Sports cars and luxury imports were never my thing. (I did have a Thing, actually three of them; 1974 Volkswagen Things.) I was more interested in vintage vehicles from Model T and other brass-era autos to late-1940s woodies, virtually everything made in the 1950s and the muscle cars of the mid- to late-1960s.
For most of the years between 1971-2001 my daily driver was a succession of 10-year-old Cadillacs.
Having neither the money nor the mechanical aptitude to seriously pursue old cars as a hobby, my interest was mostly voyeuristic. Today I could afford to indulge myself with a few pieces of old iron, but I'm too stove up to get in and out of bucket seats, to operate a stick shift or crawl under a car to change oil. And I'm a believer that if I can't drive a car, there's no use owning it.
I'd make an exception, though, for the car I chose as the subject for my first World on Wheels customs.
I first encountered the 1956 Buick Centurian dream car in the spring of 1979 while on a backstage tour of the Sloan Museum in Flint, Mich. Press junkets like that were one of the big reasons my year at Old Cars is so fondly remembered.
The rocket-inspired Buick dream car is widely covered all over the internet, so I won't detail it here. If you're like me, I don't have to explain the attraction of a sporty silhouette, bubble top, fins, chrome and expanses of mid-century color scheme fiberglass. If you don't "get it" at first glance, nothing I can say here will sway you.
In keeping with Topps' original card set, I created my custom WoW cards in both a red-back and blue-back version. While Topps used the same pictures for both red- and blue-backs of its high-number (161-180) series, I decided to splurge on two views of the Centurian.
I could make a new WoW custom every week for a year and never run out of ideas that don't stray too far from Topps' original concept. However, I want to do some more TV Westerns and I've got plans to dabble in a few other favorite non-sports issues from my childhood; not to mention my on-going efforts in the fields of baseball and football custom cards. So, I'll probably limit my car cards to just a handful for the time being.