quote:

Originally posted by wolfie:
Companies put blank filler cards in packs to stop people from feeling for the costume card.

I have a couple from Fleer that just advertise Fleer as opposed to a set.
Following up from Wolfie's comment above, recently when sorting through a box of assorted cards I came across a batch of these filler cards (18 different). They are a mixture of Inkworks, Fleer and Upper Deck and I probably have more in other boxes yet to be sorted.
I have shown images of the two Fleer cards as below:-
This has a darker front with a brown board back.
[IMG:left]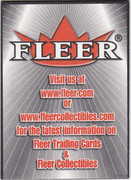 [/IMG]
whilst this one has a lighter front with a white back.
[IMG:left]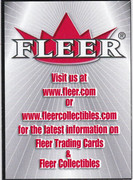 [/IMG]
The two filler cards for Inkworks are for Angel and Buffy Season Six. The twelve Upper Deck cards are all different and in two thicknesses.
I acquired the cards as they were used by sellers as packing when sending me cards. From what I can tell the earliest has a date of 2002 and the latest 2007. I probably received them more than 10 years ago. These days I receive promo cards or white card being used as packing.
regards
John

____________________