...Hi all...I posted already that I had pulled 4 sketch cards out of a single Masterpieces box yesterday but then had to work on my Star Wars sketch cards the rest of the day...but...I took pics as this scenario unfurled before my unbelieving eyes and will attempt to kind of recreate the whole experience here...
...yesterday (4/14) was NSU's OPEN THAT BOX DAY...I had won two LOTR Masterpieces Hobby box Ebay auctions the week before and...well, I just couldn't hold out...I had to open them a little earlier than Open That Box day!...and pulled a really nice Shum, a Wilkinson Orc which I already had pulled before in a previous case, a Flores Nazgul looking right with a little interior grey which I haven't seen before, and a Goodmanson Gollum...
On the heels of those two wins, I dug deep into my savings for the week and won two more boxes...one an open auction and one a Buy It Now...and had them shipped as fast as possible...
Thankfully, these two Masterpieces boxes came late in the week, one as late as Friday...so the temptation wasn't as bad...still...it wasn't a full minute past midnight (officially the 14th) when my teeth began ripping into each and every pack of those two survivng Masterpieces boxes...
(My scanner is on the fritz...so a digital camera was the only was to go here...)...
The first box...WOW! I was sooooooooo pleased...first came a John Watkins-Chow Gandalf...and then a cool Ray Dillon open mouthed Cave Troll...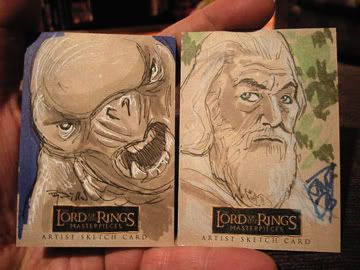 ...so right then and there...with 2 color cards out of the first box...I'm a very happy collector regardless of what's in the second box...
...so I'm opening the first pile of packs from my second box...and, what I usually do is face the backs towards me, and then kinda fan the cards out slowly...and see right away which inserts are included in the pack...evryone knows by now that a peek of yellow means you've pulled a Silver or Bronze Fellowship foil...if it's a blue or redish tone, it's one of the Kayanan 6 card puzzle foils...actually sometimes the light blue one fools you for a second and you think it's another sketch card...
...so I'm fanning out this pack...and this is what I see...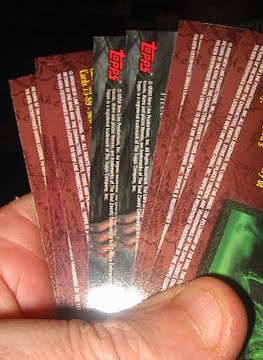 ...now you've got to know that this NEVER happens to me...I've pulled NO SKETCH CARDS at all in 4 Masterpieces boxes...sometimes 2 identical sketch cards by the same artist in the same box...sometimes an entire case without a rare sketch card artist and not a hint of color or even a line of additional white in the batch...
...and here, before my very eyes, was what I read about when collectors and fans say they've pulled 3 or 4 sketch cards in a single box...here it was...2 sketches...back to back...in a single pack...AND MINE ALL MINE...I yell to my wife Denise to hurry...please get the digital camera...I don't want to even move my hand before I snap a picture of this super-memorable moment...
...I move the base cards out of the way and slowly turn over the two sketch cards...I am trembling jittery hyper flipped out freaked when I see the blazing glow of Ray Dillon's beautiful "Gollum with the One Ring"...I know this card inside out having visited Marleyeds's
www.lotrsketchcards.com
about 9,801 times since the LOTR Masterpieces sketch card set release in late October...in person...this card is really "magic"...and then I notice the equally great Amy Pronovost's "Ent" with a cool outside white wash...it'll go perfect with the Amy Pro "Treebeard with Squirrel" I just picked up from one of ztaylork's auctions...
...so, I think I'm done...both sketches happened to have been in one pack and I've received my stated "2 Sketch Cards" per box...well, at least that's what I'm telling myself so as not to get disappointed in case there really isn't an additional extra sketch card in the second pile of 18 packs...but...I'm really hoping the other pile will yield sketch card #3 from the box...that would be great!...also, you never know...there may be a Gold Foil insert, and I'm not quite sure if all of the 1/1 prismatic foils have been pulled either...so, I go along my merry pack-opening way...
...about the same level down in this pile...I can't believe my eyes when I see this...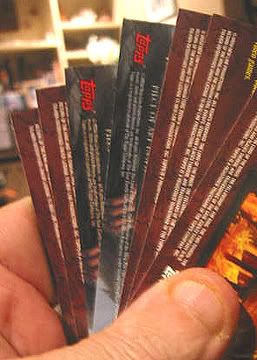 ...YES...another 2 sketch cards back to back in the very same box...that's 4 sketch cards in a box that cost me $68.55 on Ebay...I slowly move away the base cards again...and see the total grey covered tones of a soft and beautifully melancholy Frodo by Cat Staggs...white trimmed Elvish Leaf pin and Sting tip gathering both my attention and all the light in the scene...and next to that...a great Katie Cook sketch of Pippin...or is it Legolas...or ???...oh, who cares, it's another cool Cook for my collection...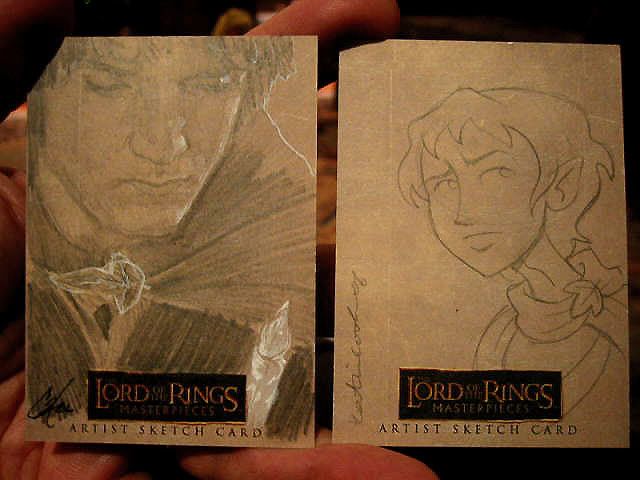 ...SO, that was my Open That Box Day...a truly memorable experience that resulted in:
1. 6 sketch cards from 2 Masterpieces boxes
2. overwhelming card collecting happiness and joy
3. the loss of an addition $78 since I immediately went on that auction place and bought another Masterpieces box with shipping insurance...
Moral of the story...YOU NEVER KNOW!
This message has been edited. Last edited by: ocdlotr,

____________________
'Follow your bliss'...Joseph Campbell
'Looking isn't as simple as it looks'...Ad Reinhardt