January 25, 2021, 08:25 PM
Logan
RIP A. J. Rutkowski
Sad news I just read online today that A.J. Rutkowski passed away.

He and I are from the same town and I graduated high school with his daughter. He was a long-time seller at the Philly Show and back in the mid-90's he had a small card shop in the upstairs of the same building that he sold insurance out of. I picked up an unopened box of 1st series Topps Star Wars cards off him back then, among other things. He had some great vintage stuff and it was neat to hear him talk about how he saved so many cards from back in the 70's - a lot of it unopened and in pristine condition. He had some kind of foresight. And he was a nice guy. RIP Mr. Rutkowski.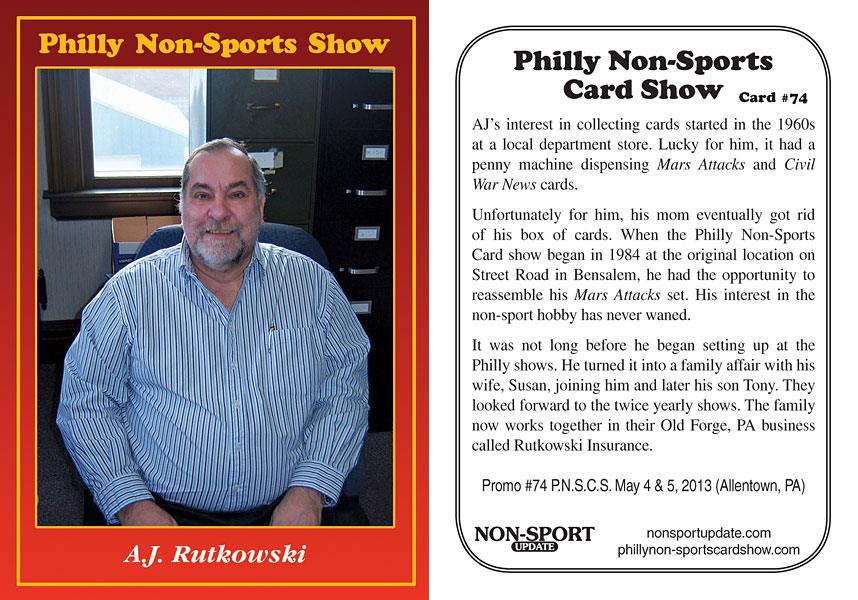 January 25, 2021, 08:56 PM
Batman
A nice guy always enjoyed seeing him at the show, he will be missed.
January 26, 2021, 02:10 AM
hammer
Sad news R.IP. A.J
January 26, 2021, 10:06 AM
silmapco
RIP A.J. Rutkowski
January 26, 2021, 12:25 PM
catskilleagle
I'm sorry to hear that. Some people have a knack for knowing what they should hold onto. I hope the family sees that those who knew him are remembering him here too.
Jess