Originally posted by ocdlotr:
Okay...my turn...
For my 3rd annual Open That Box Day I really wanted to be prepared...local dealers here in Queens, New York were all out of LOTR Masterpieces 2...and one local shop wanted $69 a box...PLUS TAX which here in NY is 8.25%...so, last week, I looked through Ebay to see if anything was available...was able to pick up a single box from a Brooklyn seller for $37 ($44 with shipping) and then picked up a case for $350 ($355 with shipping)...BOTH GREAT DEALS...
Problem...would they get here on time...
... so many sellers on Ebay are s...l...o...w...shippers...the case was coming from Oregon or Washington state and the box from a nearby county in NYC...
Well, both arrived yesterday afternoon...but I couldn't hold out 100% and decided to open the single box last night...it actually yielded a very strange card...since I didn't open that box on the "official" OTB Day, I'll post what that box yielded in the LOTRM2 thread...
...will post that link in a minute or two...
Now, what my wife and I did last year was go to a local Mexican place called Tequilla Sunrise of Bayside, had a great dinner with a Margurita or two, and then headed home, waited until midnight and then she watched as I tore into my LOTR Masterpieces I box...I pulled 4 sketch cards from a single box last OTB Day!
I had serious surgery this past January that had me sidelined from 1/7, the day of the first surgery...to just 2 weeks ago when I returned back to teaching full time...the 10 weeks inbetween have been rough but, like everything in life, you mend slowly and adapt to any and everything that comes your way...I'm a firm believer in the "Everything happens for a reason" philosophy...
Last night, I was given the go ahead by my doc to have my first "drink"...so Denise and I repeated our lucky last year trip to Tequilla Sunrise, had our traditional salt rimmed glass Margurita (2 actually...
)...and walked in the door ready to wait until midnight and open our boxes...unfortunately, we both fell asleep on our couch at about 11:30 and woke this morning...a bit of a delay but rested and ready to rip away...(after we fed the birds and squirrels in our back yard, and then a local park where we used to walk our beagle Boone)...
Denise's pulls are a few posts before mine...
Me...I ripped into a full case of Masterpieces 2...hoping for something really great since I've had really bad luck opening boxes of this product before OTB day...I know it's just Open That Box Day and not Open That Case Day...so I figure Box #1 would be my "official" OTBD entry...but, I'll post the contents of my 8 boxes anyway since I know how crazy all you die hard OCD collectors really are...
My best pulls yet...
Box #1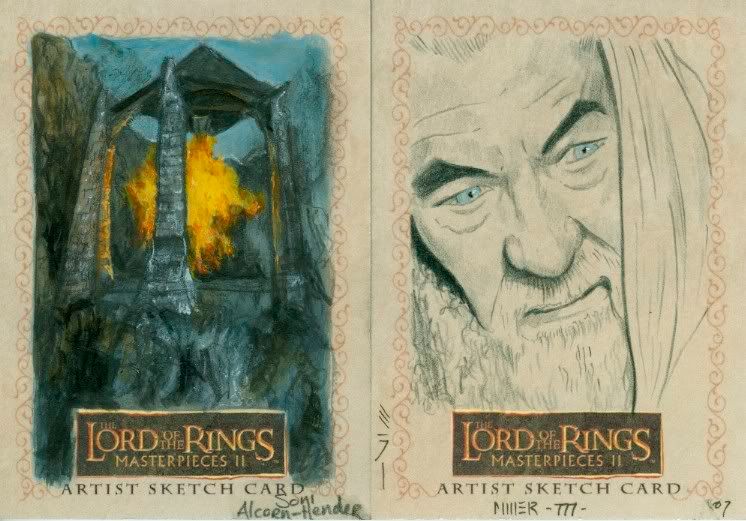 ...a SENSATIONAL Soni scene card...a full color acrylic or watercolor painting that just glows heat and artistic talent (plus the fact that Soni did very few full color sketch cards!)...and a cool Steve Miller blue-eyed Gandalf!
Box #2
...a RAZ Sam and an unusual Gimli by Woodside...
Box #3
...my 8th Waterhouse Troll...and a wicked orc by Lee Koshe...
Box #4
...a nicely rendered Sam by Wayne Lo...and also my 8th Orc by Woodside...
Box #5
...sensational box...a beautiful sensitive portrait of Sam by Allison Sohn...and a delicate fine line ink drawing of Arwen by James Busauskas...
Box #6
...another GREAT BOX...a side profiled Gollum with a glaring red background...and a POWERFUL Denethor by one great artist...Sean Pence...Pence did only 56 sketch cards for this set so this is really a RARITY!
Box #7
...a nice linear Witch King by Jon Ocampo and a soft Eowyn by Tess Fowler...beautiful in person!
Box #8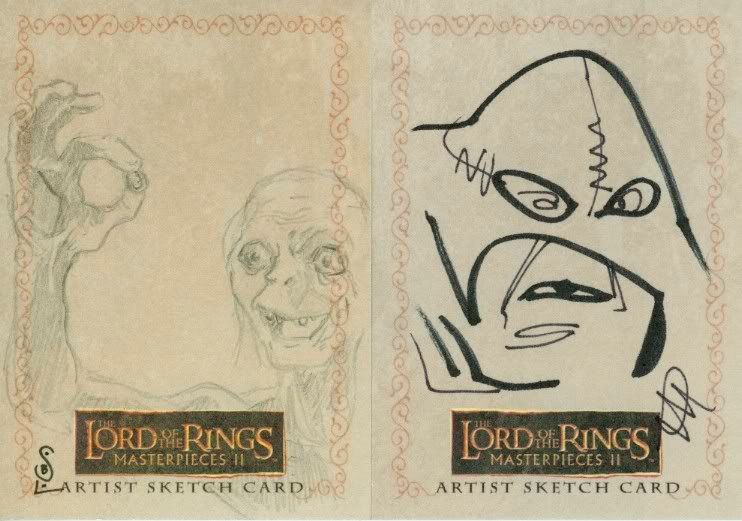 ...a squiggley little Gollom with the One Ring by Jason Sobol...and I ended with, of course, my 9th Waterhouse Troll...NINE is an important number in the Trilogy and so it's fitting I would end this way...
...a terrific 8 boxes...the first my "official" OTB Day entry for this year...and I can't wait until next year!!!