Non-Sport Update's Card Talk
Nosferatu
May 20, 2021, 02:21 PM
Greg Geerts
Nosferatu
There was a P5 promo (see below) included in each box of this Kickstarter backed release that was
produced by RJF Image/Design, RRParks Cards and Attic Cards. The P1 is the common NSU 30th card.
Per Richard Fowlks, they have the P2, P3, P4 cards in-hand and are deciding on how to distribute them.
Either via a Nosferatu backers event or perhaps with upcoming releases from any of the three companies.
More to be on the look-out for!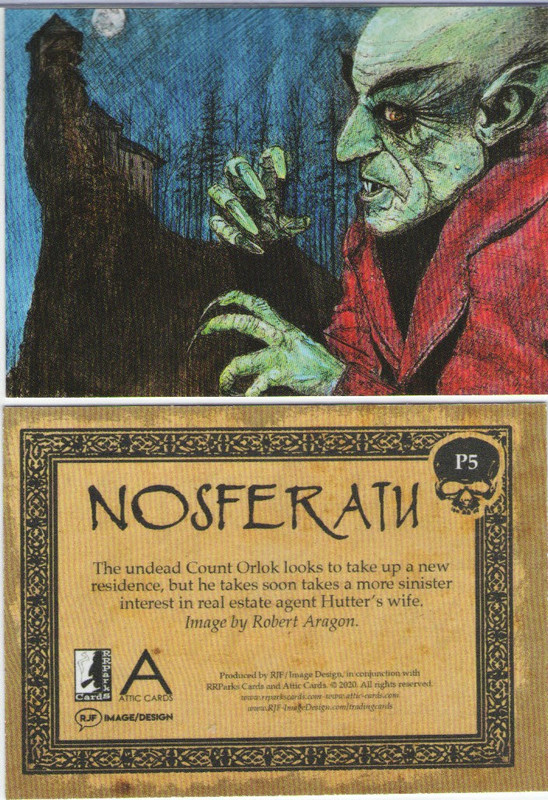 ____________________
Please note the updated email address in my profile!
May 20, 2021, 03:24 PM
wolfie
Great looking card. I like the Robert Aragon stuff.

____________________
Come, it is time for you to keep your appointment with The Wicker Man.
November 02, 2021, 11:02 AM
Tommy C
My friend has confirmed that promos P2 to P4 still have not been released yet. The companies may insert them with a future product.
November 02, 2021, 05:13 PM
catskilleagle
On the Kickstarter page it says that the artists whose work appears on the promos will also have some of the cards to give out. That's good because it gives those who backed the project, but who couldn't kick out a lot of money upfront, a chance to pick up at least one of the other promos without having to back or buy a separate product to get one. I get it, though. The companies wanted to reserve something extra for those at the Master Set level.
February 11, 2022, 09:41 AM
Tommy C
You might be seeing P2 to P4 soon, as unannounced bonuses included with various Kickstarter rewards. Keep watching. I am sure that they will pop up at some point in 2022.
February 20, 2022, 08:06 PM
catskilleagle
Images for P3 and P4 have been leaked out! Someone scanned them in a hurry and slipped out a window. They couldn't take the cards themselves without alerting security. P2 remains a mystery but it looks like it completes a puzzle with P3 and P4.
Still no word on how the actual cards will be released.
October 12, 2022, 09:35 AM
Tommy C
There is a new Nosferatu Kickstarter. I wonder if the missing promos from 2021 will be included.
https://www.kickstarter.com/pr...creator_youve_backed
November 04, 2022, 10:53 AM
Tommy C
From what I understand, we will be seeing the P2 to P4 promos, made in 2021, with the Kickstarter rewards for the "Nosferatu 2" campaign which ends on November 6.
Not sure if you need to pledge towards a Master Set to get them, or if they will be sent with lesser pledges...