Non-Sport Update's Card Talk
Red Sonja Promo Checklist
May 25, 2012, 04:56 PM
Tommy C
Red Sonja Promo Checklist
I have seen these Breygent promos:
Promos 1 and 2
2011 Philly
2011 NSU
2011 UK Show
2011 Special
Promo UK (2012)
Mega Con puzzle set of 2
Album promos 1-2
Case promo PFT /50
Case "rare" promo / 100
May 25, 2012, 05:02 PM
Tommy C
Looking at Breygent's website, as with Vampirella, they depict one promo which I have never seen before:
http://www.breygent.com/redsonja.htm
The one in the third tow, far left
Anyone familiar with this one ?
May 26, 2012, 03:08 AM
Tattoox
Yeah, that's another one I don't recognize.
Otherwise, your list is correct. I have all but the case cards.

____________________

May 26, 2012, 10:29 AM
John Oder
Maybe a uncoming release for some show or event. Maybe SDCC, it's not to far off or Pop Art Con. It could be a mistake on the website and they put images of a base in by mistake, or something like that.
May 26, 2012, 12:51 PM
beamer
Here are all of the promos issued for Red Sonja. There are 14 cards: 12 singles and 2 cards that make up the MegaCon Dual.
Red Sonja, 2011
Promo 1
Promo 2
Non Sport Update
Philly Show
Promo UK
Promo UK Show
Special
San Diego Comic Con
Red Sonja, 2012
2012 MegaCon Dual
Promo - PFT Numbered XX Of 50
Promo - Rare Numbered XXX Of 100
Binder promo - 1
Binder promo - 2
May 26, 2012, 04:56 PM
Tattoox
So at quick glance, the SDCC is not on Tommy C's list, right?

____________________

May 27, 2012, 06:31 PM
beamer
Right. It has not been released yet
June 07, 2012, 10:53 AM
t.breyer
Pop Art Con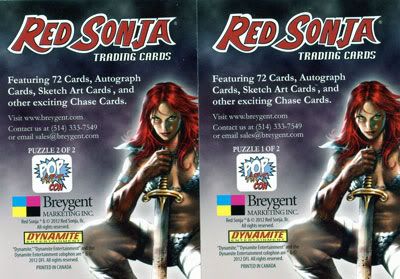 June 08, 2012, 04:04 AM
hammer
January 13, 2013, 09:33 AM
ravenheart
Hi all,
I'm wondering about the NSU promo for this. Where was this available? I get every issue of NSU (except variant cover ones) and don't have it.
And it's not listed in the back issue archive on NSU's website.
Was it distributed at a show? Or was there a variant cover?
Thanks.
January 13, 2013, 09:58 AM
wolfie
I think it was from the philly show, i have an extra if you need one.

____________________
Come, it is time for you to keep your appointment with The Wicker Man.
January 13, 2013, 10:02 AM
ravenheart
Hey wolfie, yeah, I do need that one. Great, email me on necroshine@ymail.com? Thanks!
Only just started trying to put this set together actually. I have the MegaCon ones, the SDCC one and the album ones so far. Looking for all of the others.
January 13, 2013, 11:46 AM
hammer
I have a spare pop art 2 part promo