I haven't had much to post recently as I've been working on several sets like the Avengers 3, Strictly Ink Yearbox, Essence of Fairyland for Sadlittle's, The Prisoner and 70 years of Marvel all in the last 3 or 4 months.
The Marvel cards are probably the best I've ever done, I can't wait to show them.
On the board at the moment is a 10" x 15" commission of the 9th Doctor Who Christopher Eccleston plus various characters. It's coming along nicely and should be finished in a day or two. I'll post it here when it's done.
Just recently someone offered to make free promotional videos in exchange for art so I took them up on it. I'm thrilled with the final video they came up with showcasing my art. You can view it on Youtube here:
http://www.youtube.com/watch?v=MAFxeTnrskM
I wrote and played all the music so you have been warned. Don't blame me if your ears throw up.
Some recent things:
My 10 sketches for Sadlittle's upcoming Essence of Fairyland set.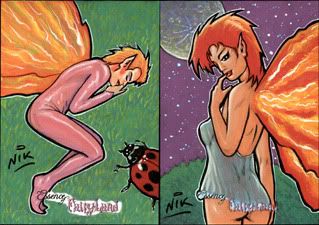 2 artist return commissions of Medusa and Icarus
And The Crow done for my buddy John the Hat and his missus

____________________
Mars Attacks Uprising, Hobbit Battle of the 5 Armies, Star Wars Masterwork, Marvel Premier 2014, The Hobbit an Unexpected Journey, Guardians of the Galaxy, Mars Attacks Heritage, Marvel 70th Anniv', The Prisoner, Star Wars Galaxy 4, X-Men Archives, LOTR Masterpieces II, Vampirella, Indiana Jones and the Kingdom of the Crystal Skull, Dr Who, Marilyn Monroe and CSI sketch card artist.