Many thanks for your order
Boldlygone
, I just have to draw some Star Trekkiness inside it and get it posted off to you.
Hammer
, look at it a different way. You got one of the rare early ones with the drawing actually done on the book itself rather than stuck in.
Many thanks
CSI Dave
,
JustM
and everyone that's ordered so far.
I have a few cards up on Ebay at the moment if anyone is interested.
These are all on my new printed cardstock with colourful backs.
Dr Manhattan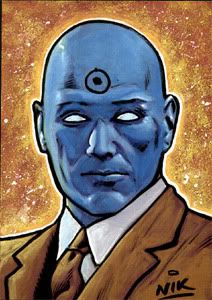 On Ebay here
Dr Manhattan (again)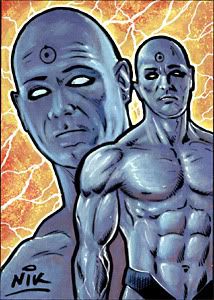 On Ebay here
Hellboy
On Ebay here
Rorschach
On Ebay here
Master Yoda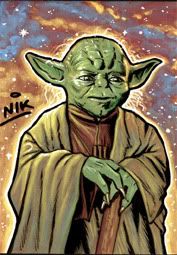 On Ebay here
Thanks for looking!

____________________
Mars Attacks Uprising, Hobbit Battle of the 5 Armies, Star Wars Masterwork, Marvel Premier 2014, The Hobbit an Unexpected Journey, Guardians of the Galaxy, Mars Attacks Heritage, Marvel 70th Anniv', The Prisoner, Star Wars Galaxy 4, X-Men Archives, LOTR Masterpieces II, Vampirella, Indiana Jones and the Kingdom of the Crystal Skull, Dr Who, Marilyn Monroe and CSI sketch card artist.