I seem to get more art done during the winter when it's too cold to go out.
Here are some new pieces to show, all for sale, drop me a message or email if interested.
I just finished this 5" x 7" portrait of Boris Karloff's Frankenstein, I think it would look nice in a frame.
The colours on the actual art are much richer, the scan seems to have washed the colours out a bit.
Asking £25.
This is a Spider-Man blank variant cover comic showing The Hulk beating up Spider-Man. Again painted with Acrylics.
Up for grabs at £29 for a fully painted one of a kind piece of art.
Extra black and white drawing of Spider-Girl on the back cover which is almost finished.
These 2 sketch cards ran on Ebay recently with no takers.
So I'll drop the price to £15 each if anyone's interested.
And this one is running on Ebay
HERE
at the moment with a few days to go.
A 5" x 7" Acrylic painting of the Silence from the Doctor Who TV series.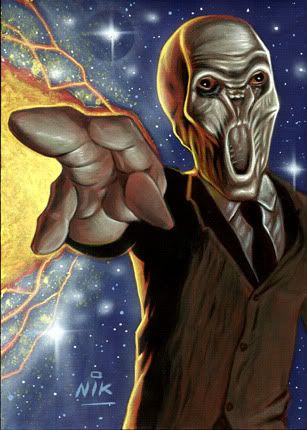 Postage to be added (about £1.50 in Uk or £2.50 to USA except for the Spidey comic which is
£2.50 in the UK or £3.75 to USA.

____________________
Mars Attacks Uprising, Hobbit Battle of the 5 Armies, Star Wars Masterwork, Marvel Premier 2014, The Hobbit an Unexpected Journey, Guardians of the Galaxy, Mars Attacks Heritage, Marvel 70th Anniv', The Prisoner, Star Wars Galaxy 4, X-Men Archives, LOTR Masterpieces II, Vampirella, Indiana Jones and the Kingdom of the Crystal Skull, Dr Who, Marilyn Monroe and CSI sketch card artist.