Taken me a while to post my report as I was busy opening boxes
.Day did not start off very well as the organisers seem to be doing everything possible to make you book online
.I spent five minutes when I got to Hall 4 at 08.30 looking for a ticket booth to buy my early entry pass. When I could not find any open I asked a security man who said I needed to go to Hall 3a.When I got there there was a queue of about 100 people waiting to buy tickets but no open ticket kiosks
.Eventually they decided to open some up about five minutes before the show opened and I got my ticket. I then had to go and wait in another queue before finally getting into the show about 09.10
.
After that I have to say it was one of the most enjoyable shows in years for me. There were not as many people as the November show but, probably because it was all in one hall, there seemed to be a lot more in costume. Have to admit it is probably my age but I was thinking "does your mum know you've gone out dressed like that!".
The card dealers I spoke to during the day all seemed to be doing OK if not spectacular business. My first stop was the Comic Con autograph zone wher I found that the Sleepy Hollow guests would not be there till 11.00 but that Greyston Holt and Andrew Lee Potts would be around about 10.00.
Had a look round and found where all the regular card dealers were situated and then came back and got Grayston Holt's auto (free!
) and Andrew Lee Potts (on it's way to you next week Chris).Both were very friendly and chatty, can't wait for Bitten to get a UK broadcaster.
As I still had plenty of time before 11.00 I did a bit of shopping, and met a lupine friend at Paul from Umbrella trading cards tables. Asked Paul about the Beauties of Vengeance P7 and he said it would be out in a couple of months. Paul had two binders of cards priced at £2 each or 6 for £10 and I snapped up these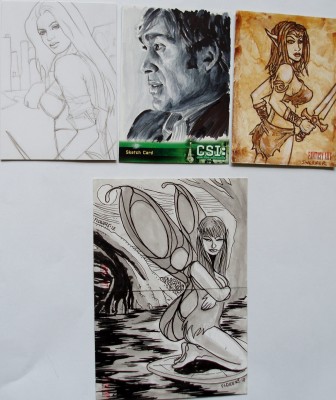 Particularly pleased with the Chris Henderson CSI sketch and the three fantasy art sketches. Beauties of Vengeance P8 is also in the second photo.
Visited Jason at Cult Stuff who has the next Sherlock Holmes set due out in two weeks. Talked to Huy Truong who had some excellent artwork on display and bought this really nice AP from The Avengers for £20 off him.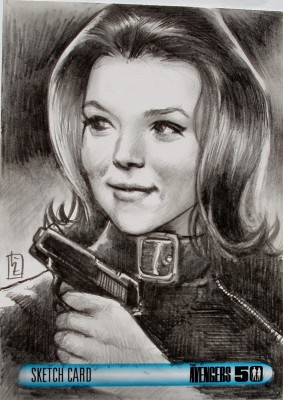 Now back to the Comic Con Zone and joined what was at the time a small queue of about six for the three Sleepy Hollow actors (Nicole Behari, Katia Winter, and Lyndie Greenwood).By the time they arrived just after 11.00 there must have been at least 50 people behind me so I was glad I went when I did. Again all three of the ladies were really friendly and seemed genuinely surprised so many people were there.
I needed a rest then so went out and got a ridiculously expensive pint of beer before going back into the hall. My last stop before going home was Dean Roger's tables to pick up some Blakes 7 series 2 from him and also some Dead Divas from Jason Wright of Unstoppable cards. Both gave me some extras as well as the promos below
.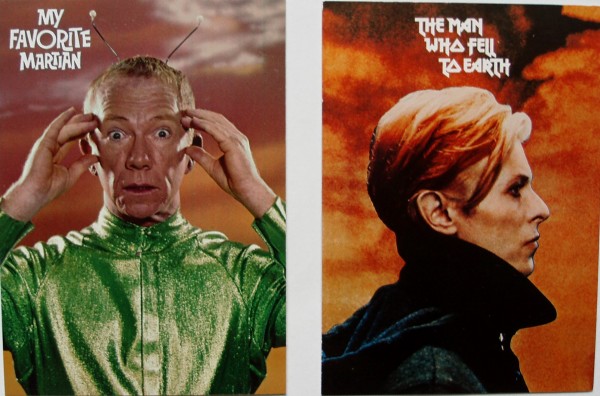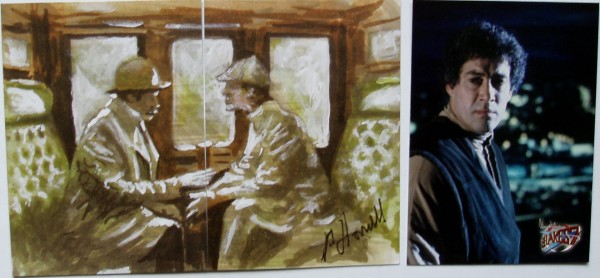 Jason's promos for My favourite Martian and The Man Who Fell to Earth and Dean's exclusive promos for Memoirs of Sherlock Holmes (Patrick Hamill puzzle) and Blakes 7 series 2. Dean is also getting some more exclusive cards for this set which were not ready in time.
Apologies to anyone I met that I have forgotten but as you can tell from the length of this report it was a busy day!
This message has been edited. Last edited by: Triple-Frog,