Non-Sport Update's Card Talk
Memorabilia 22-23 November 2014
November 18, 2014, 05:48 PM
vampy
Memorabilia 22-23 November 2014
there are now 8 guest`s now not attending the show ?
there dropping like fly`s or is it the bird flu ?
November 19, 2014, 09:37 AM
H_Toser
quote:

Originally posted by vampy:
there are now 8 guest`s now not attending the show ?
there dropping like fly`s or is it the bird flu ?
Yes, but look on the bright side, there are over 100 guests
who are
attending the show including all the higher wattage celebrities they've announced (not that any are huge but....)
November 19, 2014, 10:07 AM
Batman
With the exception of us Harris!

____________________
"The problem, I'm told, is more than medical."
November 19, 2014, 11:52 AM
wolfie
quote:

Originally posted by H_Toser:

Yes, but look on the bright side, there are over 100 guests who are attending the show including all the higher wattage celebrities


Like me.

____________________
Come, it is time for you to keep your appointment with The Wicker Man.
November 19, 2014, 09:28 PM
Sci-FiPlanet
quote:

Originally posted by MikeFitz:
Harris
Would you know what the "Adventure Into the Unknown" card is from?
One of the longest running horror comics, it ran from the golden age right into the 60s. We are restoring the covers and releasing a set or three
p1 and 2 are out this weekend!
November 20, 2014, 10:41 AM
Quaint1
As Harris is on his way, and so will presumably not check into Card Talk or Facebook until he arrives at his hotel, I'll postthis now.
There will be a relatively informal UK cenebratio nof NSU's 25th Anniversary at the NSU stand (Block T) at around 2pm-ish. This is strictly not an official thing, as HArris doesn't know about it, but if you want to turn up, there may be something waiting for you (chocolate flavoured...)
Au Res.,
Paul
November 20, 2014, 11:37 AM
Tommy C
I wonder if the Sherlock Holmes (Long Stories) A Study in Scarlet promo P1C will be there, by Cult Stuff
November 20, 2014, 02:12 PM
MikeFitz
quote:


One of the longest running horror comics, it ran from the golden age right into the 60s. We are restoring the covers and releasing a set or three Smile p1 and 2 are out this weekend
Thank you for the info. I'd be all over a set like that. Anybody able to pick these up for me?
Are they Mem exclusives?

____________________
Golden Age Card Talk member.
November 21, 2014, 10:42 AM
Triple-Frog
Just a reminder for anyone who did not see my previous post I will have a tin full of penny sleeves and single card holders with me tomorrow to give away to anyone who needs them.
November 22, 2014, 02:34 PM
wolfie
Chaos!!!!!!!
Massive crowds, 2 hour waits to get in, finally the show was declared a free show and everyone was let in for nothing, not much fun for those that paid.
Aisles packed, too many people, difficult to move or see anything half the time.
Hoping sunday will be a lot slower and quieter.

____________________
Come, it is time for you to keep your appointment with The Wicker Man.
November 22, 2014, 02:39 PM
X
What time did you go wolfie?
November 22, 2014, 02:58 PM
wolfie
quote:

Originally posted by X:
What time did you go wolfie?
8.30 so it was only packed then.
By lunchtime chaos had set in and by 3.00 madness had taken over.

____________________
Come, it is time for you to keep your appointment with The Wicker Man.
November 22, 2014, 03:53 PM
WOMBLE
quote:

Originally posted by wolfie:

quote:

Originally posted by X:
What time did you go wolfie?

8.30 so it was only packed then.

By lunchtime chaos had set in and by 3.00 madness had taken over.
Who'd have thought so many people would want to meet WOLFIE!!
November 23, 2014, 02:18 AM
H_Toser
First day of Memorabilia blew by. It was fun and good to see lots of the usuals. The morning was really busy at our table and I didn't have a chance to talk to anyone for too long. It was quieter in the afternoon but the show itself was absolutely packed until closing.
November 23, 2014, 03:48 PM
Triple-Frog
Had a very enjoyable Saturday at the NEC although it looks like I left before all the fun started
. For me getting in actually went a lot easier than previous events as I bought my early entry in advance and so pretty much walked straight in just after 0905.
First went to see Jason and his quartet of artists at the Cult Stuff stand to give them all some penny sleeves and card holders. Jason gave me some promos and also opened one of the 5th Ann. packs to show me what was inside. Wish I'd just picked the pack he did as there was a fantastic base card sketch by Carolyn Edwards from the first War of the Worlds set (card number 13) as the big hit.
Next went to the NSU stand and renewed my subscription and bought the variant issue as well as getting the Dexter promos. Had a quick chat with Harris about the Scottish Independence vote (see it's not all about the cards
) .
Next went to Derek's Trading Cards and picked up the 258 West Kristen Bell auto for £10 as well as some other bargains
.
Then had a chat with Dean Rogers of NonSportTradingCards who kindly gave me some more promos and a very good price on the new War of the Worlds set. Saw Adam Chamberlain who had the rest of the card holders and penny sleeves off me(and I was glad to be rid of them!).
Decided it was time to get some autographs as it was getting towards 11.00 when normal entry starts. Got Ian McElhinney (Ser Barriston Selmy on GOT) and Ian McNeice (Winston Churchill in Dr Who) without any queuing at all and then joined the line for the free Hannah Spearitt auto. That took about half an hour during which I saw Wolfie and handed him his goodie bag.
By now it really was getting crowded so I made my way back to the Cult stuff stand to chat to the artists. It's really nice to talk to people who clearly enjoy and are enthusiastic about what they do! I watched Huy Truong do a sketch of a young lady that was absolutely uncanny in it's accuracy
. New artist to trading card B Jones was there with some stunning work she had done for War of the Worlds as well as some large beautiful Lord of the Rings artwork. Patrick Hamill had some great Star Wars sketches on show and Carolyn Edwards some lovely AP's from a variety of releases. I got something from all of them, I only wish I had more money to spend
!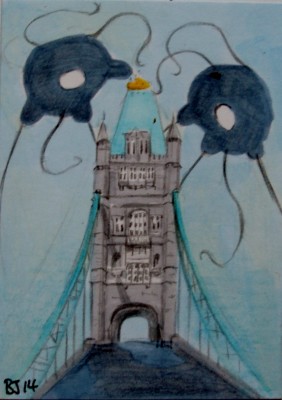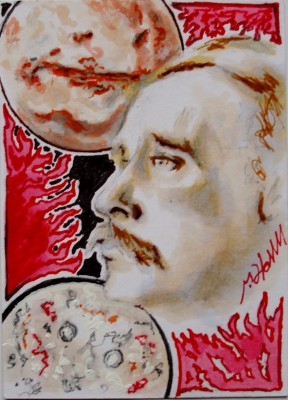 War of the Worlds AP's by B Jones and Patrick Hamill.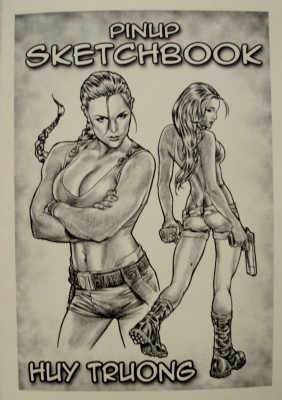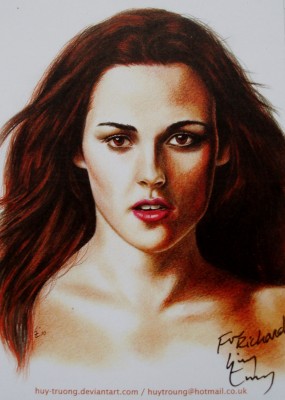 Sketchbook and signed print by Huy Truong.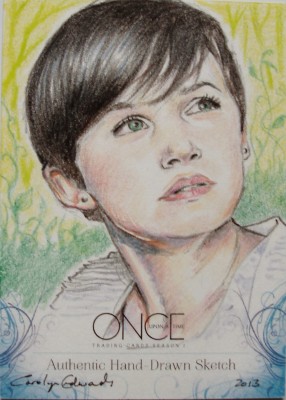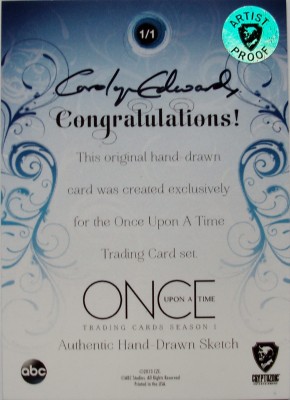 Artist proof from Once Upon A Time by Carolyn Edwards
.
Finally I stopped by the NSU table at 13.30 for some excellent chocolate cake courtesy of Paul Bynes before staggering off home via the Square Peg pub in Birmingham city centre
.
Rather disappointed I missed out on the "entertainment" after 15.00 but I was worn out after all that walking around. Apologies to anyone I have forgotten or mis-identified and also to Paul from Umbrella Trading Cards. I looked and I just could not find you
.
This message has been edited. Last edited by: Triple-Frog,
November 24, 2014, 04:37 AM
Quaint1
Blimey! That was a weekend!
First of all, let's get the main criticism of the show out of the way - overcrowding. Saturday definately had some issues with people being admitted - there were queues everywhere for pretty much everything, and it was exceedingly difficult to see what was on the tables. The problems at the door in the afternoon have already been discussed; the fact that, in the afternoon, there were queues of up to 20-30 minutes for the loos, and getting on for an HOUR for teas/coffees suggests that either there were too many people in there or not enough people serving at the cafes and concession stands. And let's not talk about the Free WiFi...
Onto pleasanter things. Friday, I arrived in Birmingham and met up with Patrick - we were hotelled in Solihull and, after check-in, met up with the Cult Stuff crew in the bar for a bar dinner and much drinking. As is traditional at such gathering, what was said in the bar, stays in the bar; sufficeit to say, I blame that last glass of Coke for my condition the following morning (and not the several pints of stout!)
Saturday, and as Patrick and I had got lifts with the Cult Stuffers, we got in VERY early and dodged the entry issues discussed above. Met up with Harris and Batman and Paul Hart and took the opportunity to have a quick shufty around the show - the last chance I would have at a clear run all day. Found the MCM information desk, which had some freebies! There were 5 (that I could see) different MArbel Inhumans prints, a "My Little Pony" comicbook (written by Katie Cook, art by Andy Price), a couple of other comic books (including "Adventure Time", "The Tick" and "Stephen King/s The Dark Tower The Drawing of The Three").
When I returned, I was introduced to B Jones, a great artist newly working on cards for Cult Stuff, and who I soon realised I knew from my days as a regular SciFi Convention attendee 'back in the day'! Carolyn Edwards had also arrives, and I paid for one of her 12th Doctor Metal Cards. I also met up with artist Huy Truong, who has been at the Cult Stuff stand beofre, but who I was able to chat with this time!
The show opened, and people flooded in. Lots of Cosplayers this year - though not as many Daleks as usual (a few people were in Dalek style dresses, but I only saw one full Dalek the whole weekend). Lots of men in printed superhero one-suits - which wasn't an engaging view sometimes!
I went over (and fought my way through the various converging queues) to get William Russell's autograph; one of the first Doctor Who companions - Mr Russell celebrated his 90th birthday the day before MCM! He was charming and was certainly more active than I expect to be should I get to that age! I also got an autograph and a chat with Dennis Lill - probably best known outside of a certain circle for his appearences in the original "Survivors" and in later series of "It's Only Fools and Horses" but for me the original Major Benjy in "Mapp and Lucia" back in the 80's. He had also been in Doctor who (classic) so I got a picture of him in that! wandering further, Hannah Spearitt (from "Primeval) was signing for free, so (being a fan of the series) I got her picture as well - she was exceedingly bubbly and posed for photos with pretty muc hanyone that asked!
After stopping off at the NSU stand to deliver cake, and to resubscribe at the show rate, I met up with Paul from Umbrella - unfortunately, his voice was going, so I wasn't able to have him on the podcast as planned, but hopefully when he gets better he will be on later! Anthony Lee seemed to be doing a roaring trade in the Pokemon/Yu-Gi-Oh cards in which he now specialises - he did have a small selection of non-sports base sets and a 2-for-1 offer on binders, but everyone seemed to be concentrating on his game cards!
Back to Cult Stuff, where Dixon's Vixens 2 was available (I got a Matt Dixon autograph and a canvas in my pack!) and where I got an Isla Blair autograph from the Topps Indiana Jones Archive set - it makes a nice pair with the Julian Glover I got at the show a few years ago!
And that was about it for me on Saturday - it was too crowded to comfortably browse anytwhere!
At show close, the Cult Sfutt Possee headed into Solihul for dinner and drinks, ending up in the Hotel Bar (out of which some of us were kicked at 2:30am!)
Sunday in the next post.
Au Res.,
Paul
This message has been edited. Last edited by: Quaint1,
November 24, 2014, 05:07 AM
Quaint1
Sunday morning and I was remarkably perky! (must have been a different batch of Coke!
)
After breakfast with Jason and Liza and Patrick in the Weatherspoons opposite the hall, we went back in and found things were a lot more comfortable - even after the main admission at 11. I was able to have a proper look as tables, and got a chat with Derek at Derek's Trading Cards. Jason Wright of Unstoppable Cards was walrking around the show and was, as ever, very friendly - though his son was rather keen to look at the games stands! I met up with, and recorded interviews with, Matt Dixon and Aly Fell, who were setup next to each other and seemed to be getting a lot of interest for their striking prints - I picked up an art book from each of them, and a Buffy Season 10 variant cover comic book - the cover AND the advert on the back cover were both by Aly! As I Was chatting to Aly, he introduced me to independent comic creator Jeremy Biggs of Subversive Comics, so I talked to him about his "Zombie Bear" and "Metal Made Flesh" projects, and he introduced me to the guys behind another independent comic book, "The Kill Screen"! Networking! That's how it works! As a result of the conversations I had this weekend, there is a good chance Behind The Canvas will be revived with a Season 3!
I also got a copy of "Who's There?" a biography of William Hartnell by his granddaugher Jessica Carney for £5 - Fantom (the publishers) were doing a deal on a selection of their books, and they also had Andrew Ross signing copies of his new biography of Joan Sims (probably best known for the "Carry On" films)
Lunch with Harris and Patrick (at the Weatherspoons) and a short chat recorded for the podcast before the food arrived, then the recorder was switched off and the usual gossippy conversation ensued. It was at this point that Third Memorabilia Musketteer, Dave Brown (aka CSI Dave) was missed, though various smutty comments were made in his honour!
Back in the hall, and Jason gave me a bunch of Cult Stuff promos, including War of The Worlds, The Memoirs of Sherlock Holmes, Sherlock Holmes - The Long Stories, Adventures into the Unknown, Propaganda & Posters Series 2; from the Cult Adult side I got promos for Contemporary Erotica, and Tipples with Nipples! Patrick and Carolyn also gave me signed versions of their Cult Stuff promos, and Matt Dixon kindly signed one of his Dixons Vixens promos for me!
Something to watch out for if you go to future events or shows at which Red Dwarf actors are signing - both Danny John Jules and Hattie Hayridge have trading cards produced for them by Cult Stuff!
Show close and after saying goodbye to everyone (and thanking pretty much everyone for making it such a fun weekend) I set of for home - only took about 3 1/2 hours!
The show is changing, only small changes, but it's not quite the Memorabilia many of us remember. It's still fun, and if they can only sort out the queueing and overcrowding issues, then it would be as fun as it ever was!
I took a few pictures - some of the motley crew at the various tables, some of the cosplayers. I'll post them later when I've got them off the various phones and cameras with which I was encumbered. The various interviews I recorded at the show will be in the next episode of UK CardCast, which I hope will be online by the end of the week, but you know how my editing schedule tends to slip...
Thanks again to Jason, Liza and all at Cult Stuff, Harris, Batman, Paul Hart, Graham and Kevin, Wolfie (yes! Thanks to Wolfie!), Patrick, Carolyn, B and Huy, Mayy, aly and everyone else who I met (however briefly) for making it an enjoyable weekend - and, please, next year - no lycra superhero bodysuits...
Au Res.,
Paul
November 26, 2014, 01:18 AM
X
Well I haven't been to Memorabilia since 2009 and it was a very different show this weekend to say the least.
For starters I never queued to get in before(!) which ended up taking up the better part of an hour. Whilst in the queue, my partner commented, and thinking about it I would agree with her, that there were more cosplayers at this event than even at the big Showmasters events like London Film and Comic Con. I imagine because it is now run as 'Comic Con'.
With that came a far more 'professional' looking show, in terms of the banners and advertisements etc on display and the layout was completely different. To be honest I found the venue hard to navigate with the crowds and did miss the old long rows of tables!
Speaking of crowds, the atmosphere was again very much like a Showmasters Collectormania/Comic-Con event in Milton Keynes or London. That is to say it was far more manic and crowded than I have ever seen Memorablilia before. It was very busy when I went on the Sunday so I dread to think how unpleasant it was on the Saturday. Good for the organisers I'm sure but far less enjoyable for me and I'm sure many other visitors. You couldn't see a lot of what was going on or what was on the stalls.
My main reason to go was to meet Honor Blackman and Shirley Eaton who were both lovely. I was quite unimpressed with the signers area with little to no room for attendees to wait for certain guests when it got busy and guest desks right next to the throngs of crowds walking through. Honor Blackman was right on the edge of her table, and being one of the better known guests, people just stopped to gawp with no type of barrier between them and the guest. It was intrusive for certain guests and the person getting an autograph, which made it all a bit unpleasant. Shirley Eaton said to me she felt like an animal in the zoo.
Then there was the 'glamour model' zone which was somewhat cordoned off, although not enough to prevent bottlenecks caused by punters and young lads trying to catch an eyeful
of the topless shots pinned up behind them.
Besides meeting Blackman and Eaton, the highlights of my day were picking up a couple of cards in person for fair money for the first time in many years after solely relying on eBay, even though there seemed a lot fewer trading cards on for sale. And I finally got to meet Harris, treksearcher and the ubiquitous Wolfie for the first time.
I'm used to mad-busy shows but I didn't enjoy this one because I guess I was looking forward to the more relaxed Memorabilia of old, so had not prepared myself for this one.
November 28, 2014, 06:00 AM
wolfie
quote:

Originally posted by X:

and the ubiquitous Wolfie


Don't call me that again until I've had a chance to look it up.

____________________
Come, it is time for you to keep your appointment with The Wicker Man.
November 29, 2014, 11:09 AM
cardcollectors uk
A Little late but my reaction to the show was IT WAS EPIC! I had my best show for nearly 10 years, and the crowds were down solely to the fantastic job the organisers did. (They don't read this, so I cant be accused of sucking up
) The advertising on huge billboards on the UK's busiest motorways really paid off in terms of attendance, and the customers weren't just browsing, they were buying too! I sold base sets old and new, autographs and master sets. I'll be expanding my pitch for the next show.
In conversation with Bryan Cooney one of the organsiers, he said they had 27,000 people in on the Saturday BEFORE they let the people who'd waited ages in for free. That's the best attendance ever at the show.
It's a week later and I've nearly finished counting the money

____________________
What do you call a set missing more than 10 cards?
Singles!