As has been stated by others, the show was awesome and went by too quickly, it seemed like we were always on the go, and we were. No time for much sleep (except Mrs. Batman), arrived Friday night, had dinner and then relaxed a bit in the room until I was phoned up by Graham and invited out for pints at Red Robin with Hammer, Harris, and Mrs. Batman. Harris gave me a birthday card with a big surprise, a sketch card of Blue, the Colts mascot and Gwen from Torchwood and done by my "Sugarbear", Kate Bradley! Harris also gave me my Thor AP's Kate did that she was suppossed to send to me, I had been wondering where they were! Hammer was also very generous and gave me a box of Torchwood cards that are only available in the UK. It was after midnight when we were back in our room, but it was good to hang out for a bit. My wife found Graham very entertaining! Oh, yes, Graham had the wait staff bring me ice cream and sing happy birthday to me!
Up early on Saturday to line up for the show and secure a Versicolor Bettie Page exclusive. I was # 6 in the line, the weather was not the best but at least there was an awning at the entrance so I was able to stay dry and we were let in the building early so not too bad. The show was well attended on Saturday morning, I spent a lot of the first part of the day chatting with everyone, went back to the hotel to pick up Mrs. Batman (she dosen't do mornings) and got back to the show. Picked up commissions from Sean Pence and Rhi Owens (pics coming) both were fabulous! Checked to make sure I had all the available promos, had some lunch at the concession area, and made my first purchases, a Divas and a Star Wars Galaxy 6 box, a Treasure Chest and Booty set from Axebone, and a Justice League sketch done by "Sugarbear" Kate Bradley. At this point, Graham and hammer were going back to the hotel, and the poor chaps had already experienced a couple of long and expensive taxis\limos, so Mrs. Batman gave them a ride back to the Hilton while I stayed at the show. I then get a text from my wife that she is having beers with boys at Red Robin, so can I find a ride back! Tbear was kind enough to offer me one, but then Mrs. Batman showed up and informed me that she was only kidding, real nice! It was a great day one of the show, the biggest highlight being Harris announcing to everyone that there were some people who all had recent birthdays, one being me! They had a cake with all our names on it, (Marlin got top billing, as he should), and everyone sang happy birthday, and Graham gave me a giant card with signatures from many card talkers, dealers, and artists, it was great! Thanks to everyone who helped make it a memorable day!
Off to the Sands casino, had dinner at the Carnegie Deli with Alan Biegel and Bill DeFranzo (thanks for the chocolates, Bill!), then there was some unsuccessful gambling, and back to teh hotel for the Red Robin gathering, which was a great time as always, the official count was 21 people! Did a number of group box openings, some cool stuff was pulled, and of course there were onion rings!
Another early day on Sunday, had a bit of breakfast and helped Harris get ready for the gathering, which was another successful event, and you can watch the entire proceedings right here on Card Talk! I won a box of Star Wars ESB widevision cards, and everyone got a random assortment of promos at the entrance table from Cult Stuff.
Back to the show, I had been eyeing a cool Family Guy sketch of Lois as Batgirl, so I picked that up and two more boxes of Divas. Once again back to the hotel to pick up Mrs. Batman, and we did a final tour of the show floor and say goodbye to everyone. It did go much too quickly! It was good to see everyone, and it was a great show to kick-off the 2011 convention season, WW\Big Apple up next, then WW Philly, Comic Con (I better see you there, Graham!)and back to Allentown in October. I'm sure I have missed a couple of things, but it was hectic, if I missed anything, feel free to add it! Now, here are the pictures:
Harris and Mrs. Batman
Harris working hard at the NSU table!
It was great to see Hammer and Graham, entertaining, too!
A shot of the Red Robin gathering, sorry it's a bit blurry, I had an adult beverage or two before I took this!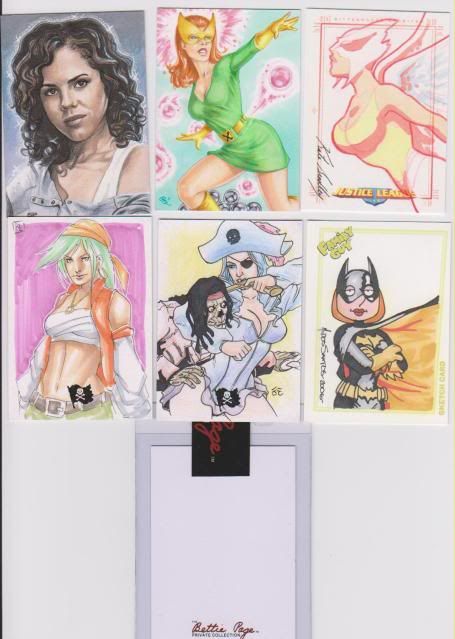 Commissions from Sean and Rhi, Treasure Chest and Booty pulls, my Kate Bradley Hawkgirl JL purchase, and a cool Family Guy card by Mark Dos Santos! Also there is the blank Bettie Page sketch card, any guesses who will be doing that?
First up is the cool card that Harris gave me for my birthday, Blue and Gwen, a collision of alternate universes, lol! Thanks again Harris, this is great! Also shown are my "missing" Thor AP's, lol! Kate rocked on these!
I'm working on getting a photo up of the card that Graham gave me, it's cool too!
This was tough to scan because is was big! A great keepsake from my 50th!
This message has been edited. Last edited by: Batman,

____________________
"The problem, I'm told, is more than medical."