Non-Sport Update's Card Talk
Get Paul Bines to the Philly Show! Updated 10/2
September 12, 2011, 09:38 PM
barobehere
Get Paul Bines to the Philly Show! Updated 10/2
Come on people! We don't want to disappoint America? We need Paul in Philly! Think about it! It will be the best Philly show ever. I have even got my wife willing to let me come if Paul comes. Think about it: One guy with a fun British Accent and one guy with a funny Southern accent! The misadventures are limitless!
September 13, 2011, 05:45 PM
barobehere
Where do you stand at the moment? I know I have bid on several items only winning one (the Randy Green Power Girl Sketch). How close are we? It is only 2 weeks til it is over and I would hate for Paul to be only a few dollars off from being able to attend. What about it fellow cardtalkers? There are still a lot of cool items to bid on.
September 13, 2011, 05:54 PM
Cabbie1120
With the current bidding as of right now we stand at about $750. That should be enough for the plane ticket, so we at least have that covered. The focus now is trying to get enough for the room as well. But as it stands I think we will almost defintely see Paul at the Philly Show!
September 14, 2011, 06:51 AM
Graham
$750 will cover a flight with an outside toilet, ESTA and a duvet in the back of Batman's pick-up
September 14, 2011, 02:15 PM
barobehere
I found a flight from the Birmingham, England to Allentown for total (taxes and everything) for $834 and I bet I could do better if I had time to look. It can be done but only with your help. Here is a change to bring one of the most popular card talkers to the US, are you going to help make it happen? We donate to everything else in America. Why not give 5 or 10 if that is all you can do to get Paul over her for the show? Heck, it's free to donate. If all you can do is 3 bucks(the cost of a pack of cards)it will help.
September 14, 2011, 02:30 PM
H_Toser
I really appreciate your spirit Barrett!
By the way, Paul will fly from London, not from Birmingham. And the good thing about that is that it will be less expensive to fly from London then from Birmingham. Bear in mind we are also trying to raise funds for Paul's Allentown stay in addition to the flight. Paul has agreed to live on a diet of cards, pogs, and Guiness while he is in the U.S.
I agree with what you say....we donate to all sorts of things here....why not help Paul realize a dream? You can give $10 or $15 and help. I donated and have also offered to let that silly podcaster stay here at my place when he is not at the show.
Once again, here is the link to Chris's ChipIn page. You can donate on the right-hand side where it shows the progress.
http://paul2philly.chipin.com/get-paul-to-philly-show
September 14, 2011, 10:23 PM
Cabbie1120
Thanks everyone for their support and encouragement! We only have a couple of weeks left and still a few great cards still up for auction!
September 14, 2011, 10:41 PM
Batman
My offer still stands, if it will help!

____________________
"The problem, I'm told, is more than medical."
September 15, 2011, 06:15 AM
Quaint1
It occurs to me to ask, Barrett - y'all have a fun British accent?
Au Res.,
Paul (who DOES have a funny Southern accent - a Southern UK accent...)
September 15, 2011, 09:01 AM
barobehere
To truely speak Southern English you have to drop the g at the end of every word ending with a g. EXAMPLE Walking= walk-in. No matter what soft drink you have it is a coke. "I would like a coke." does not mean you want a Coca-cola it could be a Pepsi.
And it does help to know southern cookin' as it is used in methaphors constantly! Example "We really need to help out Paul, I heard he is on an R/C and Moon Pie diet." Bonus points to the not southern cardtalker who knows what that means!
September 15, 2011, 11:45 AM
Barbara C
Royal Crown Cola and a dessert cake. The cake in similar to Tastycakes, and extra points to someone who knows what that is and who does not live near the Philadelphia area.

____________________
"Monday is an interruption of my weekend."
September 15, 2011, 01:49 PM
barobehere
Good guess, you got the items right but not the phrase. My wife just lost out on a job in New Castle, DE. She was one of 2 canidates for a professorship there.
September 15, 2011, 03:27 PM
H_Toser
quote:

Originally posted by Batman:

My offer still stands, if it will help!
What was your offer Batman?
September 15, 2011, 04:42 PM
wolfie
He offered to pay for the whole thing if someone would just ask him.

____________________
Come, it is time for you to keep your appointment with The Wicker Man.
September 15, 2011, 05:19 PM
Quaint1
At the risk of digressing further, there are certain similarities between what you describe Barrett, and so-called Estuary English, generally spoken in the South East.
We drop the G's too, contract and combine words, (innit - isn't it) and use colourful
Metaphors...
Au Res.,
Paul, like, you know, innit.
September 16, 2011, 03:41 AM
Jason Wright
The Only Way Is Essex!! You guys across the pond must look it up, worst TV ever but that's what makes it fun to watch!
I'm in the most South East tip of the country, probably nearer to France than Essex!!!!
September 17, 2011, 11:59 PM
barobehere
So, what is your excuse (card talk community)for not at least donating 3.00(the cost of a pack of cards) to this? I would like to hear them! Time is running out on what would be the most exciting guest in Philly card show history (excluding the time I came).
This message has been edited. Last edited by: barobehere,
September 18, 2011, 04:10 AM
Jason Wright
My excuse is that I'm trying to find a nice card to auction that might help, this one is going up for auction tonight and all proceeds from the sale will be donated to this worthwhile cause. A masterpiece by Don Pedicini Jr, I will post a link once listed.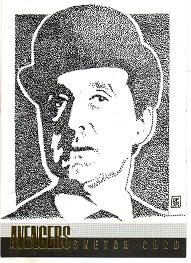 September 18, 2011, 12:20 PM
Don Pedicini Jr.
I would really like to see Paul get to the show so please bid on this card to help out.
September 18, 2011, 12:38 PM
Cabbie1120
Thanks Jason, terffic card! And naturally to you also, Don, as always great work!