Non-Sport Update's Card Talk
Get Paul Bines to the Philly Show! Updated 10/2
July 11, 2011, 04:55 PM
Cabbie1120
Get Paul Bines to the Philly Show! Updated 10/2
Paul Bines is a lover of collectibles and non-sport trading cards. He hosts a podcast called UKCardCast, in which he speaks about non-sport trading cards and frequently does interviews with trading card reps and sketch card artists. Since its inception he has expanded to another podcast called Behind the Canvas, an exclusive show to interview artists about their work and influences. One of his most frequent guests is Harris Toser, Production Manager for Non-Sport Update Magazine, in which they talk about upcoming projects and trade good natured jabs with one another. Twice a year Non-Sport Update hosts a show in Allentown, PA exclusively for the non-sports trading card industry, and Paul, being from the UK, has never attended the show, which is drawing in on its 55th edition in October. Paul does these podcasts because of his love of the hobby and the people involved. All paid for by himself.
I am an artist of sketch cards for these sets and I am a fan of Paul and his work. I have never even exchanged an IM or e-mail with Paul, much less met him before, but I would like to try to get donations (original art, boxes, etc.) together from artists or collectors in order to auction them off to raise money for airfare to bring Paul to the October show. I estimate about $1200 would be needed for the airfare and hotel costs, if any additional money is raised beyond that point I purpose it be given to Paul to help offset his costs for his regular podcasts. I personally am willing to put a few Personal Sketch Cards up for auction, plus an Artist Proof from the current Rittenhouse Archives set I am working on. (Availability late 2011) Anything anyone can give to help one of our own in this industry would be greatly appreciated.
Full disclosure time. I will be appearing at the October show as a guest in Artist Alley, so obviously this would be an opportunity for me to meet him as well. However if enough money cannot be raised by that point, I have no problem continuing to work with the fund until next years show. I will still work to get this deed done, irregardless how events proceed between now and October. Let it be noted as well that this is my idea, this has caught Paul entirely by surprise. He is flattered and "would not refuse it, if offered." Also I have made inquires to Harris Toser about his thoughts on the project, and has been generously acting as a go between Paul and myself. Though this has no official involvement with Non-Sport Update Magazine.
I have only recently started drawing sketch cards in the past couple of years and have subsequently made new friends, met some terrific artists and become a fan of the hobby in my own right. Paul has been a collector for over fifteen years and is one of the moderators and founding members of the Non-Sport Update online message board "Card Talk". Many of us, artists and collectors alike, are often asked to give charities and other worthwhile organizations, and while this can easily be deemed a more non-essential type of cause, I feel that this would be a grand gesture from the sketch card community, to help one of our own. If only to "jump across the pond" and share with many of his own on-line friends and colleagues in the hobby that Paul dedicates so much of his own time and money too. I have my own day job, and listening to his podcasts helps me get through the day, hear about new artists and sometimes get jobs myself. I think it is very much a worthwhile effort that I believe we can all help on. He has always joked on his podcast to Harris that he would "need a benefactor to get him to the show." We can be his benefactor for him to get to the show he's always heard about, but never attended.
So if anybody is interested in donating directly go to
http://paul2philly.chipin.com/get-paul-to-philly-show
or would like more information please contact me at cabbie1120@gmail.com with the subject heading: GET PAUL TO THE PHILLY SHOW!
And if this is the first you are hearing of his podcast, check it out
http://www.cardcast.co.uk/
Chris "Cabbie" Bradberry
Marvel Universe Artist Proof- $100 SOLD!
Rogue PSC- SOLD!
Sarah Jane & K9 PSC (Laura Inglis)- $15 SOLD!Spongebob and Patrick/ X-Men (Johnny Townsend)- $5 SOLD!
Richard Cox Sketch Book- SOLD!
Captain America (Thomas Boatwright)- $5 SOLD!
Red Skull (Thomas Boatwright)- $5 SOLD!
Witchblade (Randy Green)- $75 SOLD!
Power Girl (Randy Green)- $44 SOLD!
Iron Man (Thomas Boatwright)- $5 SOLD!
Thor (Thomas Boatwright)- $5 SOLD!
Doctor Who (Ingrid Hardy)- $30 SOLD!
Wonder Woman (Chris Bradberry)- $40 SOLD!
Cybermen/Dialeks (Beck Seashols)- $50 SOLD!
Captain Malcolm Reynolds (Chris Bradberry)- No Bids
John Steed-Avengers (Don Pedicini, Jr.)- eBay
http://tinyurl.com/6zdara7
Patches- No Bids
Classics Illustrated #45- No Bids
This message has been edited. Last edited by: Cabbie1120,
July 12, 2011, 10:52 AM
barobehere
I think it would be great to get Paul to Philly. It has been a while since I made it to the Philly show.
Here is my thing. If Paul agrees to it and Harris agrees to let payments be send to the Non Sport Update Office. I will gladly send a donation to get Paul over to a Philly show.
July 12, 2011, 12:18 PM
Cabbie1120
I have no problem with NSU taking donations, and Harris has been an extraordinary help with his suggestions in getting this off the ground.The only problem may be that this is my project, and has no affiliation with NSU. I set up the ChipIn to help quell any questions of authenticity on my part. But as far as NSU taking donations themselves, its entirely up to them. I do understand the trepidation however and we have a few months to the show. I'll be doing some auctions of donated artwork in that time, so keep an eye out and check up on the effort. There will be more things to come for this. Again any questions please contact me directly cabbie1120@gmail.com and I'll answer anyone's concerns ASAP. Thanks.
July 12, 2011, 12:56 PM
H_Toser
Barobehere:
Yes, as Chris said, if you prefer to send a donation to us, that's fine. I should say, though, that we would pass it along to Chris for this quest to get Paul to the show.
Paul is definitely aware of what's going on here and is game for this. I have spoken to him about it. I don't think Chris would have done this without Paul's approval. Paul told me that there are definitely more worthwhile things that people can spend their money on but if Chris raises enough donations from the sketch card community and collectors to bring him to the show, who was he to say no.
I hope everyone will consider Chris's effort.
July 12, 2011, 02:26 PM
wolfie
I would like to throw my full support behind this Get Paul Bines Out of the UK Appeal.
What do you mean i've misunderstood.

____________________
Come, it is time for you to keep your appointment with The Wicker Man.
July 12, 2011, 05:00 PM
john the hat
i thought you would have offered to go with him wolf as a bodyguard

____________________
life is like a spiders web, beautiful to look at, deadly when you get to wrapped up in it. jth 2007
July 12, 2011, 05:04 PM
wolfie
Oh well, far be it from me to suggest it, but well, you know, if there's room in his suitcase i'm in.

____________________
Come, it is time for you to keep your appointment with The Wicker Man.
July 12, 2011, 08:51 PM
Quaint1
When Harris mentioned Chris' kind offer to me, I have to admit I was almost speechless! I know I joke frequently about wanting someone to sponsor me to go to Philly, but I never thought anyone would makea serious proposal to do just that...
I am honoured that Chris would think of organising this, and if he manages to actually get me to Philly, I will be recording as much as I can for future episodes of the podcast. Alternatively, I will be sitting at home in the realisation that no-one actually likes me enough to pay for the air fare!
Seriously, Thank you to Chris, and to anyone who contributes; I am truly humbled by this.
Au Res.,
Paul
July 13, 2011, 10:30 AM
barobehere
So, if 60 members pony up 20.00 Paul will come to the Philly show or 120 members pony up 10.00.
I will send 20.00 next week when I get back from Vacation. Who will join me?
July 13, 2011, 01:58 PM
Chris Cline
Well there's $25 from me...I might drop more once I get paid this month. I might not be able to go but I will be happy to help a true card lover go.
Cheers
July 13, 2011, 02:09 PM
H_Toser
Great post Barrett!
July 17, 2011, 08:21 PM
Cabbie1120
We got a good start so far, we are up to $125. I have a couple of artists in line to do cards for the auction, but we can always use more. If anybody is interested please drop me a line at cabbie1120@gmail.com. I'll be posting some art for that right here by next weekend. Meanwhile I'm always open to opening bids for the Marvel Universe Artist Proof.
July 25, 2011, 12:12 PM
Patdata
Great Idea!
Would love to help get Paul to Philly (it is a one-way ticket, isn't it?
)
I can currently only make a fiscal donation to the cause, as I won't have any artist return sketches in hand in time for the deadline. But if we fall short of the target this year and it rolls over to next year I will be happy to donate one of my artist return sketches from my next project to the cause.

____________________
Aahhh, Beer! – The cause of, and solution to all our problems.
July 25, 2011, 06:08 PM
Cabbie1120
I want to thank everyone so far that has contributed, we have $165 so far. A great start but still a bit to go. But to help get things going I am auctioning off two sketch cards, one by Laura Inglis
http://wandringrebel.deviantart.com/,
a fantastic card of Sarah Jane and K9 from Dr. Who and a Rogue PSC card by myself. Bidding can be done through e-mails or private messaging, I will update the current bid everyday for as long as the auction is open. The auction will close at 6:00 PM (EST) August 1st. So you have one week to get your bids in. Also I am auctioning off one of my Artist Proofs I will be recieveing from the Marvel Universe set, which I'm currently working on. The AP will be after the sets release (TBA). If anyone has questions please feel free to contact me.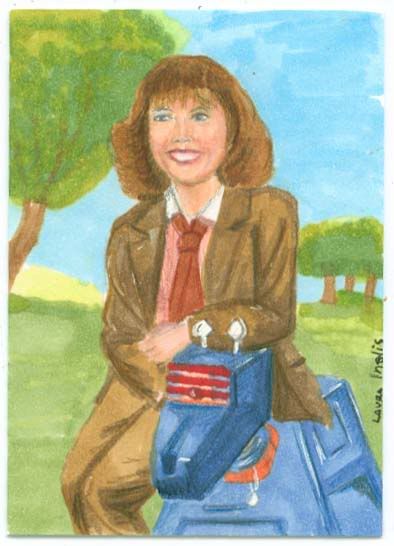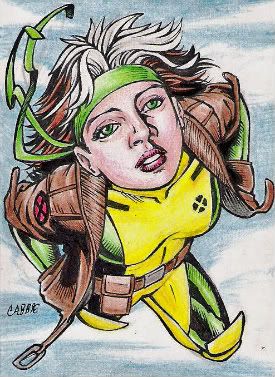 This message has been edited. Last edited by: Cabbie1120,
August 01, 2011, 05:31 PM
Cabbie1120
The auction is still open on the first three items. I still haven't recieved any opening bids yet, but here are a couple of more items to possibly get some interest sparked. The first is a Spongebob& Patrick/ X-Men mash up by a good friend of mine named Johnny Townsend. He has a unique style and an even stranger sense of humor. Hes always open for commissions and to take people to proms. You can find him under some bridges and also here.
http://johnnyism.deviantart.com/
Next we have the latest sketch book from Richard Cox. He has graciously donated a copy with a fantastic Catwoman sketch on the back.
SOLD!
http://kinggoji62.deviantart.com/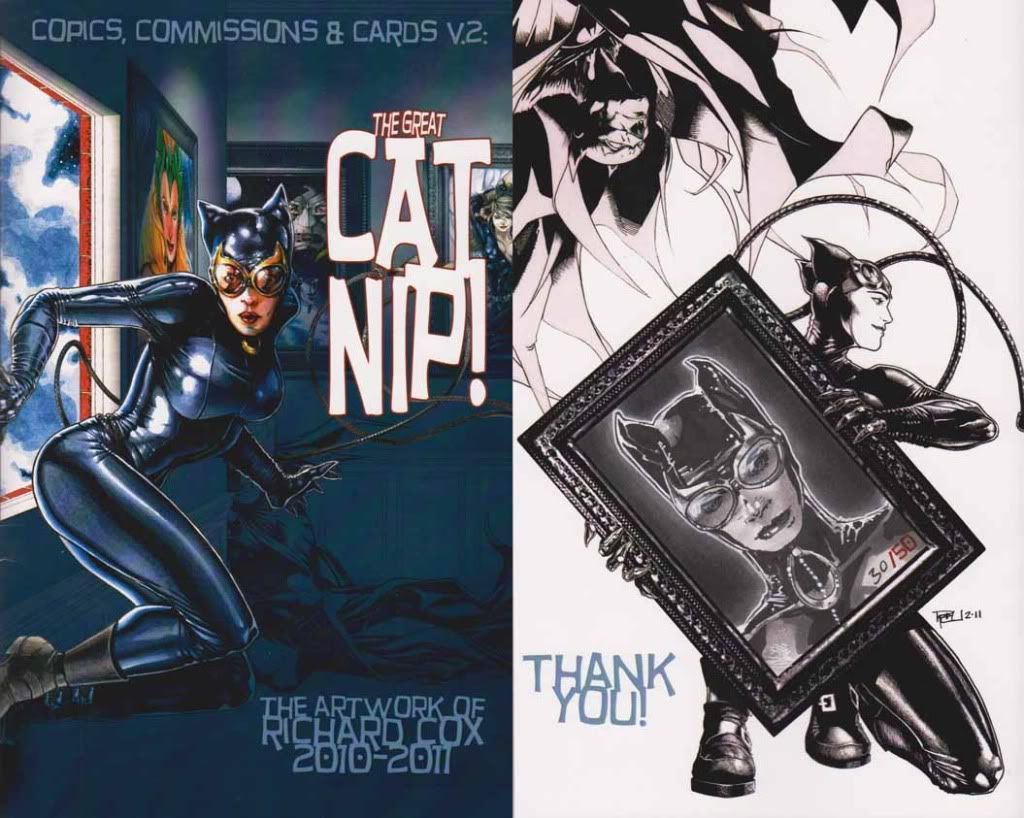 I have spoken with some more artists and have some really exicting names donating art in the near future. So please keep an eye open on this thread. Thanks again everyone.
This message has been edited. Last edited by: Cabbie1120,
August 01, 2011, 08:34 PM
Cabbie1120
I have decided to update the first post (at the end) with all the auction info, so look there for the latest. Once a opening bid has been placed on an item it will be up for exactly ONE WEEK till 7:00 PM (EST) on the end date. EXCLUDING the Marvel Universe Artist Proof which will be up through the duration of the fund raising. All bidding can be done by PMs or e-mails to cabbie1120@gmail.com.
August 07, 2011, 05:24 PM
Cabbie1120
We had a another big contribution today. so we are up to $265 for the Get Paul to Philly Fund. Just a reminder that today and tomorrow before 7:00 PM will be your last chance to bid on the Richard Cox Sketch Book (standing at $80) and Tuesday will be the last day for the Rogue PSC by yours truely. Plus the AP I am donating from the upcoming Marvel Universe set, which will again will be up for auction through the duration. We still have other items up for bid more to be added in the near future, but I'm always looking for more contributions if anyone would like to donate artwork. Thanks to everyone so far, we are nearly half way there counting the auction!
August 17, 2011, 08:45 PM
Cabbie1120
Well we are up to $415 now, with a standing $100 bid on my Marvel Universe AP. We still have a couple of items up for bidding. Also I hope to have a pretty big auction item coming up. Fingers crossed. Again any artists wishing to donate please let me know. Thanks everybody, we still have a bit too go, but I believe we can get there!
August 20, 2011, 09:28 PM
Cabbie1120
I have two more sketch cards up for auction from the acclaimed artist Thomas Boatwright; Co-Creator of Cementary Blues and illustrator for Zeke Deadwood: Zombie Lawman. These two beautiful cards are on a thicker card stock and are absolutely beautiful! Also these are seperate auctions not a pair.Any one interested in contacting Thomas about commission work can do so at
http://boatwrightartwork.blogspot.com/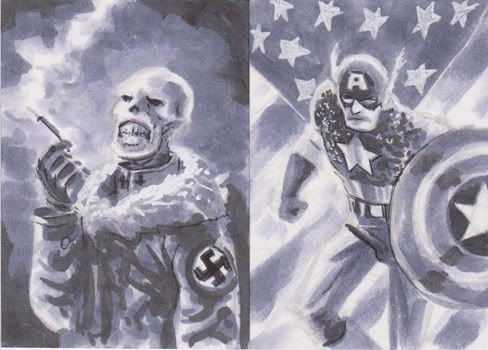 Also next Wednesday I will be posting two cards from the Randy Green! He was gracious enough to pencil and ink a Witchblade and a Power Girl, both of which I will be coloring. Then the following Monday I'll have two more cards from Thomas Boatwright! So keep watching, I'm going to keep these following auctions fro two weeks each once the first bid has been placed.
Additionally any artists wanting to donate artwork please contact me for information! Thanks everyone so far!
August 24, 2011, 06:13 PM
Cabbie1120
Here is the first of the two Randy Green cards avaliable for auction. He penciled and inked this Witchblade card and I colored it. The auction on this will last for TWO weeks after the first bid is placed. All auction info is updated in first post. I'll be uploading the second Randy Green card later tonight or tomorrow. Thanks!