Non-Sport Update's Card Talk
The Passing of Treksearcher
July 28, 2015, 02:19 PM
H_Toser
The Passing of Treksearcher
I hate to post this but I learned today "Treksearcher" has passed away today. Many of you know Alan from being a dealer at Memorabilia and other shows. He also came to the Philly Non-Sports Card Show in May of 2012. Alan was a very nice guy and it's really a shame to see him leave us. He'll be missed.
Below is a photo of Alan from the November 2011 Memorabilia show.
July 28, 2015, 04:50 PM
hammer
Terrible shame, nice bloke. Spent some time with Alan at that Philly show. RIP Treksearcher
July 28, 2015, 05:59 PM
Graham
He always had time for me, even when I wasn't buying. When you think of the thousands that go to the SDCC, what were the chances of us bumping into each other in the zig-zag queue. Well, 2009 was that chance. Rest in peace, Alan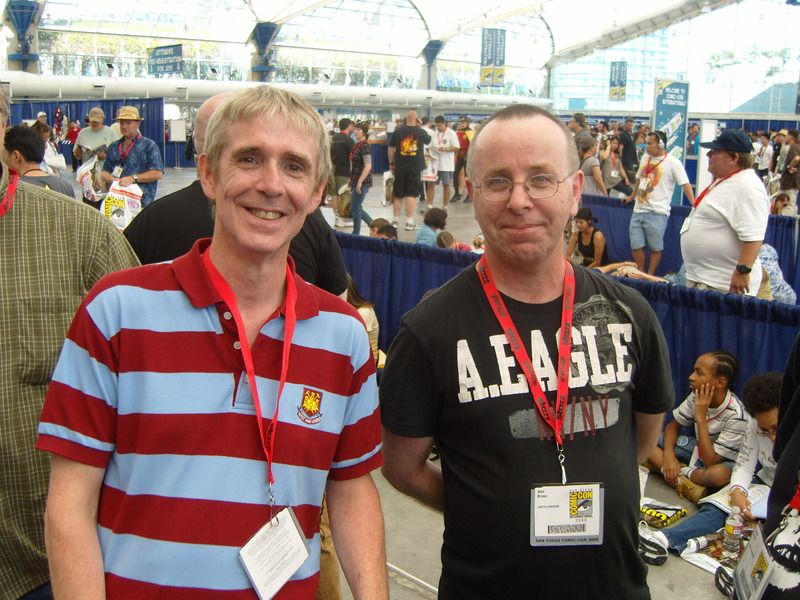 July 28, 2015, 07:22 PM
Batman
He was always cordial when I saw him seemed to really enjoy Trek cards sad news he looks way too young to pass just terrible.

____________________
"The problem, I'm told, is more than medical."
July 28, 2015, 07:55 PM
chesspieceface
I am very saddened to hear this. May he rest in peace. My sympathies to his family and friends.

____________________
Everywhere around this burg they're running out of verbs, adverbs, and adjectives. Everywhere around this town, they're running out of nouns.
July 29, 2015, 09:11 AM
wolfie
...

____________________
Come, it is time for you to keep your appointment with The Wicker Man.
July 29, 2015, 11:02 AM
dcole
Very sorry to hear. Condolences to his friends and family.

____________________
Debi

Reliving my childhood one piece of painted plastic and slab of cardboard at a time.
July 29, 2015, 11:07 AM
Freddy
My condolences to his family and friends.
Peace.

____________________
"A man has got to know his limitations."
July 29, 2015, 11:14 AM
NIK
Sorry to hear this. Alan bought many pieces of art off me in the past. He was a really nice guy and great to deal with.
My condoloences to his family.
R.I.P. Treksearcher.

____________________
Mars Attacks Uprising, Hobbit Battle of the 5 Armies, Star Wars Masterwork, Marvel Premier 2014, The Hobbit an Unexpected Journey, Guardians of the Galaxy, Mars Attacks Heritage, Marvel 70th Anniv', The Prisoner, Star Wars Galaxy 4, X-Men Archives, LOTR Masterpieces II, Vampirella, Indiana Jones and the Kingdom of the Crystal Skull, Dr Who, Marilyn Monroe and CSI sketch card artist.
July 29, 2015, 12:02 PM
vampy
lost a great pal. but in the last few weeks seem some of the biggest and proudest smiles on alans face as he married his sweetheart Christine , r.i.p from steve- deb- ron - davie k - leonard -grannie ian - and those who knew you from newcastle
July 29, 2015, 01:38 PM
Will
My condolences to his family. RIP Treksearcher
July 29, 2015, 03:32 PM
A_Biegel
We met at Philly. Very sorry to hear. Condolences to family & friends.
~Alan
July 29, 2015, 06:57 PM
WandringRebel
Such sad news. My condolences to his family & friends.
I met Alan for the first time at Memorabilia in November last year, I only spoke to him briefly, but he was a nice and enthusiastic collector/dealer.
As I've read above, I understood he got married recently. I am so sorry for his wife and family.
July 31, 2015, 07:25 PM
Miss Lizzy
Sad news indeed
Condolences to his family.
____________________
www.misslizzyscollectibles.com
Twitter: @MLCollectibles
August 03, 2015, 01:29 PM
vampy
alan was laid to rest today , there were some lovely words said by the vicar and by alan`s family , they gave a mention to all the kind messages from all the non sport people both on here and on the face book site.
I have to say it was a first for me to see a full colour enterprise engraved on the name plaque on the coffin a great and fitting tribute to a life long trekkie and sci- fi fan. RIP ALAN FROM EVERY ONE WHO KNEW YOU.