Non-Sport Update's Card Talk
Open That Box! Day 2013 Results Thread
May 11, 2013, 12:37 AM
CordeliaChase_Fan
Open That Box! Day 2013 Results Thread
Hey guys, it's me again- CordeliaChaseFan a.k.a. Val. I think this is the third year in a row where I've opened the discussion.
Anyway, I have been super busy at my job at a comic book shop in NYC, but I always have to participate in OTB Day since I also love Non-Sports cards.
My box today was a Complete ST: TNG Series 2 from Rittenhouse Archives. Star Trek: TNG is my favorite of the Treks, so I want to collect as much of the sets that have come out as possible. I also really wanted to pull the Ashley Judd autograph card that is in this release and I am also anticipating the TNG Heroes and Villains set coming out relatively soon.
How did I do?
Base set and extras...
and the following:
Parallels: 98, 118, 122, 137, 151, 170, 180
Tribute: 21, 22, 24, 32
Enterprise: 10, 14
Holodeck: 5, 7, 9
and the highlights of most Trek sets, the autographs:
Joshua Harris as Timothy (Hero Worship)
William Lithgow as Dr. Pran Tainer (Inheritance)
Steven Anderson as Dr. Nilrem (First Contact)
and:
Marina Sirtis as Counselor Deanna Troi (eXL)
The Troi was in the first pack I opened from the box, which was an excellent pull- not the Judd, but I am not complaining.
And there you have it-
Good luck with all your boxes out there!
Val

____________________
"what's that sound, it'll turn you around, it's a Doll Revolution..."- The Bangles, after Elvis Costello
May 11, 2013, 08:41 AM
batmancity
Hi everyone
At last here is my full report for OTB 2013. In my case it could be renamed to Open Those Boxes as I saved 7 boxes over the past year. Last year, I had some trouble getting on OTB and it got me so frustrated that I pledged that OTB 2013 would be the greatest ever.
I won't go into the breakdown details as I'm lacking time. In fact, my wife and I are now parents of a lovely baby girl named Rose. She is now almost 7 months old and taking a lot of our time and energy. Therefore, don't blame if I don't post the complete breakdown for all the boxes
So here is the coffee table packed with sealed boxes. Yummy and perfect for our French parisian breakfast.
Rose was pretty excited over the Disneyland box.
but not so much when it came to the Mars Attacks Heritage packs
So overall it was a pretty good session. Here is my feedback and good finds
- DC Comics New 52 : Work In Progress cards are really eye catching
- Batman The Legend : I am a Batman fan so I was very pleased with this new set. Nice artwork and a decent Poison Ivy sketch card.
- Big Bang Theory Seasons 3 & 4 : I bought the first series last year and it was okay. This time, it was not a big thrill with no big names or nice inserts.
- Mars Attacks Heritage : very well done from Topps. I really enjoyed it and the 3-D cards are awesome. A great surprise !
- Dexter Seasons 4 & 5 : a huge disappointment as there are no packs but a complete factory set with inserts. The thrill os busting packs is really the best you can get and here it is not there. Plus, the image quality is really bad.
- James Bond 50th anniversary Series 1 & 2 : one of James Bond greatest sets ! A real feast for the eyes plus the joy of finding a Daniel Craig autograph card !!!
- Disneyland 50th anniversary : a great set focusing on the theme park with nice card info. My wife loved it
So here are the pics !
Can't wait for OTB 2014 !!!!!
May 11, 2013, 09:55 AM
tangent
I broke my 5 packs (numbered 626 to 630) of Spellcasters for OTB. This is a beautiful set. The five packs gives the base set and frosted set and I also snagged the bonus frosted. The frosted don't scan well unfortunately so I've only done a photo of the sketches.
The sketches are by:
Samantha Johnson / Richard Cox / Lak Lim
John Monserrat / Ingrid Hardy
This message has been edited. Last edited by: tangent,
May 11, 2013, 10:10 AM
wolfie
Never let it be said that I don't participate in this event as I opened not one but two boxes.
They are the James Bond 50th Anniversary sets by Cartamundi.
The first box covers the films Dr No to Moonraker.
The second box covers For your Eyes Only to Quantum of Solace.
They are full of great images from the Bond films and include a lot that I had not seen on cards before which I was not expecting.
As expected I got the full set of 52 cards in each box and three jokers.

____________________
Come, it is time for you to keep your appointment with The Wicker Man.
May 11, 2013, 11:03 AM
Will
I went a little "old school" and opened up a box of Lost Season Two by Inkworks. Got a full set of base cards, along with 2 of the "?" inserts and 1 of the "Betrayal" inserts. No autograph or memorabilia cards in this box, but no big deal. Happy OTB Day, everyone !
May 11, 2013, 11:25 AM
H_Toser
Here's an OTB! entry from an emailer - Martin in CT ----
Alright! Another "Open-That-Box-Day" is upon us, and this year it'll be my FAVORITE show: Walking Dead: Season 2...
- can't wait to add these little gems to my collection!
what'll I get? a sketch? an autograph? how many chase cards to check off my list? ....I'm like a kid in a candy store, again...
What a great idea for collectors all around the world to celebrate their hobby, collectively engaging in our treasured pleasure, and for the continued success for the industry itself - thanks again, NSU - the single publication dedicated to us fans! ...many have tried, too many have disappeared, but you've endured and deserve ALL our continuous support!
Happy Hunting everyone!
May 11, 2013, 11:44 AM
Monsterama2000
My local comic shop was selling some old boxes really cheap, so I bought a box of Sesame Street from 1992 for $5.00. I got three full sets of 100 cards plus some doubles. The only problem is I got five of Checklist #1 and no Checklist #2.
I didn't get any sketch cards, autographs or relic cards.
May 11, 2013, 11:45 AM
Quaint1
In honour of Open That Box Day 2013, I did a live tweet of my box opening (hashtag #OTBD13)
I opened a box of my nemesis, Sabrina The Teenage Witch (Dart Flipcards 1999) that I picked up for a couple of quid at Memorabilia last November.
No autograph card (alas); just the expected holofoil chase cards (S1 & S2) and a couple of base card sets.
Thanks again to NSU for setting this up!
Au Res.,
Paul
This message has been edited. Last edited by: Quaint1,
May 11, 2013, 11:51 AM
Batman
Broke my box of Iron Man 3 this morning while doing some spring cleaning and having my Wawa coffee! Got 6 hits but only 2 I needed (one Hall of Fame card and the sketch) but it was another fun OTBD!!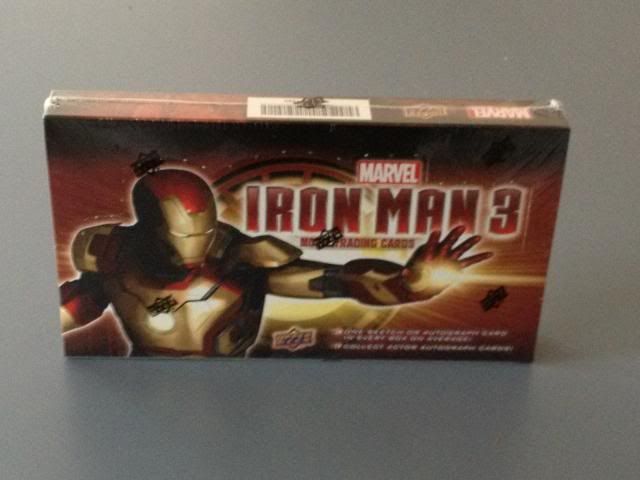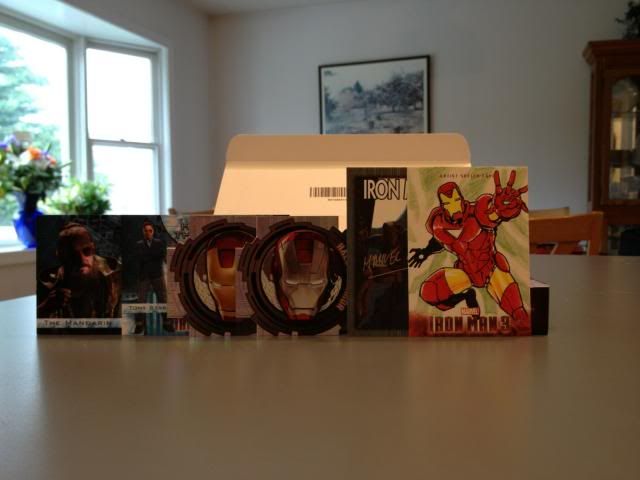 ____________________
"The problem, I'm told, is more than medical."
May 11, 2013, 01:08 PM
Cee_Jay
Opened a box of The Women of Star Trek. Pulled the expected inserts, but unfortunately nothing I needed. But it was still fun.

____________________
"I am the beginning;the end;the one who is many. I am the borg...I am the collective." Borg Queen in Star Trek: First Contact
May 11, 2013, 01:21 PM
Chuck Bartowski
So I busted a box of Upper Deck Marvel Premier
I decided to bust this basically on a whim. Didn't have anything to bust for OTBD so I stopped by the LCS to see what they had, and this was the only thing that I hadn't busted before that caught me eye. I'm not a fan of hinge sketched cards, and I really don't think this kind of product works well on the non sport side (even though it's done on the sports side all the time), but went ahead and got it anyway. Didn't do great, but not horrible either. Here is what I pulled:
Base
Shadowbox Insert S-23
Base Sketch by Boo
Hinged Sketch by Elvin Hernandez
Front
Back
May 11, 2013, 03:01 PM
Electrawoman Cards f/k/a jane
Well...I didn't have such great luck. Nevertheless, it was fun to participate. I opened a BSG Season 4 box and got 3 of 4 cards I already had. The shining beacon was an autographed costume card from Matthew Bennett. I also got a Bode Olmos card, a Laura Roslin double-costume card and a Tory Foster Costume card. I have the latter 3 already. Still, it's fun to participate. Maybe next year I'll pick a brand new series to try! Thanks NSU for starting this fun tradition. It's better than Christmas sometimes!

____________________
Anne Welles - "You've got to climb Mount Everest to reach the Valley of the Dolls."


May 11, 2013, 04:56 PM
Mccheese8472
The wife and I opened a box of The Slayers cards and we got three base sets out of it and 2 of the 6 chase cards (got 3 but 2 were doubles). One thing that I noticed is that the cards are really thick and well done. Overall we are happy with what we got.
May 11, 2013, 06:14 PM
allender
I was amused to find a Box of ThunderCats (Bandai - 2011) at Ed Webb's concession at Allentown, and I bought one in tribute to Rhiannon Owens' contribution to the Dream Sets artwork. I hope I didn't insult her, because of course the cards feature the short-lived 2011 "new generation" animated series on Cartoon Network. A lot of people were impressed with the new series, but it obviously didn't capture the imagination of the people who loved the original run.
Display boxes hold 24 packs of 7 "base" cards (numbered 1-13 through 1-80) plus 1 "rare" foil card (numbered 1-01 through 1-12). But don't worry about the scarcest cards having the low numbers -- my box provided two complete sets. If collation held up over the whole print run, you'd expect 2.47 base sets of 68 and 2 foil sets without extras.
The cards have the look and feel of Bandai CCG offerings like Naruto, with slippery surfaces and rounded corners, but the design is wholly trading-card set. See some examples below. The first 25 cards are a Character Collection with dialog quotes, then there's a single Vehicle Collection card and five Art Collection Cards. 33 cards of the Scene Collection give images and quotes from only Episodes 1-5, and since the card numbers have a "1-" prefix, Bandai was certainly prepared to publish sequels if the cards caught on like Naruto and Power Rangers. But it looks like their Action Figure line continued to focus on the Classic 'Cats and they didn't pursue a merchandise tie-in.
This is a nice little series, if you can live without the tension and potential delight or disappointment of opening packs to see how your box was seeded with eight levels of premium chase cards! It's almost retro when you can open a single box for OTBD and feel a sense of completion.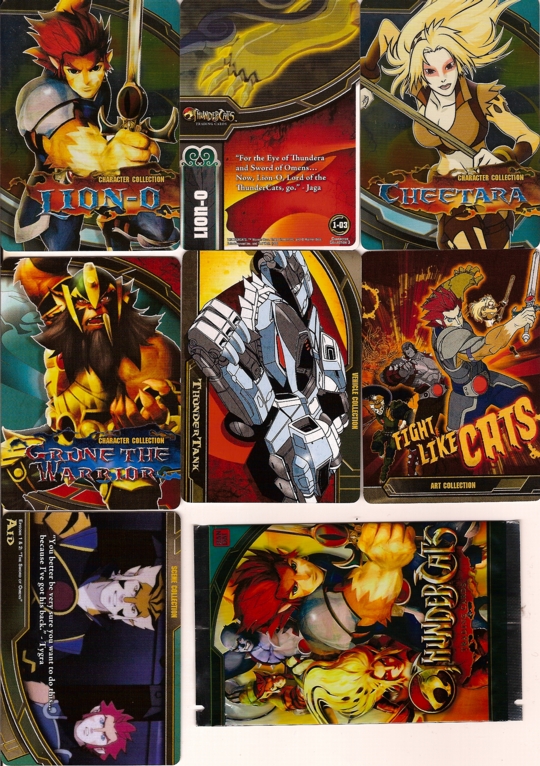 This message has been edited. Last edited by: allender,
May 11, 2013, 06:31 PM
Doc Floyd
Held onto 4 packs of Unstoppable Cards' NOTLD for a few days just for this.
From L to R
Shane McCormack
Clay McCormack
And not 1 but 2 J.D. Seeber sketches!
Pretty sure I didn't get any doubles of the base set, need to find my other ones and hope it nets me the basic set. Pretty pleased overall.
May 11, 2013, 09:29 PM
Raven
OTB Day is always the same for me. I never have a box because I am too obsessive/compulsive to keep an unopen box long enough. So I went looking for a box and of course found that I was inbetween anything I wanted with autograph hits.
So I had to settle for Marvel Greatest Battles even though I don't usually buy sketch products and the box was not cheap.
Well I'm pleased to report that I enjoyed opening these packs. I got the 90 card base set, 14 doubles, 9 red borders, 1 gold border, GC7 plastic, BS4 & BS6, and VS5 & VS10. Very nice design and the art was excellent. It did seem like most of the heroes were getting beat to a pulp, but I guess that's what sells comics.
As for the two panel sketch hit, I think its a Mark Marvida and maybe another signature, but I'm not sure. Anyway its Hercules vs Thor in color and nicely detailed. Thor is a favorite character of mine, so it turned out that I did better with something I wouldn't have normally opened than a lot of the stuff I pick out.
Only a couple of hours left so happy Open That Box Day to you all!
May 11, 2013, 09:41 PM
Don Norton
Was looking forward to today - not only for OTBD, but it was also Graduation Day for my daughter Katie, who completed 4 years at the University of Illinois.
For my card box, I chose DinoCardz, a 1992 release by Dinocardz (my daughter was 1 year old when these cards came out). I had seen a couple of these cards recently and liked the artwork, so when I found a box for $3 at the Chicago Collector's show, I had to have them!
My box had 36 packs with 10 cards per pack, a whopping 360 cards! These are all base cards - no foils, no sketches, no autographs (although really, wouldn't dinosaur autographs be the coolest card ever?)
It says on the pack "Approved by the Dinosaur Society" and I beleive them, these are very detailed cards, both in the art and text. Lots of dinos I had never heard of, like Desmatosuchus, a large alligator like creature with spikes on his back. A 21 card subset follows the evolution of dinosaur heads, and there are a few size comparison cards, like a Quetzalcoatius, the largest creature ever to fly, shown next to a P-51 Mustang fighter.
This set is fun and educational, any kid could write a killer report about dinosaurs based on these.Fun to open! I put together 2 full 80 card sets, and a third set missing 1 card, and a bunch of extras.
May 11, 2013, 09:42 PM
riddler_149
Finally got off work and found the box I wanted to open for OTBD- two boxes of Trek TOS Heroes and Villains. I was originally going to try and sell/trade the boxes for something else because I saw how limited the top pulls were, but I'm REALLY, REALLY happy I didn't. I guess that these two boxes were meant to be broken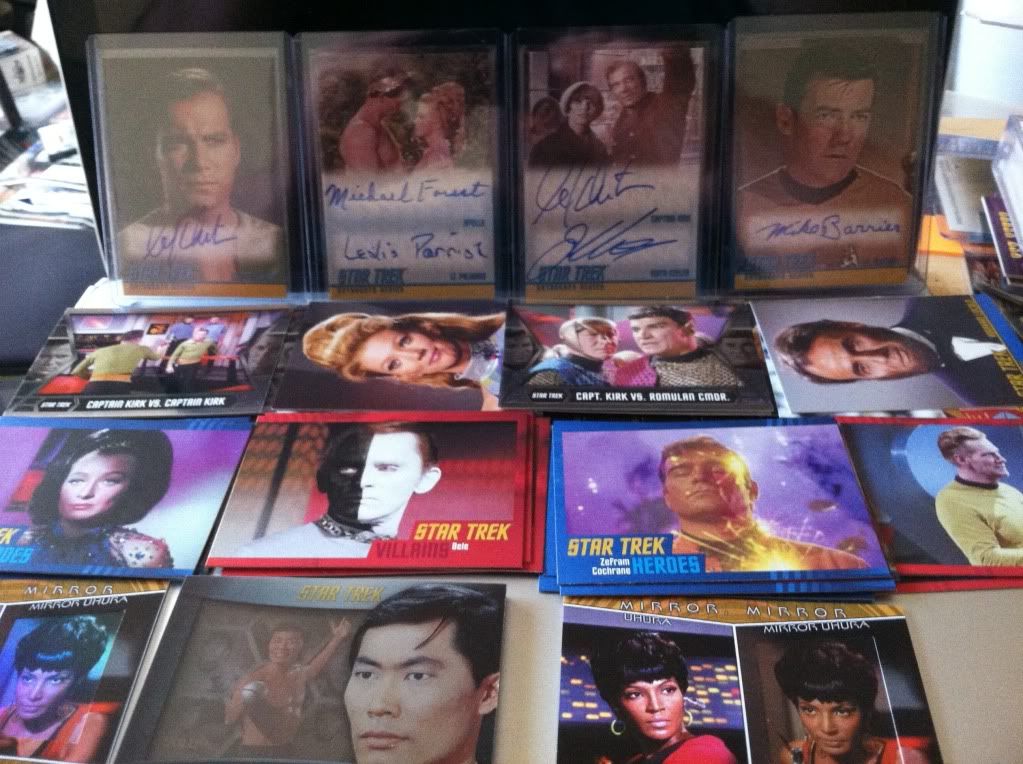 Box #1
A269 William Shatner as Captain Kirk (EL)
D31 Michael Forest as Apollo and Leslie Parrish as Lt. Palama in "Who Mourns for Adonais?"
GB3,9
T39,42,48,49
MM5
S6 Sulu Shadowbox
Parallels: 2,13,24,55,80,85,89,96
Box #2
A260 Michael Barrier as Lt. DeSalle in "Squire of Gothos"
DA7 William Shatner as Captain Kirk and Joan Collins as Edith Keeler in "The City on the Edge of Forever" (EL)
GB3,9
T39,42,48,49
MM5
9,14,25,30,45,72,81,90
Yeah, I'm pretty speechless. It really restores my faith in breaking boxes!
May 11, 2013, 09:51 PM
goldenavenger
Well, I've been holding onto this box for about 6 months waiting for May 11th.
Here's the snap shot of the before and after......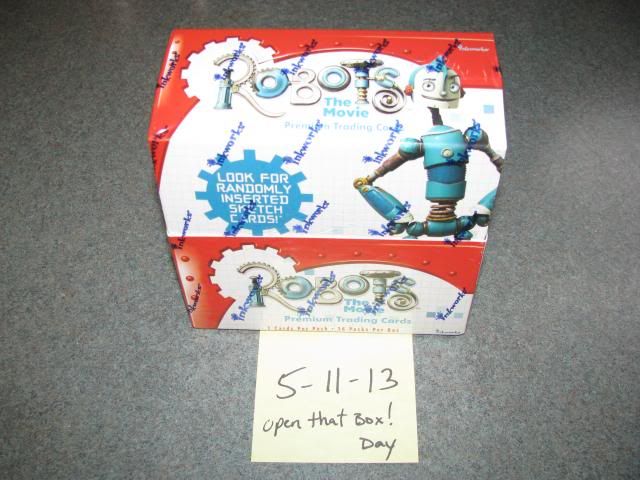 Sketch card of Ratchet by Dave Dorman.
May 11, 2013, 09:55 PM
Ted Dastick Jr.
Opened a box of Revenge of the Sith Widevision with my daughter. Got a Michael Kingma / Tarfful auto - was hoping for something better since I already have one of his, but I guess I can't complain since autos fall 1:2 boxes.
We still had fun though!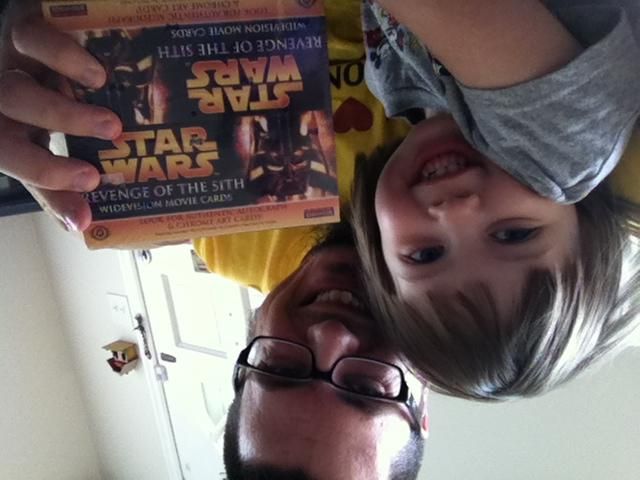 All the packs: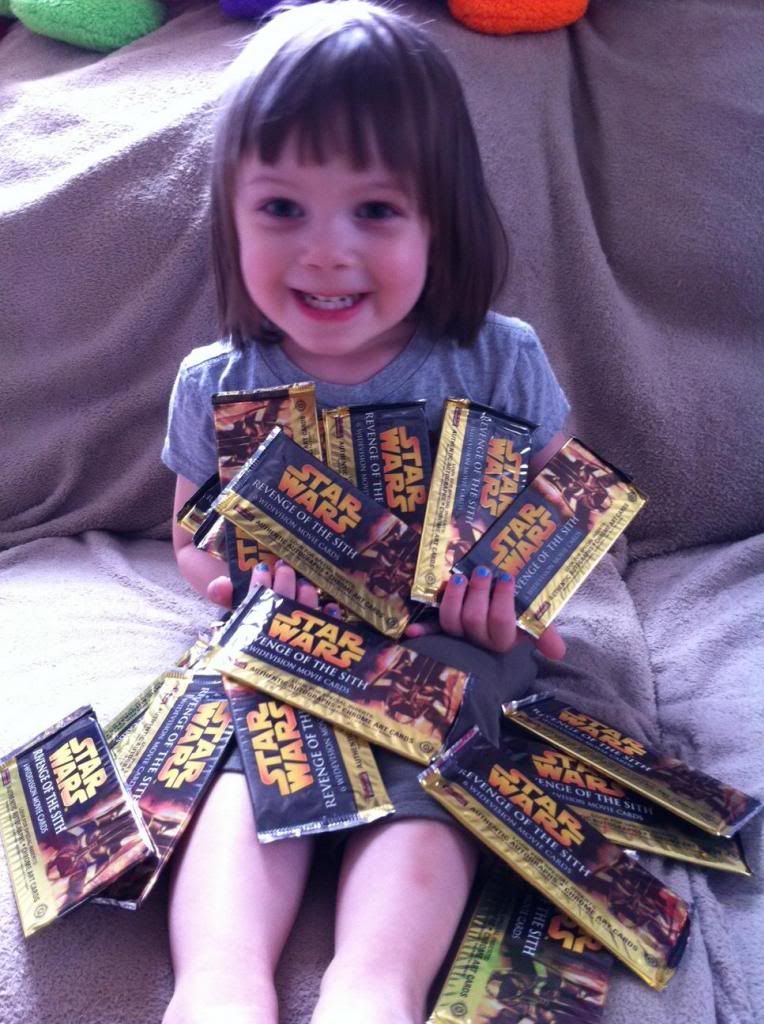 And all the empty wrappers!