October 02, 2014, 11:23 AM
xtime
Road To Wrestlemania (Topps,2014)
Got one blaster box while in FL.
10 packs, 7 cards each & 1 relic card
34 base of 110, no dupes
2 ad cards
5 blue parallels 1:2
1 black parallel 1:24
0 gold parallels 1:559
1 Queen o Wrestlemania 1:12
2 Ult Warrior Tributes 1:4
8 Undertaker The Streak 1:?
19 30 Years of WM 1:?
1 Ryback shirt card (part of letter)
See pics below.
Overall C-
Pros: 10 packs per box, and guaranteed relic per box.
Cons: easy to miss parallels...only the name in the left lower corner is blue, black or gold. This is pretty much a Best of 2013 redo. No chance at an autograph. The Undertaker & 30 Years chase are not mentioned on the wrapper.
This message has been edited. Last edited by: H_Toser,
October 02, 2014, 11:26 AM
xtime
wrapper, base
ad, blue parallel
black parallel
30 years, Ult Warrior
QueenWM, Undertaker
Enjoy!!!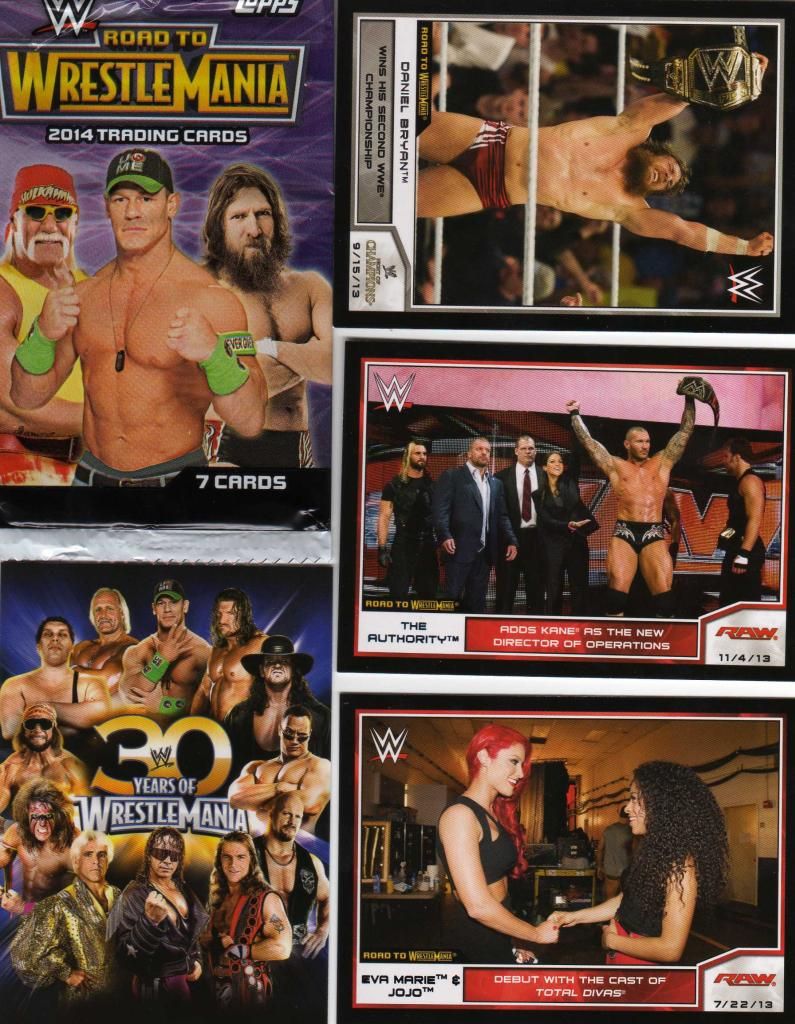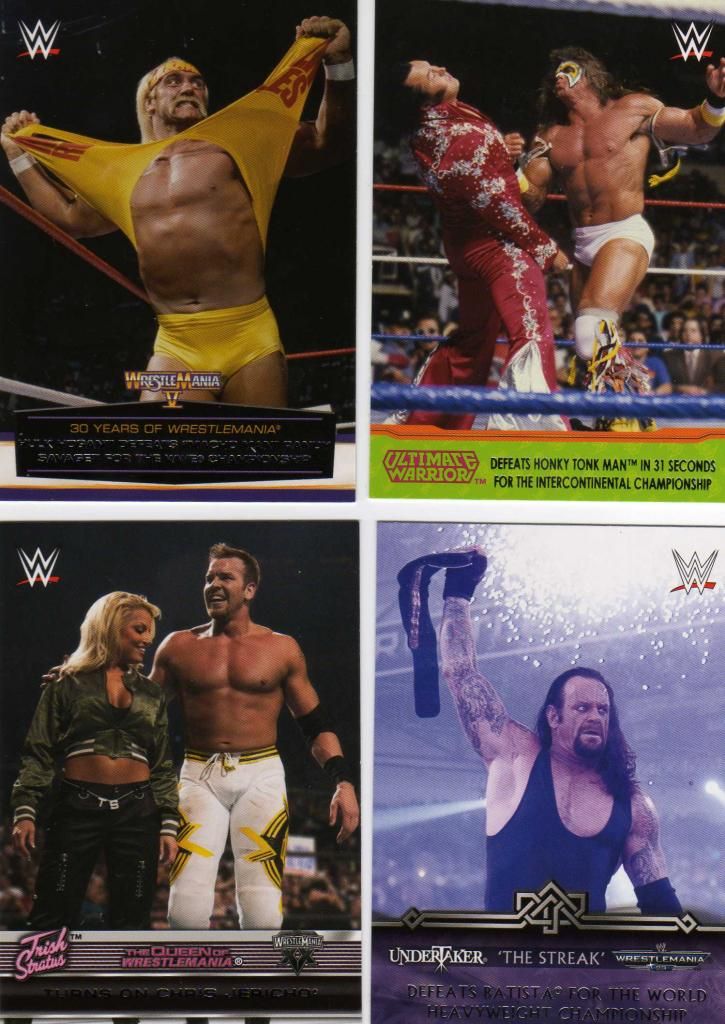 October 07, 2014, 11:18 AM
xtime
Picked up two jumbo packs.
Pack 1
12 base
4 30 years
1 Undertaker
1 Ult Warrior
1 blue parallel
1 purple parallel(exclusive to jumbo packs)
Pack 2
13 base
4 30 years
2 Undertaker
1 Ad card
1 blue par
1 purple par
Anybody open a hobby box???
October 26, 2014, 09:39 AM
scott12
Did 2 jumbo packs and got a Goldust shirt relic.
October 28, 2014, 10:13 PM
IbDaToNeGuY
Kinda bummed they switched the Hogan photo of the auto cards and auto mat relics from the shirt ripping "vintage" Hogan to current look . And has anyone seen or heard of what the Ultimate Warrior relic is of ? Topps said there would be stuff of his , but I have yet to see one pulled . Curious if maybe it's from one of his wrestling outfits . I have a complete set of one of his outfits including signed trunks and matching signed knee pads and just think it'd be pretty neat to get something like that in the cards instead of all of these t-shirts they use these days
November 13, 2014, 10:49 AM
xtime
Here's a sample of RETAIL relics...
Ryback Shirt, Rock Mat, and...
...Cena shoe 1:25,000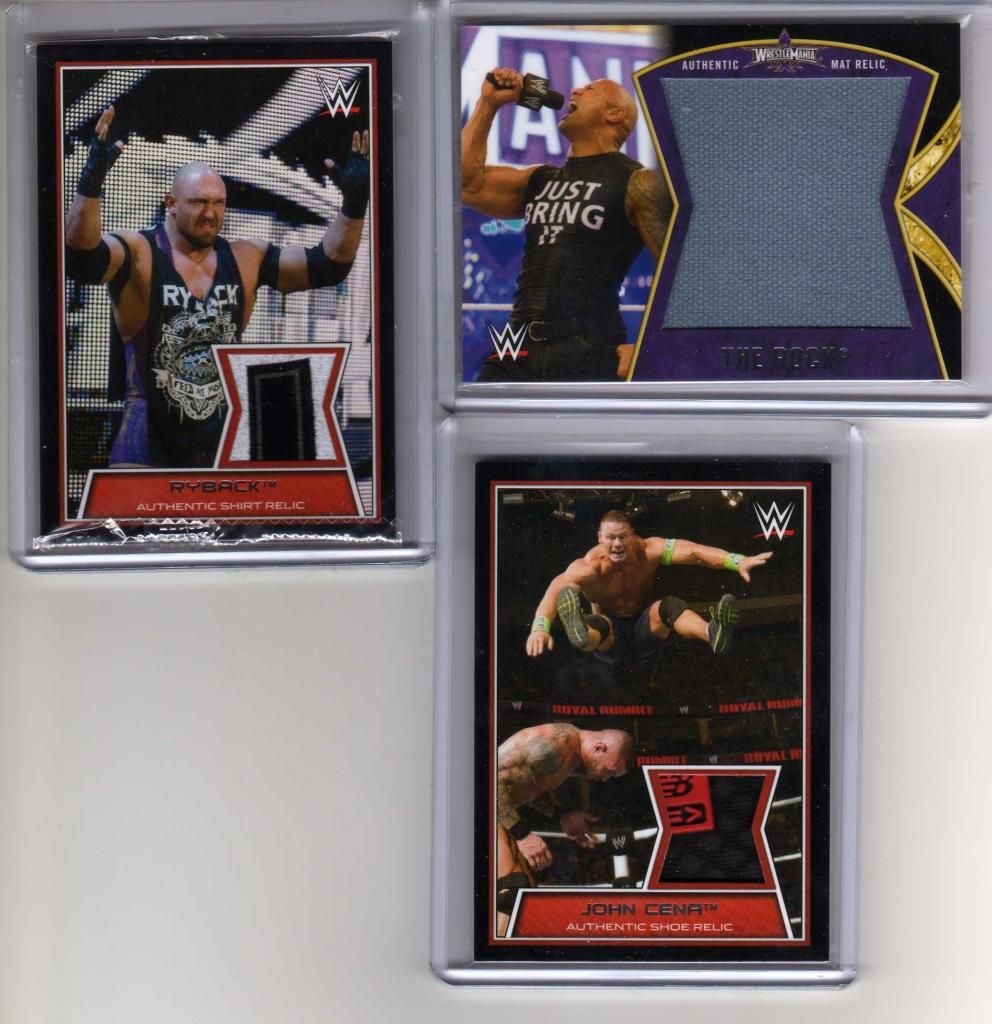 November 14, 2014, 05:33 AM
Darth Vader Fan
quote:

Originally posted by xtime:

Anybody open a hobby box???
I would buy if Topps would inseet an autograph per box like they use to do. Two shirt/mat relics for around $50 a box isn't worth it to me. Great pulls though Xtime, especially on the Cena shoe relic