1st case...
Case contains 12 packs, 4 each of A, B & C
Each pack contains 9 base cards, 1 glossy
finish parallel card, and at least 1 chase
card and at least 1 premium insert.
Chase cards include a 9-card puzzle set,
3 different mini chase cards, a Conan Doyle
photograph card and a Sherlock Holmes and
Victorian Crime expansion card #24.
Premiums include Sketch cards, Strand Magazine
cards like the last Sherlock had, Victorian
Artefact cards, Penny Black and Penny Red
postage stamp cards, a redemption card for
a Sherlock Holmes poster and cut signature cards.
Below are the highlights of my case:
2 of my 3 Strand text cuts and 1 die-cut cover piece
Victorian Crime #24, Conan Doyle Photo card, Poster redemption card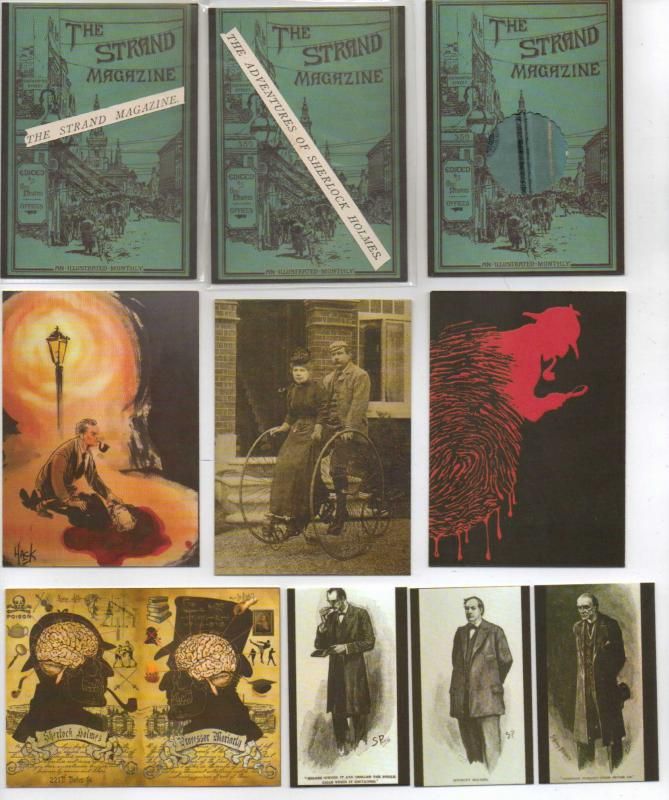 Case Topper card, 3-card mini chase set
Kris Justice, Ted Woods, Paulina Vassileva
Matt Erkhart, Scott Fellowes, Dan Gorman
1 1/2d stamp, halfpenny stamp, Perforated Penny Red stamp #26/65
I've been waiting for quite a while for this one and I'm very happy with
everything. I have another case on the way and will post it later in the week.
Greg

____________________
Please note the updated email address in my profile!