Non-Sport Update's Card Talk
Star Wars Return of the Jedi 3-D Widevision (Topps, 2014)
July 30, 2014, 11:19 PM
chesspieceface
Star Wars Return of the Jedi 3-D Widevision (Topps, 2014)
Six boxes here.
These are the seven sketches, one of which is also a relic card.
Bob Stevlic WEDGE ANTILLES
Rich Molinelli BOUSHH and CHEWIE
Brian DeGuire CHEWIE
Elfie Lebouleux. HAN SOLO
Robert Teranishi LEIA on ENDOR
Dan Bergren EWOK RELIC
Kevin Doyle LUKE and STORMTROOPER
As for the rest, there were five patches (three towards a set but doubles of Luke/Vader and no Jabba at all) and 3 autographs (none of the biggies). The Ewok patch I got is not shown in picture below.
The base set is beautiful, a fitting conclusion to a trilogy of sets begun nearly 20 years ago. A really nice touch is that the reverse side of each card #1 in every set is sequentially numbered out of 2,000 (matching the number hand-written on the side of each box), ensuring that even if these sets are reprinted, we'll always know that these were the first editions.
Thanks, Topps, for finally getting it done! I hope that 3D sets are made for Attack of the Clones and Revenge of the Sith, and even moreso, for the upcoming movies going forward.
I've always enjoyed 3-D and lenticular style cards, and this marries them to one of my favorite film series. What's not to love?
This message has been edited. Last edited by: chesspieceface,

____________________
Everywhere around this burg they're running out of verbs, adverbs, and adjectives. Everywhere around this town, they're running out of nouns.
July 31, 2014, 01:44 AM
mintoncard
The Brian DeGuire CHEWIE is great.
Also, congrats on getting an "appropriate" prop & sketch combo. (The sketch could have been of Jabba the Hutt or something unrelated to Ewoks.)
July 31, 2014, 01:45 AM
SuperfractorNut
Wow, 3 autos and a sketch relic out of 4 boxes? Were those boxes all in order?

____________________
Looking for SUPERS!
July 31, 2014, 01:46 AM
SuperfractorNut
I mean 6

____________________
Looking for SUPERS!
July 31, 2014, 04:53 AM
floater
Rich Molinelli did your Chewie / Boushh sketch.
Nice pulls all round!
July 31, 2014, 05:37 AM
chesspieceface
Thank you Floater, I'll amend.
The boxes were mostly in sequence, but missing a couple of the numbers.
A fellow just posted a 4 box break on the Scoundrel Forum that boasted four regular sketches, THREE Relic sketches AND a Hamill autograph for good measure. The Autos are an extra hit, so that means he got only one patch card in 4 boxes, basically just incredible luck.
These are showing sold out at the Topps website again, and even if they have a few left at Topps, there can't be many at this point. It'll be interesting to see what a sealed box sells for this time next year, and also if the base sets increase from their current of value of $25 or so once most of those out there for that price get absorbed into people's collections.
I wonder if there will someday be a second printing of the base set. It might have to happen to satisfy demand. I could even see a Trilogy type 3-D set that encompasses all three films. They could pretty much reprint the three existing sets with possibly some new images thrown in. The "Empire" set is plentiful, but the "New Hope" set isn't exactly common, either, and it'd be great to see it on the modern technology which allows for thinner cards and less surface damage than what they had back in the mid 1990's when the original set was made.
Oh well, my vacation is over, so it's back to work in a couple of hours. It was nice to have not only a couple of days to attend and then decompress from Comic-Con, but also time to do a bunch of posts on this board. Oh well, back to reality...

____________________
Everywhere around this burg they're running out of verbs, adverbs, and adjectives. Everywhere around this town, they're running out of nouns.
July 31, 2014, 03:00 PM
mintoncard
I agree. A New Hope reissue with the thinner back lenticulars would be nice.
July 31, 2014, 06:14 PM
stewbacca
Here are mine-- I guess a little better than my last jedi legacy fiasco
8 boxes-- (more than I should have)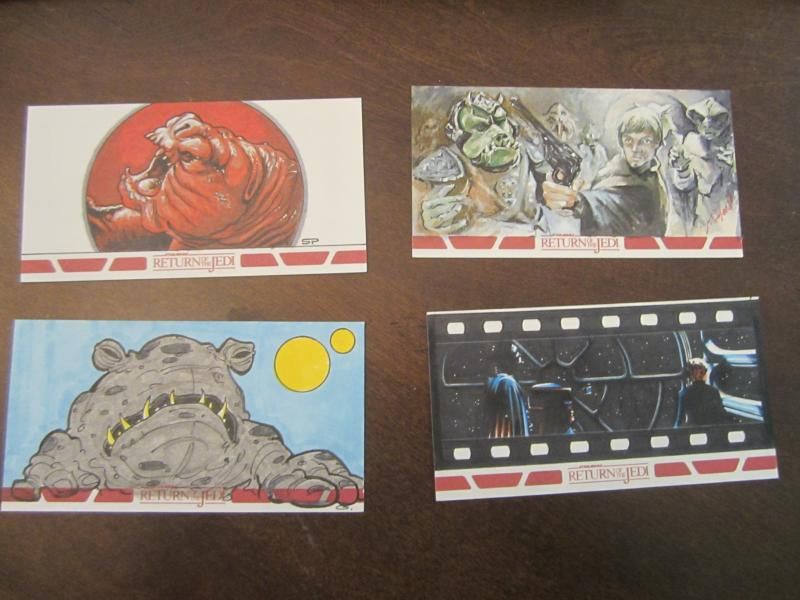 Rancor - Pence Jabbas Palace- Hamill Throne Room- Kezele Bubo -???
OWK- Darrin Pepe Salacious- Zapata Wedge- Christian St. Pierre Rebo Band-- Mikey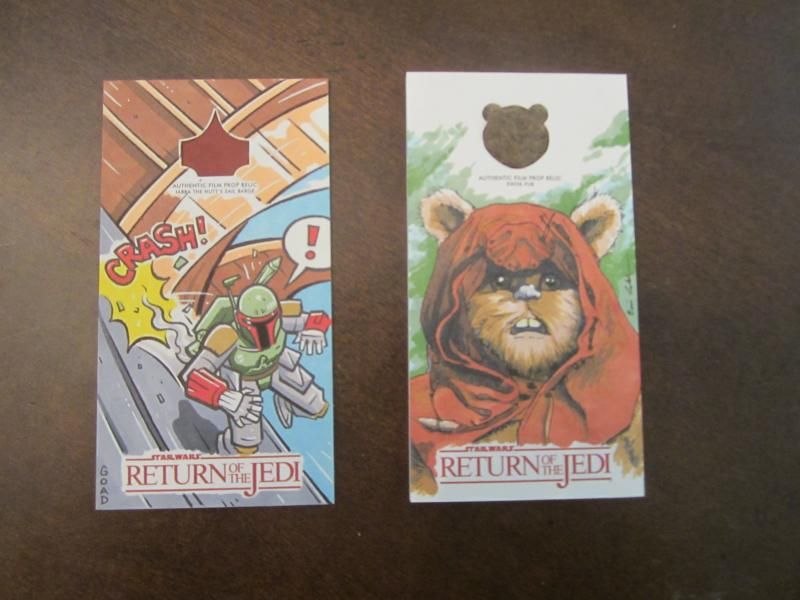 Fett- Goad Ewok- Eric Lehtonen
July 31, 2014, 09:11 PM
mintoncard
Great Fisher auto and 2 great prop/sketch combos!
Looked closer at the Fett sketch. Very funny and well done.
August 01, 2014, 03:46 PM
PHALM
MY 2 BOX BREAK
URL=http://s43.photobucket.com/user/thalm/media/CCF08012014_0001.jpg.html]
[/URL]
This message has been edited. Last edited by: PHALM,
August 02, 2014, 01:46 AM
LUZNDAVE
Here's my 2 box break:
August 04, 2014, 08:31 AM
Kevin F
My four boxes arrived this morning and I think I did really well on the sketches. Not a bad one to be seen
! The breakdown of hits in the boxes was:
Box 0737:
Ewok Patch
Scott Rorie sketch Speeder Rider Closeup
Box 0740:
Luke Skywalker Patch
Gabe Farber sketch - Max Rebo
Oola Auto
Box 0741:
Jabba the Hutt Patch
Tomoco Taniguchi sketch - Luke at Darth Vader's Funeral Pyre
Box 0742:
Ewok Patch
Chris Henderson sketch Gamorrean Guard (cross-eyed
)
A relic in place of the second Ewok Patch would have been nice but that's probably my only cause for complaint. The lenticular base set is excellent. One small side note on that, they knew something about their target market when selecting the character photos to use on the back of the card. Leia is in her slave girl outfit
August 04, 2014, 08:35 AM
Cardz_house
My 2 boxes arrived. Definitely happy with them as I kinda got every insert within these 2 boxes.
Box 0648: Sketch (Brent Engstorm), Patch, Auto
Box 0633: Sketch (Eric Lehtonen), Relic Ewok Sketch (Scott Rorie). One of the most beautiful sketch I ever pulled!!)

____________________
Some of my traders: Star*Mystyk, davelennox, Jack London, Chris Byrne, TAT, spidergoblin, Brimaster, cverdec, mac13, mars53, Ryan Cracknell, wuher, angelchick182, FRANK AMICO, batmancity, Card Reaper, Over_Worked_Mom, Dewman, THX2112, venom5liter, batmancity, barobehere, KADRAN00157, browninga5m, trade-a-card, FCB, wolfie, ghostrider666, Brian A. Davis, s8zaphod, Cee_Jay


August 04, 2014, 05:56 PM
Batman
Nice!

____________________
"The problem, I'm told, is more than medical."
August 04, 2014, 09:34 PM
chesspieceface
My three, and very likely, last boxes yielded a near set of patch cards (missing Jabba) and
Kezele is simply awesome. Thanks for the extra effort on all of these, Gary.
I'm happy for the Boba Fett autograph. That means I got 4 different in 9 boxes, beating the odds handily on those. I couldn't get any of the superb ESB widevision autos, but these are a very similar design and also very limited, so they're a nice consolation

____________________
Everywhere around this burg they're running out of verbs, adverbs, and adjectives. Everywhere around this town, they're running out of nouns.
August 05, 2014, 10:19 PM
mintoncard
Received my box today and here are my pulls:
Jabba vintage wrapper patch
Spirit of Yoda sketch by GOAD
Kenneth Colley as Admiral Piett autograph
Even if I hadn't beat the 1 in 4 odds with the auto, I still would have been very satisfied with my hits. I think this is a great set Topps put together. The box top with Solo is subtly embossed & the ROTJ and Star Wars logos are glossy over the matte black of the box. Not sure if anyone mentioned this, but the first card of the base set features a printed edition number that corresponds to the hand written number on the box. I was surprised to see that, and I think that's a nice touch.
The base cards themselves are wonderful with well chosen scenes and amazing depth.
Altogether a perfect bookend to the OT 3D Widevision series.
If Topps would release Widevision 3D sets like these twice a year, they'd have me hooked like a fish. Imagine a set of Clone Wars Widevision 3D cards!
Indiana Jones 3D Widevision cards!

____________________
Looking for SUPERS!
August 10, 2014, 01:00 AM
mintoncard
WOW. Worth it?
August 10, 2014, 04:42 PM
SuperfractorNut
Yeah, I have a few more and it's getting itchy.

____________________
Looking for SUPERS!
August 21, 2014, 11:13 PM
Batjay
I finally am getting around to posting my break of 2 boxes. I really liked this set. Wish I would have bought another box. I pulled 2 sketches and 2 patch cards. I was wanting the Luke patch card, so I was glad to get that. The sketches for this set are really great.